*** TVReviewland.com earns commissions on qualifying purchases made through affiliate links ***
Our Sony A7IV review goes over the features and performance of the brand's latest digital camera. Sony made a huge statement in 2020 with the release of the Alpha 7 III, exceeding all expectations for a base model camera. They seem to have done it again with the Alpha 7 IV, setting the standard for the niche.
Let's get right into our Sony A7IV review to see how this camera exceeds its predecessor in performance and capabilities.
Sony A7IV review: First thoughts
In terms of appearance, the new Alpha looks a lot like its predecessors, including the somewhat annoying grip buttons. The new Alpha also comes with improved access to the memory card slot with a door. It comes with a record button on its top side, much like the Alpha 1 and Alpha 7S III. The annoying lock button on the dial has been removed.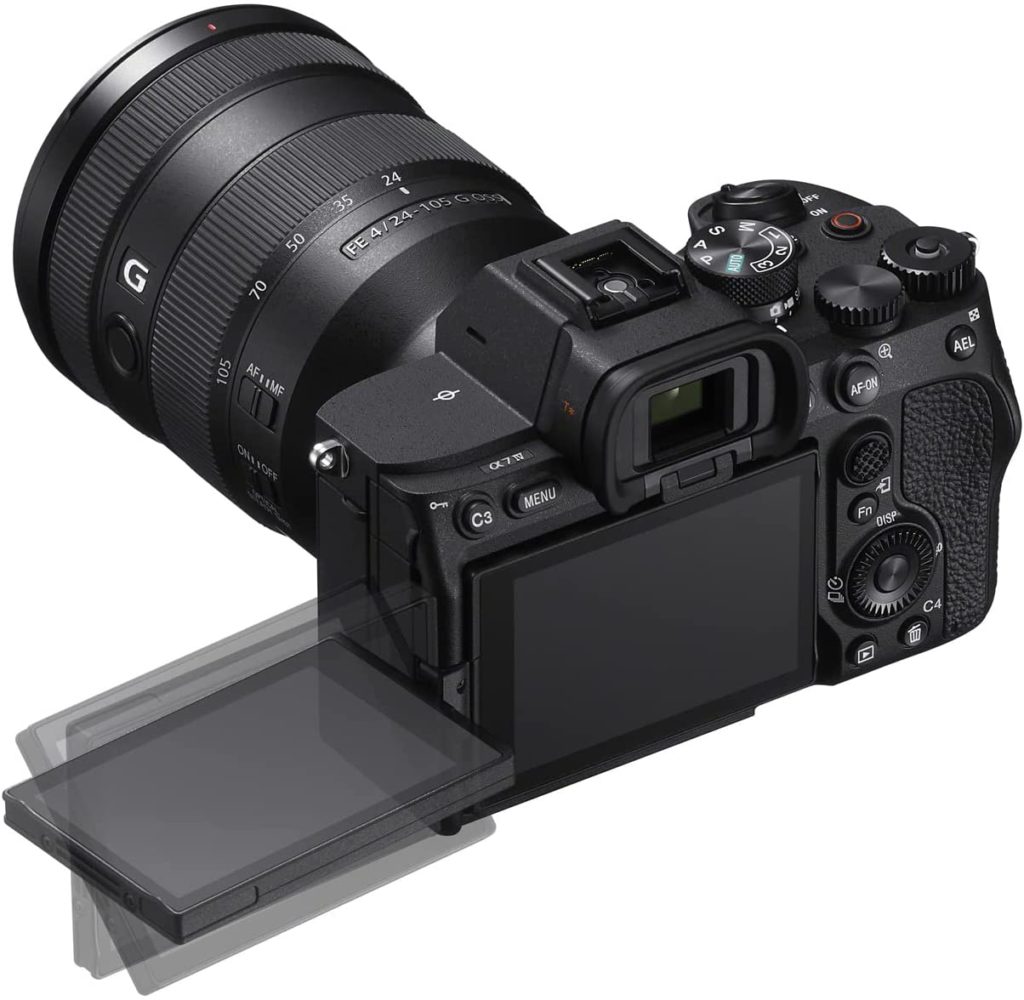 There are a few tweaks that make the IV unique, though. The most noticeable change is arguably the customizable exposure dial. A few new options have been added to the dial, like slow and quick settings (S&Q), video, and photos.
The LCD and EVF displays on the camera fail to impress. At 3.68 million dots, they fail to match the performance of their counterparts on earlier models like the Alpha 7S III.
[Read what others are saying about this camera]
Performance
The new Alpha comes with improved color reproduction and up to 15-stops of dynamic range. Files created with the camera come out with up to 4,595p resolution. It consistently produces lifelike quality images. You can thank the new 33-megapixel processor and the Exmor R sensor for that. It tends to perform best around ISO 1,600 or lower.
The IV record compressed files at eight frames per second in "Hi" mode. It has an "H+" feature that takes it up to 10 frames per second. However, you can't shoot live videos through the EVF when using the H+ mode.
There's also an autofocus option that is worth mentioning. It gives you 94 percent autofocus coverage and real-time autofocus for flying objects, animals, and people. This feature makes it a lot easier to shoot amazing photos with the IV.
Video
Everyone is a vlogger account these days, so you're probably wondering what videos captured on this thing look like. The IV allows you to shoot 4k videos at 60 frames per second. That's not particularly impressive since the Alpha 7S III could go up to 120 fps. However, the IV gives you the megapixels you need for Super 35 in 4K, while the S III does not.
Pros:
Autofocus feature makes it easy to take amazing photos of people, animals, and birds
Creates images with up to 4,595p resolution
33-megapixel processor allows you to make 4K pictures
Cons:
Only records 4K videos at 60 frames per second
Not much changed about the design
Sony A7IV review verdict: Another standard setter
Sony hit the ball out of the park for the second year in a row with the new IV. It's a fantastic camera for photos, and you can create 4K pictures with it. It's better than its predecessors and most of its competition for the most part. Click here to learn more about this camera.
Read more:
TCL R646 Review: Good Pricing Great Performance
Insignia F30 Review: Great for Streaming, Poor for Gaming
Samsung QN85A review: Great for Living Rooms
Bose Soundlink Flex Review: Take the Party with You
New MacBook Pro 2021 Review: Another Step in the Right Direction