*** TVReviewland.com earns commissions on qualifying purchases made through affiliate links ***
Sometimes you need more than just the typical Walmart TV stands. When you mount your TV with fixed wall brackets, that is pretty much the end of it. A fixed bracket will not let you tilt, swivel or extend your TV.
This can be a drag when ambient light hits the screen in a way that causes reflections which in turn result in glare. Or when you need to swivel the screen to an angle that allows everybody in the room to view clear video, wherever they sit.
That is why movable wall mounts like the ECHOGEAR Full Motion Articulating TV Wall Mount Bracket come in so handy. They allow you to adjust the position of the TV screen to better suit your viewing needs.
Walmart TV Stands or Amazon Gear? ECHOGEAR Full Motion TV Wall Bracket Design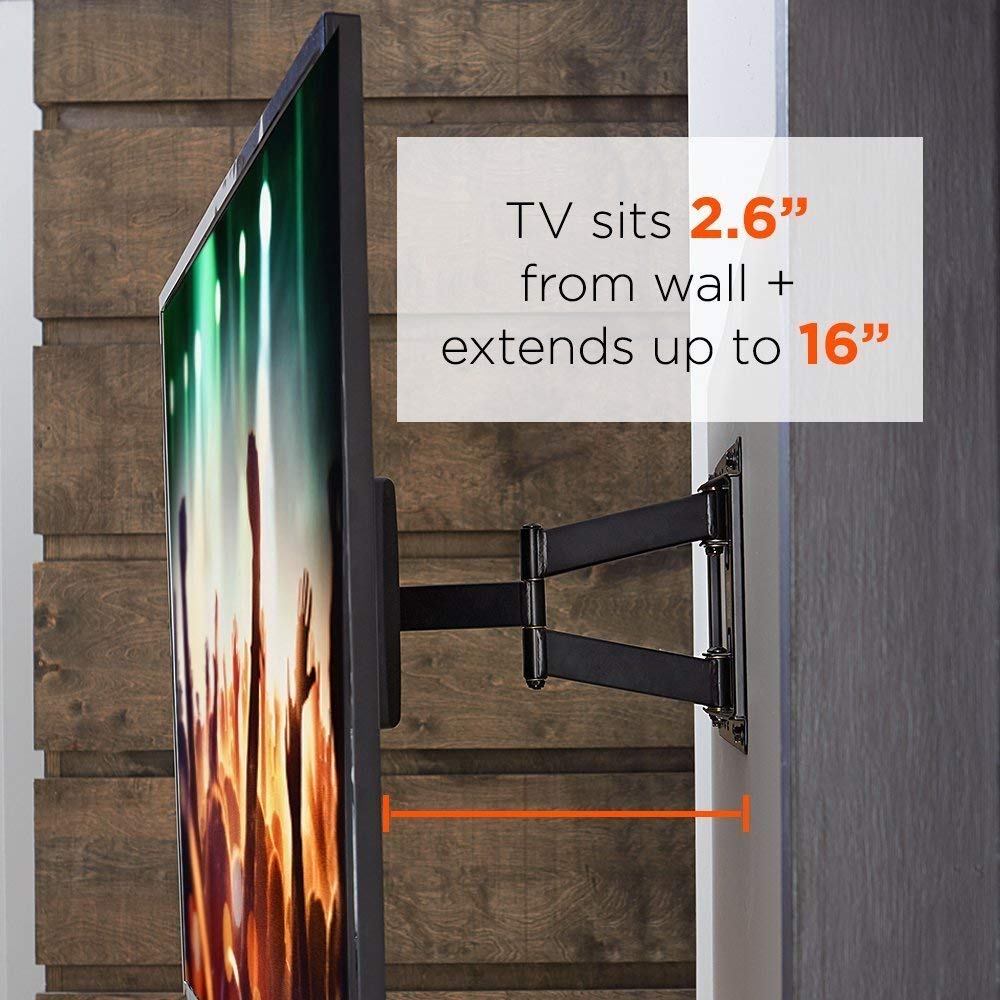 At 18 pounds, this matte black wall mount bracket is a bit heavy, which makes sense considering that it can carry weights of up to 137 pounds. The ECHOGEAR articulating bracket is constructed with heavy gauge metal, thus its weight, strength and high quality.
You will need 16 inch studs to fasten the bracket on the wall. If the studs in your wall are 24 inches apart, you will have to fasten a length of wood to the exact spot where you want to install the bracket.
When the bracket is fully folded, it holds the TV 2.5 inches away from the wall. The space is enough to accommodate the cables at the back of the screen. If you fully extend the bracket, the TV will sit 16 inches away from the wall.
[Read what others are saying about this TV mount]
Articulation
The Echogear EGLF1-BK has a horizontal range of 130 degrees and a vertical tilt of 15 degrees. This is in addition to the ability of the wall mount to extend the TV 16 inches forward.
This bracket gives a wide range of motion in any direction, which allows you to adjust the screen exactly how you want it.
Pros
The bracket has large TV hooks that make it easy for you to hang the screen
It has a wide range of horizontal motion
The Echogear Full Motion bracket is strong enough to support weights of up to 137 pounds, meaning it can be used for displays of between 37 and 70 inches
You can tilt and swivel the mounted TV with your hands, there's no need for tools or elbow grease
The bracket is easy to install thanks to the 3-step install process designed by Echogear
Cons
The Echogear Full Motion wall mount bracket is a little heavy, so mounting it onto the wall will give you quite the workout
Its spacing only works with 16 inch wall studs, so you will need to do some extra DIY work if your wall studs are 24 inches apart
Without spacers, the bracket will not work for a TV with a curved back
The Echogear EGLF1-BK wall mount is a great purchase
Your television is better off mounted on a wall, where it is safe and right above eye level for the optimal viewing experience.
With a full range of motion in three directions, the Echogear EGLF1-BK will allow you to tilt your screen to avoid glare from ambient light. Also, this flexible wall mount lets you swivel the screen so you can watch TV from whatever position you like.
If you are looking for a well-priced, well-built bracket that works like a dream, then the EGLF1-BK full motion wall mount is a great choice. Click here to learn more about it or purchase one.