*** TVReviewland.com earns commissions on qualifying purchases made through affiliate links ***
Our Toshiba 55LF711U20 review explores the features and capabilities of this affordable Smart TV. It comes with Amazon Fire TV integrated, allowing you to stream media directly. It comes with a voice-integrated remote that is powered by Alexa. Let's jump into our Toshiba 55LF711U20 review and explore how this TV compares to its competition.
Toshiba 55LF711U20 review: First thoughts
This Fire TV comes weighing about 31.3 pounds. It comes with a lightweight stand that provides okay stability for the television. At 44.6 inches wide, you will probably have a hard time trying to set up the TV on your own, unless you have a freakishly wide wingspan. Having an extra pair of hands makes things a lot easier.
This Fire TV comes with 200 x 300 VESA mounting holes at the back. Given its size, mounting it on a wall is probably the best way to set it up since it completely takes over any shelf you place it on if you decide to use the stands. It's a bit bulky for a newer model Smart TV with a depth of 10.7 inches.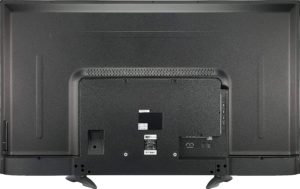 Included in the box is the Alexa integrated remote control. It's easy to use and you only have to push the microphone button on the box and issue commands. The remote has a simple design with self-explanatory buttons.
[Read what others are saying about this TV]
Getting started with the 55LF711U20
There is very little setup required once you take this television our of the box. The individual stands only require a single 35mm screw to attach them to the television and a pair of 10 mm screws that secure the stand legs to the back of the TV.
If you have ever assembled anything in the past, getting the stands fitted will be a simple process. Using the VESA mounts is just as easy if you already have a compatible wall mount like the Mounting Dream.
Picture quality
Setting up this television might require you to make some adjustments to the settings. The manual that comes with this television won't help much here. The HDR default setting in particular leads to pictures that tend to have too much contrast and not enough brightness.
Holding down the home button brings up a menu that gives you access to the HDR settings. To get the most out of the Ultra HD HDR feature, change to movie mode and turn off the Dynamic Backlight, MPEG Noise Reduction, and HDR Tone Mapping. This gives your rich, detailed HDR pictures that look realistic.
It comes with a Game Mode that improves the graphics of video games and improved latency. It's all powered by the Fire OS – which runs okay.
Audio
The Toshiba 55LF711U20 comes with a pair of 10-watt speakers that come with DTS Studio Sound. This leads to smooth bass levels, volumes, and transitions. The sound quality of this television is okay and it can get quite loud. Audio details lose quality as the volume goes up, but there are a few different sound modes that help to combat this like Movie, Music, Standard, Clear Voice, and a Custom Mode. The Movie Mode seems to lead to the best sound quality with balanced bass.
Pros:
Affordable
Great picture quality
Voice-activated controls
Smart hub
Powered by Fire OS
Comes with a one-year warranty
Cons:
Requires some settings tweaks to get the most out of the HDR mode
Game Mode does not make much of a difference when gaming
Toshiba 55LF711U20 review verdict: You get more than you pay for
The 55LF711U20 only costs a few large notes, yet it has many of the functions you would find on a higher tier Smart TV. Its performance is in line with other budget televisions and it delivers high-quality 4K UHD, especially when streaming. Click here to learn more about this TV.
Read more:
Sony X750H Review: A High-Performing Budget 4K TV
Toshiba 43LF421U21 Review: Outstanding Performance and Capabilities for a Budget TV
Surface Laptop Go Review: Great Performance for a Budget Notebook
Bose QC Earbuds Review: High-Performance Audio
Toshiba TF-55A810U21 Review: Not Bad for a Budget Smart TV