*** TVReviewland.com earns commissions on qualifying purchases made through affiliate links ***
We learned a lot of interesting things during our Amazon Echo Show 2nd Generation review. A while back, the online giant thought to make an Echo device with a display. They called it the Echo Show. Now the second generation of the Echo Show is out, and it is a big improvement on the original.
Amazon Echo Show 2nd Generation review: What's different?
The design of the Echo Show will remind you of the Cathode ray tube screens of old. Its display is a ten inch LCD screen, with black trim on the edges and a front-facing camera at the top edge.
It has a protruding, downwards sloping back, which houses the speakers and provides a base that allows the screen to rest on a flat surface. At the back, you will find a panel with a power port, a micro-USB port and a Kensington lock. The entire back (save for the panel) is covered in textured fabric that comes in charcoal or sandstone.
Features: Display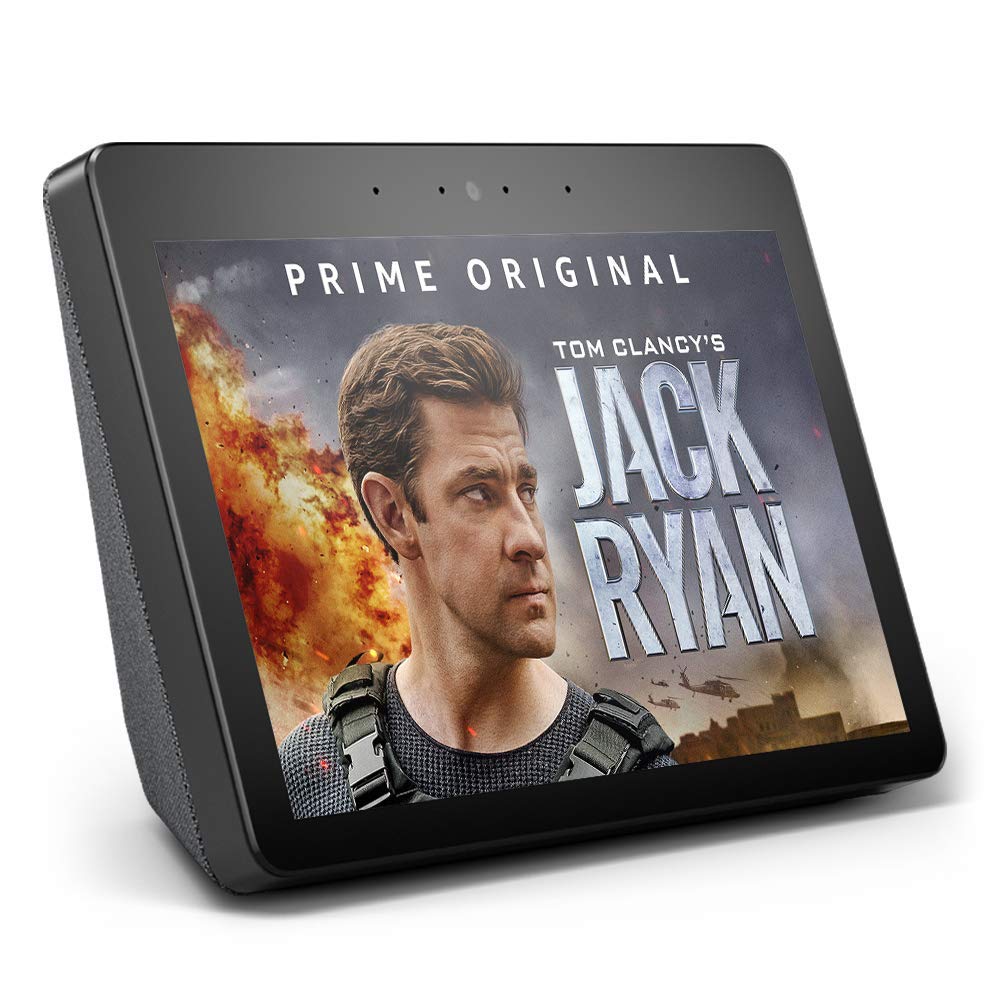 The screen has a 1220 x 800 resolution, which means images look amazing up close. This screen renders great contrast and a rich color palette. Because of its size, the screen displays very well, even at some distance.
Since the device is controlled by both voice and touch, the Echo Show's touch screen works like any screen on a smartphone or tablet. Meaning that to adjust the settings, you only need to swipe down from the top of the screen like you would with a phone.
Something else we noticed during our Amazon Echo Show 2nd Generation review was the adaptive brightness, which allows the screen to dim or brighten, depending on the ambient light. You can also adjust the brightness manually, the same way you would adjust it on a phone.
Sadly, you will need to watch your favorite show with the lights turned down low, because the screen reflects light to some degree.
Features: Sound
The pair of 2-inch premium speaker drivers on the Echo Show 2 are loud and clear, if not a little bass heavy, thanks to the bass radiator added to the speakers.
Dare we say that this device has the best sound quality of all Echo devices? We dare. You can actually throw a little party with this speaker.
[Read what others are saying about Amazon's Echo Show 2]
Features: Interface and functionality
The Echo Show 2 is designed as a smart hub that acts on voice commands and screen input. It will directly control all smart devices that use ZigBee Wi-Fi. Like any other Echo device, it will connect to and control a large number of Alexa-compatible devices like Google's Nest and Ring home security.
A great feature of the Echo Show 2 is the Alexa feature. As an example, you can set the command 'Alexa, good night' to turn off all the lights in the home and arm the security system.
With the Echo Show 2, Alexa will perform the usual tasks like providing the news, weather updates and traffic information. You can install more skills from Amazon's store to add more functions to Alexa.
Content
The display and interface of the Echo Show allow you to watch and listen to content from Amazon prime with the full Alexa experience.
However, voice commands for YouTube videos will give underwhelming search results. And as you manually play your YouTube video, your voice commands will be limited to volume controls. The same goes for Dailymotion and Vimeo.
Search for Netflix content and you will get results from Prime video, which will force you to visit Netflix on the web browser, which is an entrance to a deep and winding rabbit hole. So there is that.
Pros
It comes with Alexa routines, always a plus
Great sound quality
Very good image quality
A nice design
Cons
There is no button to turn off the camera, which could be worrying for anyone concerned about remote access snooping
Getting to Netflix is an adventure and not the nice kind
In order to give a better user experience, the Echo Show 2 could benefit from a smoother interface
There is glare from the screen
What is the final word?
To sum up our Amazon Echo Show 2nd Generation review, this device is a vast improvement to its predecessor and an extremely fun addition to a home with other smart devices. The sound quality is great, and it is a really convenient way to control smart home devices. Click here to learn more about this device or purchase one.