*** TVReviewland.com earns commissions on qualifying purchases made through affiliate links ***
Looking for the best TV to buy now in 2020? This article is for you. If you are looking to replace a five or ten-year-old TV, chances are that you are about to dive into the deep end. Welcome to a world of acronyms and features that you have only heard about in passing.
Not to worry, though. We'll breakdown this year's best selections, based on a number of baseline metrics that will aid you in your quest to find the best TV to buy now. This information will guide you towards a television set that will give you joy, many years from now.
Figuring out the best TV to buy now in 2020
It's a good idea to start your search by having some idea of the qualities that you want in a TV. Here are some of the most important ones:
Good build quality that makes the TV both sturdy and durable
Great picture quality
A smooth, intuitive and versatile (Smart) TV interface
Access to great content
Enough input/output ports for all your external devices
A voice assistant can be useful
Great inbuilt speakers
Affordability
These are the qualities that you should keep in mind as you shop for a new television. An ideal outcome would have you find a TV that checks all these boxes, without having to make any tradeoffs.
1. The best-priced high-end OLED TV: The LG OLED B8 series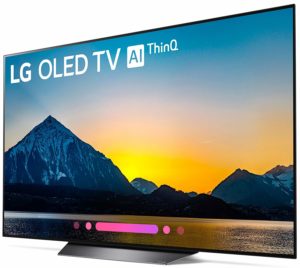 This product line may be from 2018, but no other model of televisions can match the performance-to-price ratio of the LG B8P OLED displays. It is without a doubt one of the best TVs to buy now.
LG holds nothing back when they design their statement pieces. You can expect rich colors, excellent color accuracy and great native contrast from B8 panels. These qualities make for sharp, detailed pictures with lifelike texture. That said, a picture-quality aficionado will notice a little noise during dimly lit scenes from their favorite show.
This minuscule drawback will not even register with the rest of us. We would be far too distracted by the grime trapped between the scales of the reptilian predator that's stalking the protagonist. That's well-executed OLED technology for you. The icing on the cake is the sleek design and wide viewing angles of the LG OLED B8 series.
The B8 series of LG OLED televisions sit at the top of this category for now. This product line will be dethroned when the prices of the 2019 releases fall. Which brings us to LG's 2019 C9 series.
2. The OLED TV with the best picture quality, period: The LG C9 series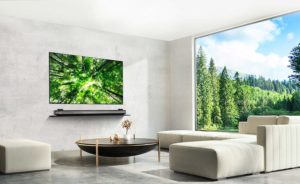 The 2019 C9 beats the 2018 OLED B8 by this much. We expect improvements in picture quality and user experience with each product release. This time though, the picture quality of the C9 is only slightly better than last year's product lines.
If price is not a consideration, then get a C9 OLED TV. With its brighter display, deeper blacks and larger color volume, a C9 panel's picture quality is indeed better. It also boasts a lower response time and input lag than its B8 equivalent, which makes for a better gaming experience, both for SDR and HDR games.
Plus you get HDMI 2.1 capability on all four of the C9's ports, making your prospective purchase a little future-proof. This allows the TV to keep up with whatever the coming years throw at it, in terms of content and external devices.
Related: LG 65-Inch TV 4K OLED65C8PUA OLED Review
3. The OLED TV that gives the most value for money: The LG OLEDB9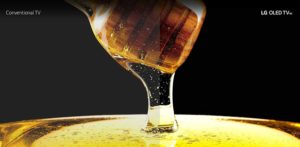 This series of LG OLED displays splits the difference between the 2018 OLEDB8P and the 2019 C9. The B9 is the 2019 version of the B8 series. It is the most affordable series in LG's 2019 OLED product range.
As picture quality goes, the B9 panel is similar to the C9 panel. It has deep, gorgeous blacks and impressive peak brightness levels. Combined with a wide color palette, the high native contrast ratio allows the B9 panel to render rich colors and perform accurate color reproduction. The B9 panels also do a great job of shadow contouring. This allows for sharp detail even where the colors are dark.
To sum it up, B9 TV sets render picture that is vivid, crisp, detailed and accurate. They perform almost as well as C9 panels and slightly better than B8 panels. The low input lag and excellent motion handling of B9 OLED televisions 7are comparable to that of C9 televisions. This is a huge selling point.
In terms of pricing, B9 panels lie in the same price range as the B8.
4. The next best thing to an OLED TV: The Samsung Q70R series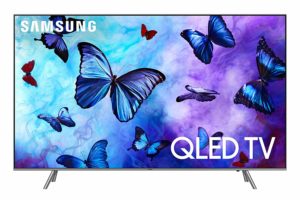 So you don't feel like spending OLED money, but you still want to splurge a little. How about a QLED TV instead? Samsung has just the thing. It definitely a good TV to buy now in 2020.
A display from the Samsung Q70R series has a quantum dot color filter to 'process' the light emitted by its LED backlight. This is nothing close to an OLED screen, where every pixel is its own backlight. Still, a QLED panel is still a cut above the rest, in the following ways:
This screen is a gamer's dream, with near-zero lag time and excellent motion handling
The blacks are deep and uniform and the peak brightness levels allow for an impressive native contrast ratio
Couple that with a wide color gamut and you have a display panel that renders rich, accurate colors that are true to life
The detail and sharpness of the picture adds a level of texture that seems to change the surface of the screen
There is one downside to this panel, though. It has narrow viewing angles.
5. The best TV to buy now in 2020: The TCL 6-Series 2019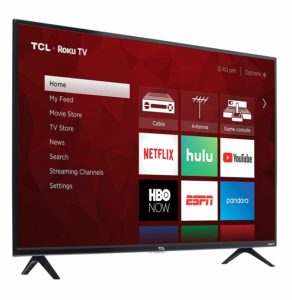 Technology is at its most authentic when it is disruptive, and the TCL 6-Series proves this fact. This affordable yet high-performing television disrupts the notion that there has to be a tradeoff between affordability and excellent picture quality.
It seems that every new TCL release is purposefully designed to be a vast improvement on its predecessor. The TCL 6-Series follows this trend. It has a sleek yet simple design that belies a surprising amount of power. A 6-Series TV makes good use of the wide color gamut native to the panel. The blacks are as deep as they are uniform, so there is little chance of noise or dirty screen effect in dark movie scenes. The brightness levels are impressive, which gives the already expansive color panel added volume.
The end result? You have a contender for the title of best TV to buy now. Accurate color reproduction and rich, detailed picture that is true to life. A 6-Series panel works amazingly well in SDR but is not that bright when it renders HDR content. Still, at its price point, this TV does an excellent job. Even better is the fact that the input lag and motion handling of the 6-Series is comparable to that of most high-end TV sets.
There are only two downsides: A little glare in a bright room and a narrow viewing angle, which happens with VA panels like this one. However, the Roku Smart-TV interface more than makes up for these shortcomings.
Related: TCL TV Reviews 49S405: The Best Selling Budget Television in the World
6. Runner's up for the best TV to buy now based on value: Vizio M8-Series Quantum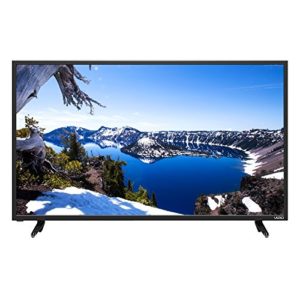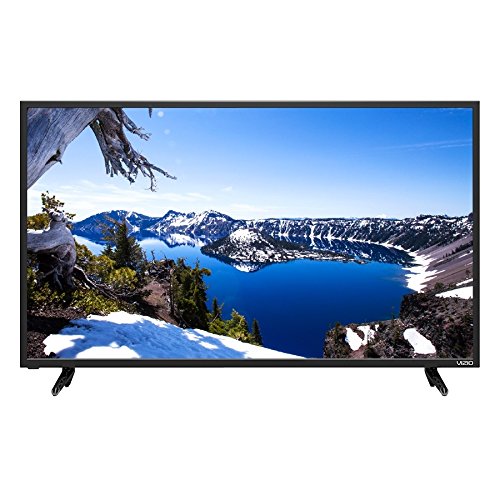 The TVL 6-Series takes the top spot for combining affordability and performance. The Vizio M8-Series Quantum comes a close second.
Vizio M8-Series Quantum televisions come with VA displays. These panels have good black levels made even better by excellent black and grey uniformity. On the other end of the luminance spectrum, the M8 Quantum series has impressive peak brightness levels of nearly 400 nits. Add to this a wide color gamut and you have a large volume of color to work with. To top it all off, local dimming and a high contrast ratio allow the M8 Quantum to produce sharp, detailed pictures. Even when the picture is dimly lit.
It follows that the M8-Series Quantum does a great job of accurately reproducing color from an input signal. The end result is high-fidelity picture that is detailed, vivid and true to life. The icing on the cake is the excellent responsiveness and motion handling of this TV. With so many impressive features, it is no surprise this made our list for the best TV to buy now in 2020.
The anti-glare finish of the display makes up for its narrow viewing angles and backlight flicker. To some degree.
7. The most affordable TV: The TCL 4-Series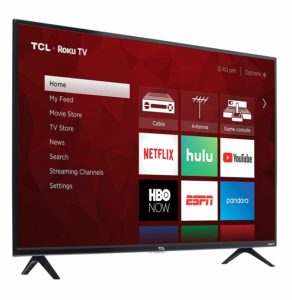 A built-in Smart-TV interface is par for the course these days. So much so, that a large percentage of television sets ship with them. If you are currently navigating the world of endless acronyms and incomprehensible features, then let the smart TV interface be a guiding light as you search for your next TV.
Look for one with Roku and thank us later.
Like the TCL-6 series of televisions. These are well-priced TV sets that come preinstalled with Roku OS. The interface gives you access to a world of content and useful tools. Better still, the display panels in this product line support 4K and HDR content.
Being budget televisions, the panels in the TCL-4 series do not pack the powerful performance of OLED screens. For starters, they are VA panels that work best when viewed at narrow viewing angles. Their brightness levels are not as high as those of higher-end models, which keeps them from holding their own in a bright room.
That being said, a TCL 4-series TV is the kind of display that gamers love. It has near-zero input lag and excellent motion handling. As picture quality goes, a 4-series display has good native contrast. Despite lacking a wide color gamut a TCL 4-series TV renders fairly accurate colors. The picture quality is decent enough for everyday use.
8. The best compact TV: TCL 3-Series
So far, we have been looking at TV sets that measure 55 inches or more. If you are in the market for something smaller, consider the TCL 3-series. The televisions in this series range in size, from 28 to 49 inches. Any television is this series is one of the best TVs to buy if you are looking for something that won't take up much space.
The 3-series has smart capabilities, thanks to the pre-installed Roku OS. A 3-Series TV comes with 1080p resolution. It has great native contrast, which would have a greater effect if the panel allowed for local dimming. As it stands, the lack of local dimming limits shadow contouring. This means that details will not stand out as you watch night scenes in your favorite show.
You should know that a TCL 3-series TV works best in a room of average brightness. Too bright and the picture becomes dim. Too dark and you notice dirty screen effect on the sides of the panel.
That said, a TCL 3-Series panel shines when it comes to responsiveness and motion handling. Gaming or watching fast-paced videos on this screen is fun. It also bears mentioning that the color accuracy and overall image quality is excellent in standard definition.
There's a TV for every buyer
There you have it; a list of the best tv to buy now in 2020. Whatever qualities you are looking for in a TV, you can find them in one of the product lines detailed above. This should help your search along. We hoped we've made it easier for you to figure out the best TV to buy now.
Read more:
Samsung Q70 Series Review: Good Performance at a Good Price
Sony 85-inch TV XBR85X850F Ultra 4K HD: Is It Too Big to Succeed?
Samsung Crystal UHD Review: Good Picture Quality for a Good Price
QLED vs OLED: The Samsung-LG Battle for Picture Quality Supremacy