*** TVReviewland.com earns commissions on qualifying purchases made through affiliate links ***
Our TCL 65 Inch S517 4K HDR Roku Smart TV review quickly revealed that the 5-Series is the next step up from the series 4 models. Being made by TCL, these 5-series 4K UHD smart televisions are still more affordable than what the competition offers with similar features and performance.
One such TV is the TCL 65 Inch S517. It comes with all the features of Roku TV and the picture quality you would expect from a 4K HDR TV set. The question is: Does it provide a good viewing experience? A closer look will tell us more.
TCL 65 Inch S517 4K HDR Roku Smart TV review part 1: What is in the box?
The TV comes with a remote control that accepts voice commands. It also ships with a pair of stands, a power cable and a user manual. You will also find a dongle that combines RCA input into a 3.5-millimeter jack. The dongle goes into the 3.5mm composite video input at the back of the TV.
Design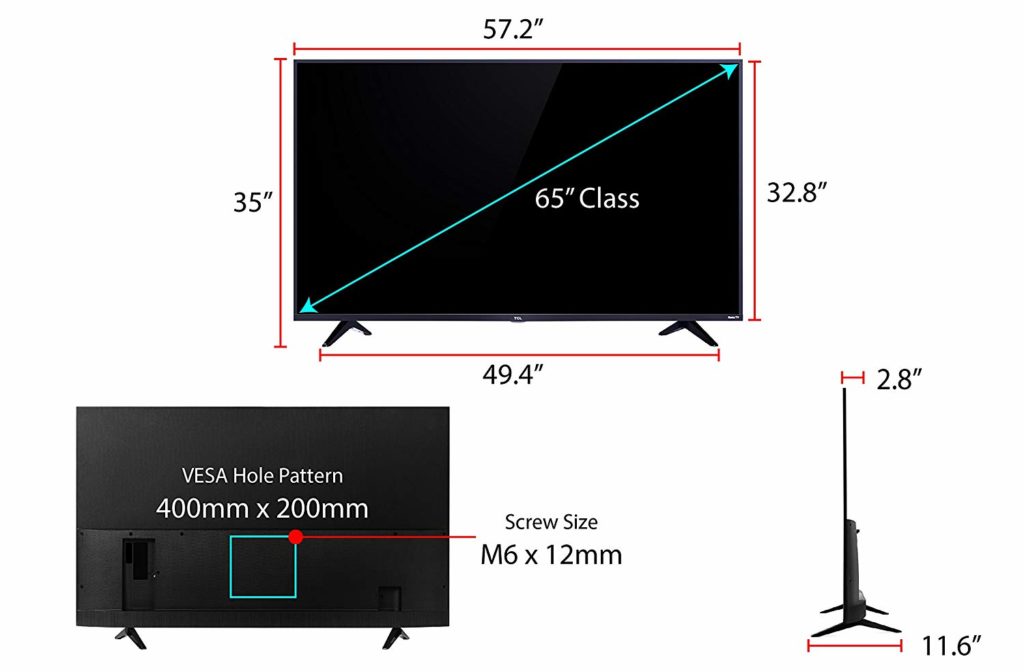 The TCL 65S517 has a beautiful yet simple look. It is held in a chassis made of matte black plastic that is textured in some places. The screen is framed by slim, matte black bezels that are only 0.2 inches wide at the top and sides.
The bottom bezel is a little wider at 0.6 inches. It holds the TCL logo at the center and the Roku logo to the right. Right under the TCL logo you will find the power button and LED, as well as the infrared sensor for the remote control.
You will notice that the TCL 65S517 gets thicker the lower you go. It starts off at 0.4 inches and only gets wider. The middle of the TV is 1.6 inches wide because it holds some hardware components of the TV.
The lowest part of the screen is three inches wide. It houses the inputs, a vent, some hardware and all the other ports on the TV. Our TCL 65 Inch S517 4K HDR Roku Smart TV review is just getting started.
Inputs and connectivity
The inputs are in a panel located on the right side of the TV. They are arranged vertically in the following order: An Ethernet port, two HDMI inputs, an antenna connector, an optical audio port an HDMI 3 port, a USB port, a composite AV port and a 3.5mm audio jack.
Like every smart TV, the 65S517 has Wi-Fi connectivity. It makes use of both the 2.4 GHz and 5GHz bands.
[Read what others are saying about this television]
Smart TV: Setup and the Roku home page
The TCL 65S517 runs on Roku, so you get to enjoy all the goodies that Roku TV has to offer. Once you power the TV, you will be surprised at how well the Roku OS will guide you through the setup process.
Which will take you to the home screen. The Roku interface is so easy to use that even an avowed technophobe will find their way around it. Here is why:
The first thing you will notice is all your inputs and the devices connected to each one. This makes it easy for you to switch between a streaming app and a show that is playing on cable.
Below the inputs is a wealth of apps.
Roku TV and content
Roku TV provides as much content as your heart desires. The interface comes preinstalled with the basic apps. Meaning that right under the inputs, you will have your choice of Netflix, Vudu, Amazon Prime, Hulu and loads of music streaming apps. What you lack in preinstalled apps, you can always find in the store.
Except for apps that come from Apple, that is.
Roku TV and smart functionality
The Roku interface updates periodically, and these updates usually add new features that are useful and convenient. Like Google Assistant and Alexa functionalities. These two features allow you to control the 65S517 with a device that has a smart assistant.
This means that you can give voice commands through an Amazon Echo, or your phone. Speaking of phones, Roku has an app that turns your phone into a powerful remote control.
The Roku app
When you install the Roku app in your phone, you are able to link it to the TCL 65S517. With useful results. With the Roku app, your phone becomes a remote control and an input device. Meaning that you can cast content from your phone to the TV.
There are also other useful features that make themselves known as you play around with the app.
Picture quality: Contrast, sharpness and detail
The TCL 65S517 boasts a VA panel, 4K resolution and HDR capabilities. These make for above-average picture quality. The TV is backlit from the edges, which means no local dimming. To make up for it, TCL added a micro contrast option. This setting lets you adjust the contrast ratio in different sections of the screen.
Given the edge-lit backlight technology, how are the black levels? They go as low as 0.04 nits, which is good. Combined with a contrast ratio of around 6000:1, the display will render deep blacks. It will show dark video scenes with sharpness and detail that rivals high-end screens from competing brands.
Picture quality: Color Gamut and Brightness
The 65S517 supports a wide spectrum of color, which can only mean vivid, accurate colors. This means that the TCL 65S517 does a great job of displaying lifelike picture in all resolutions. Especially if you combine its wide color gamut with its excellent contrast and black levels.
At a peak brightness of around 275 nits, the TV is bright enough to outperform many competing models like the Samsung NU7100. Still, the 6-series TCL models perform better when it comes to brightness.
Picture quality: Upscaling HDR and 4K video
The TCL 65S517 will upscale video with resolution as low as 480p or 24p. Better still, the upscaled video remains sharp, vivid and detailed. As for the HDR and 4K content that this TV was created for, the picture is bright, sharp and vivid.
Input lag and motion handling
When game mode is on, you can experience a minimum response time of 18ms, which is impressive. This makes the TCL 65S517 an excellent screen for gaming. In normal mode, the input lag will be high no matter the resolution of the content.
In terms of motion handling, fast response times mean that you get to enjoy fast games and video. Whatever the input resolution of your content, you will see no blurring, flickering or judder.
Pros
Excellent contrast ratio that makes the black levels seem lower than they really are
The TV does a good job of upscaling low-resolution input
Minimal input lag which makes gaming much more fun
Good picture quality overall
Roku TV has lots of content and useful smart features
The remote comes with a microphone and does not need to be in the TV's line of site to work
A good design with an allowance for VESA wall mounting
Affordable
Cons
Narrow viewing angle
No localized dimming
The TV is not very bright
TCL 65 Inch S517 4K HDR Roku Smart TV review verdict: Great value for your money
With great picture quality and the excellent experience of Roku TV, there are very few reasons to give this TV a pass. Also, the price is quite low given all the features that you get to enjoy with the 65S517. Click here to learn more about this TV or to purchase one.