*** TVReviewland.com earns commissions on qualifying purchases made through affiliate links ***
Various Westinghouse TV reviews reveal that this brand still has skin in the game, despite facing stiff competition from top-shelf companies. The television is inexpensive and simple to use, with a few state of the art features for a better viewing experience.
The company made a name for itself by marketing high-definition televisions at very competitive prices. This made it possible for the brand to become the fourth leading seller of HDTVs in the American market. However, in recent years, HD televisions have become more affordable, and Westinghouse has had a harder time keeping up with the technologies and features of major brands such as Sony and Samsung.
Key features found during Westinghouse TV reviews
1. Quick install matrix
If you have never owned an HDTV or a smart television, Westinghouse will ensure you are not too confused by the many options and features. The quick install matrix has a very useful and convenient setup guide with graphical grids that explain all input types and the sources to connect to them. It acts as a detailed user manual, making this a very user-friendly television for people who are not very technology-savvy.
2. Overall design
The company did not invest too much in aesthetic beauty, and the overall design of most of their televisions is very basic. The company utilizes efficient engineering in every television, and modern Westinghouse TVs have a very slim design for a neat look and a profile that fits in any space or wall.
Westinghouse TV reviews often complain about the location and design of the ports. All the ports are located on the center of the back of the television and are arranged in an L-shaped cut-out. The fact that the ports are recessed and obscured makes the ports harder to connect. Cut-outs usually make more sense if the ports are on the side to hide the wires from view at odd angles. Since most cables are stiff-necked, the cut-out bends the cable at odd angles. This can cause cables to become warped or split with time.
3. Energy star
Manufacturers design Westinghouse televisions with energy-efficiency in mind. The TVs meet all Federal energy efficiency standards, making them ideal for anyone who wants to reduce their carbon footprint.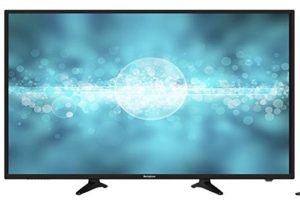 4. Built-in DVD player
For anyone who uses DVDs, the Westinghouse offers better functionality with its built-in DVD player. The DVD slot blends very nicely into the area behind the screen between the speakers, and it is very easy to find all the buttons. This eliminates the need to purchase a different device just to play your DVDs.
5. Picture quality
The quality of the picture is nothing to write home about, and the display is not as sharp or brilliant as other brands within its price range. Most Westinghouse televisions have custom color temperature controls to make the colors more accurate, but it does not have all the necessary options. There are four non-adjustable picture modes, as well as a customizable user mode. There are also standard video menu settings, including color saturation and contrast. Some Westinghouse televisions also have Dynamic Contrast Function, which adjusts the picture on the fly.
Certain models, such as the SK-H640G feature a three position power-setting that allows consumers to adjust the backlight for better viewing. The three settings are dark room, medium room and bright room. Let's continue with our Westinghouse TV reviews.
[Related: Galaxy Flip Review]
6. Connectivity
Some Westinghouse televisions have up to four HDMI inputs for better audio and digital quality. These inputs allow you to connect your favorite devices at the same time. The televisions also have a VGA-style computer input that makes it easy to use the TV as a computer monitor, and analog audio inputs to connect to DVI sources. The TV also has a standard RF input cable that connects the television to an antenna.
7. Performance
Unfortunately, based on various Westinghouse TV reviews, this is not the best performing brand in the market. Users complained about the lighter black levels, while others stated that it had very few picture controls. However, the color and video processing features are very accurate, especially for a television of its price. Both consumers and expert reviewers noted that the color temperature controls are very easy to use, and the feature achieves the perfect consistency.
8. Comparison with other brands
When it comes to energy-efficiency, Westinghouse is better than a lot of brands, and users can lower their electricity bills by a few dollars a year. It is also a very inexpensive television and is ideal for people who are not too fussy about specifications or the latest television technology. However, it seems to be lagging behind in a lot of areas and key features.
9. Price analysis
Westinghouse appeals to budget hunters, as it is a very reasonably priced TV. All the televisions are nice entry-level TVs, whether the consumer is looking for LCDs or Full HD televisions. Even the larger premium models cost less than $2000. However, there are other very cheap brands on the market, and they seem to be keeping up with technology better than Westinghouse.
[Read what others are saying about Westinghouse TVs]
Advantages of Westinghouse TV
Very affordable
Color temperature controls are very accurate
Simple design and easy to use
Some models have built-in DVD for added functionality
Energy efficient to reduce your carbon footprint
Disadvantages of Westinghouse TV
Poor contrast and lighter black levels
Ports are in the center-back of the television
Some users have complained that the design is too basic and boring
Conclusion of Westinghouse TV reviews
If you do not have a lot of money to spend, but still want a decent television in your living room, then the Westinghouse brand is a good option. The televisions in this brand are quite easy to use, even for novice owners. There are also very many models and sizes available so you can choose the one that fits your lifestyle and your viewing needs. This television is affordable and easy to use, but it does not have as many features as some of the top-shelf television brands in the market today. Read what Westinghouse TV owners have to say.


https://tvreviewland.com/sharp-tv-reviews/
Read more:
Element TV Review 2019: Things You Should Know Before Buying One
TCL 40S325 40 Inch Roku Smart TV Review
LG 55UM7300PUA Review: Alexa Built-in 55″ 4K UHD Smart LED TV
Best Budget Sound Bar: Vizio SB3621-E8
Sceptre E248W-19203R Review: A Bargain 24-Inch Full HD Monitor