*** TVReviewland.com earns commissions on qualifying purchases made through affiliate links ***
This RCA TV reviews provides comprehensive information on various RCA models, as well as their key features, advantages and disadvantages. RCA is notably cheaper than most big brands, yet it has a lot of features that make it a worthwhile purchase. Featuring a wide ray of HD televisions and Smart TVs, RCA has a lot of options for all types of consumers.
It is, however, important to remember that budget televisions are about compromise. RCA televisions
offer excellent picture quality at the expense of styling and design. You may also have to live with fewer ports and fewer fancy features. Let's jump right into our RCA TV reviews.
1. Display quality
RCA televisions offer bright and clear pictures for an excellent viewing experience, thanks to the rear-lit or edge-lit LED technology. The fast response time makes it easy to create clear motion scenes, and the HD or Full-HD resolution offers vivid colors and exceptional quality. However, most RCA televisions have a pretty low refresh rate of 60Hz or 120 Hz, which can result in motion blur and distorted images when viewing fast-action scenes. All televisions have various picture and color settings that consumers can adjust to meet their viewing preferences.
2. Design
RCA televisions have very slim and contemporary designs that complement any room. However, most of them look very simple, and they don't have flashy or glossy features. All televisions have the RCA logo on the bottom bezel, right next to the remote sensor.
The remote control
is also very simple with no frills and rubberized buttons. It is very responsive and fits comfortably in an adult's hand.
3. Performance
Models in this brand perform quite well, especially considering how affordable they are. Viewing angle performance is usually very good, and there is little loss of luminance when you view the TV from the side. The TV displays vivid colors from all angles, and the high contrast ratio ensures very deep blacks and clear pictures. However, most televisions have a low refresh rate, resulting in a lot of motion blur.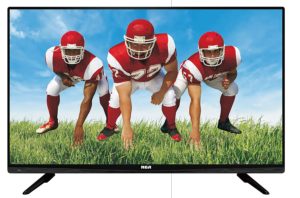 Key features found during RCA TV Reviews
Energy star certification and RoHS compliant
RCA televisions are energy-star compliant, allowing you to reduce your carbon footprint while saving on energy costs. All RCA TVs use LEDs as a light source, improving picture quality while reducing power consumption. These televisions also meet all the necessary standards for RoHS compliance.
Built-in DVD player
Some of the models feature built-in DVD players for added functionality. This allows you to watch your favorite DVDs while eliminating the need to purchase a separate DVD player. Furthermore, the televisions come with a single remote to control all the functions on the TV and the DVD player for convenience.
Wide true-to-life screen
Most RCA televisions feature a very wider screen with higher resolutions for clearer and sharper images. The true-to-life screen allows you to place your television anywhere in the room, regardless of how much natural light there is, without affecting the picture quality.
High contrast ratio
All RCA televisions have a very high contrast ratio, which provides a very wide spectrum of vivid colors with brighter whites and darker blacks for better contrast and enhanced details.
Roku TV platform
The more premium models in this brand feature a Roku smart television platform. This feature allows users to stream thousands of channels and enjoy lots of movies and programmes online. With Roku, consumers can easily find popular shows to buy, rent, subscribe or watch for free. The Roku interface is intuitive and very easy to use, and the user can put all their favorite streaming services and online channels in one place for easy access.
Smartphone remote control apps
If you often lose your remote control, you will find this feature very helpful. Premium televisions that use Roku have free mobile apps for iOS and Android devices. These apps turn smartphones and tablets into remote controls, making it easy for users to access any channel on their TV. Let's continue with our RCA TV reviews.
A wide range of input technologies
Most RCA TV sets support VGA, HDMI, AV Audio/video, headphones, PC audio and YPBPR. All these input technologies make it easy to connect all your component accessory connections, including game consoles and soundbars.
Built-in speakers
Most RCA televisions have built-in speakers that deliver very crisp and high-quality stereo sound. While it might still be advantageous to purchase a soundbar or sound system, the speakers on these TV are modestly loud and can still create an enveloping sound field for a decent entertainment experience.
Wall mountable
These television sets have a very slim design that looks neat and seamless on all your walls. Furthermore, the company incorporates the VESA compliant standard with specific wall mounting measurements, making it easy to mount your television on your living room wall with a compatible mount. However, if you prefer to place your television on a TV stand, some RCA televisions have sturdy and stable swivel stands that make it easy to adjust your TV so that you can view it from different angles.
Price analysis
RCA televisions are quite affordable, and consumers can get a decent set for less than $500. Even the more premium TV models will not put a very big dent on your wallet, as most of their televisions cost less than $2000.
[Read what others are saying about RCA TVs]
Advantages of RCA TVs
Very affordable
Excellent viewing angles
Superb picture quality
The port locations are very convenient
High contrast ratio
Lower power consumption
Remote control apps for mobile devices in premium models
Disadvantages of RCA TVs
Lower refresh rate in most models, resulting in motion blur
Simple and drab design
Wrapping up our RCA TV reviews
According to RCA TV reviews, this brand offers affordable and energy-efficient televisions that deliver a clear and well-balanced picture. However, because of its affordability, the company has to compromise on a few things, including the overall design. Most reviewers admit that RCA offers a better viewing experience that most affordable television brands. If you are looking for a television, browse through the various models and pick the one that meets your specifications. Read what owners of this TV have to say.