*** TVReviewland.com earns commissions on qualifying purchases made through affiliate links ***
We certainly noticed lots of interesting things during our TCL 40S325 40 Inch Roku Smart TV review. For a while now, TCL has been collaborating with Roku to create Smart TVs that come preinstalled with the Roku interface. The TCL 40S325 40 Inch Roku Smart TV is the latest product to come from this collaboration.
This affordable but feature-rich smart tv allows you to access streaming services without a set-top box or a TV stick. There are many more things to love about the 40 Inch TCL 40S325 Roku TV.
TCL 40S325 40 Inch Roku Smart TV review part 1
Design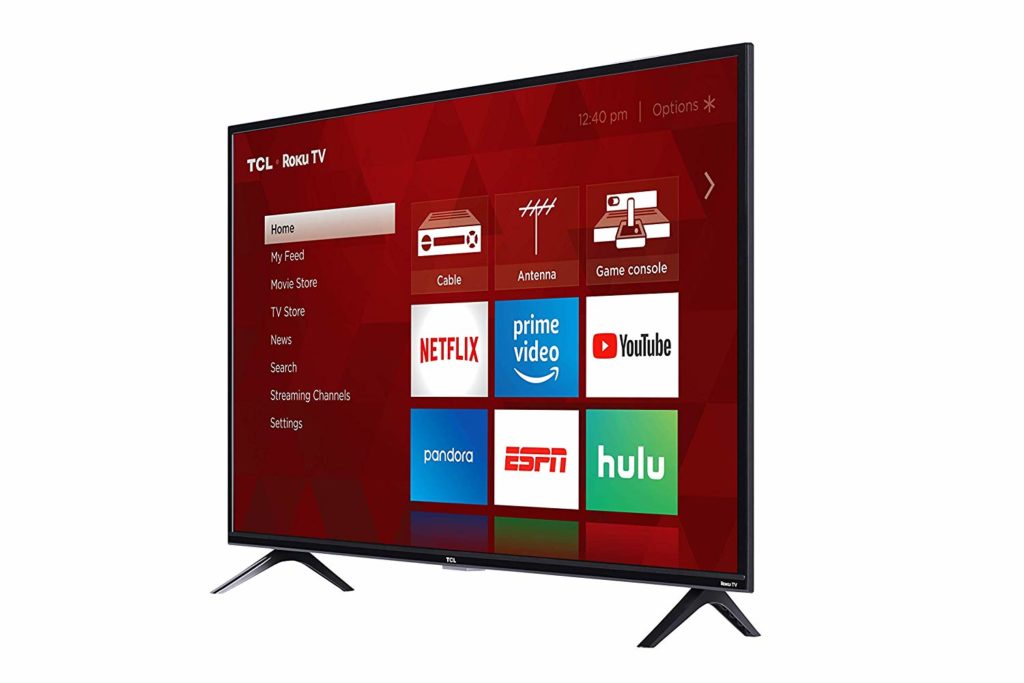 This 40 Inch TCL smart TV is 35.6 inches wide and 20.5 inches high without a stand. It is a slim screen with a depth of about 3 inches.
The screen is framed by a slim bezel that does not take away from the overall size of the display. It has a glossy, black, plastic cabinet that holds the ports right at the back of the screen.
With its simple but pleasing design, the TCL 40S325 adds to the aesthetic of a room by blending in while standing out.
Connectivity and hardware features
The ports on the TCL 40S325 are found on the left side of the back panel, where they are arranged from top to bottom. At the top of the panel is a USB port. Beneath it is a LAN port, an antenna jack, two HDMI ports, an AV input jack and an auxiliary audio jack, in that order.
The screen's inbuilt speakers are at the front of the screen, on the bottom panel. You will see the TCL logo in the middle of the bottom panel, and that is where you will find the ON/OFF LED and the power button.
[Read what others are saying about the TCL 40S325 40-inch TV]
Interface and OS of the TCL 40S325
The TCL 40S325 40 Inch Smart TV runs on either Android 8 Oreo or the Roku TV interface. You can use a remote with a microphone to access the google assistant that comes with the Android system.
The Roku interface is a joy to use. The home screen displays pre-installed apps like Netflix Hulu and YouTube. Also, if you need more apps, you can always install them from the store.
With time, Roku TV learns your preferences and displays your favorite shows on the home screen. This saves you the effort of loading an app and rummaging for the content that you want. This TCL 40S325 40 Inch Roku Smart TV review is not over yet. Let's keep going.
Content and Roku TV
Roku TV is famous for its large selection of channels, so you will be spoiled for choice. Even better, if you do not find what you are looking for in the pre-installed apps, you can always install more apps to get the content that you want.
Display
The TCL 40S325 is a 40 Inch panel with full HD 1080p resolution. It displays images beautifully, with rich color palettes and sharp images thanks to its micro dimming feature.
One shortcoming of the screen is its brightness (320 nits), or lack thereof. When you watch the TV in a brightly lit room, you will notice some dimness and a lack of contrast in the pictures. To improve your viewing experience, turn up the backlight's brightness all the way to 100.
[Related: TCL S405 55-inch TV review]
Pros
Good image quality at 1080p resolution
It comes with google assistant, which bundles with Android
The Roku TV interface is easy to use and full of useful features
Roku TV offers a wide variety of content from thousands of channels
Android OS provides access to a large number of apps from the Google Play Store
Cons
The screen lacks 4K resolution
You will need to buy a microphone remote to use the Google Assistant
The brightness to contrast ratio is not as high as that of an Ultra-HD screen
It does not use the 5GHz Wi-Fi band
TCL 40S325 40 Inch Roku Smart TV review part 2: the verdict
The TCL 40S325 40 Inch Smart TV is money well spent
For its price, this TCL 40 Inch screen has many great features, thanks to the Roku TV interface. With its 1080p display panel, the TCL 40S325 renders rich, life-like colors that make for an immersive viewing experience.
If you choose to buy this TV, you get value for your money. Click here to learn more about this TV or purchase one.
TCL TV Reviews: The 32S305 32-Inch 720p Roku Smart LED Television
TCL TV Review: S405 55-Inch 4K Ultra HD Roku Smart LED Television
TCL TV Reviews 49S405: The Best Selling Budget Television in the World