*** TVReviewland.com earns commissions on qualifying purchases made through affiliate links ***
It is clear from most Sony TV reviews that the televisions sold by this brand are of great quality, and even the most economical options have excellent features. Though its Android TV smartphone platform is not the best in the market, it has superb apps and smart TV features that enhance its user-friendliness and offer great value for money.
In terms of pricing and overall quality, Sony televisions are not the cheapest on the market. Fortunately, the company has quite a variety of models to suit all budget types, and even the lower-priced brands are quite affordable for the features and technology they offer.
Sony TV Reviews: Important features
Display characteristics
Quality display is one of the things Sony excels at, and even people who purchase the lower-priced models will not be disappointed. Users can expect the very best quality, especially when it comes to gaming, sports and smart action television. This is mainly because Sony has great judder management and blur motion technology. Furthermore, most Sony models have better color and contrast than other LCD televisions. They also offer 120Hz and 240Hz refresh rates for excellent picture quality.
Sony has spent a lot of time and money to ensure that their models are head-and-shoulders above other brands in terms of display quality. This company was the first to offer HDR in its top-shelf X-series models. It was also the first brand to offer enhanced color gamut through quantum or phosphor dot filters in the form of the Triluminos display feature.
Connectivity
Sony TV reviews praise this brand for its built-in connectivity package, which comes with everything you need for web media connectivity and streaming UHD content. The models have all the latest versions of USB and HDMI as well as the usual analog and digital audio features. 4K models also have full compatibility with 4K video compression and HDCP 2.2 via VP9 and HEVC.
Smart television platform
All Sony smart television models come with the Android television smart platform, which is an excellent piece of interface technology. Android TV has improved a lot in recent years, and it has a wide variety of apps. Users also have complete access to web browsing capabilities and Google Play apps.
Key features noticed during Sony TV reviews
Different Sony models have different features, and premium technologies are mostly found in the higher-end televisions. Some of the key features consumers can expect in Sony TVs include:
1. Audio technology
Audio technology is great in all Sony models, but it is even better in the premium TVs. Versions such as the X930 and X940C abandon the typical slim design in favour of the massive side-mounted speakers that put this brand's audio capabilities ahead of the competition.
Sony has a ClearAudio technology that works with other sound specifications to offer truly exceptional built-in surround sound.
2. X-tended dynamic range
This feature is very useful in the Sony 4K HDR televisions, including X850C, X900C and X930C. X-tended dynamic range works with Sony's powerful processors to help enhance the televisions HDR capabilities.
3. Triluminos display
Triluminos display is the version of Sony's color gamut technology that other leading brands offer. Therefore, it is very similar to the quantum dot technology that brands such as LG and Samsung use. However, Sony has been offering color enhancement features that come with the Triluminos technology for a lot longer than the other manufacturers.
Recent models feature phosphor-based color enhancement with their Triluminos display, as opposed to the quantum dot-based version in previous models. Regardless of the color enhancement Sony uses, consumers can expect beautiful and vibrant colors, especially with the refinement that the powerful Sony processors offer.
4. 4K Processor X1
This feature is only available in Sony 4K televisions. The purpose of this processor is to render 4K visuals, run the television's platforms and upscale any non-4K UHD content to ensure optimal sharpness. In 4K UHD models, the 4K Processor X1 helps deliver excellent motion blur and judder control while offering excellent realism.
5. X-reality PRO engine
This feature is available in the Sony X-series, and it is a sub-system of the 4K Processor X1. The feature helps to upscale non-4K resolution such as SD, 720p, Full HD and Blu-Ray HD for better viewing quality.
6. HDR and 4K HDR
This feature is available on all Sony Bravia television models from X850C and up. HDR and 4K HDR offers excellent peak brightness, better contrast ration, deeper black levels and a higher quality of 10-bit color wherever possible. This ensures the various Sony models deliver sharpness and high dynamic range to enhance your viewing experience.
7. Price considerations
Sony televisions are pricier than most brands, but this company offers models at various price points, ensuring there is something for most budgets. 4K HDR models, such as Sony A1E, are in the premium price range, costing several thousands of dollars for larger screen models. However, this company also has the W600D series that costs a few hundred dollars for a 32-inch screen.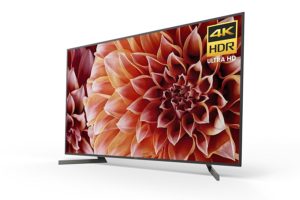 Advantages of Sony televisions
Wide price range accommodates various budgets
Excellent upscaling engine
Plenty of applications and content access
Superb contrast levels in most models
120Hz refresh rate in most televisions, even on lower-priced models
240Hz refresh rate in premium models
Superior color and brightness, thanks to the Triluminos display feature
Superior audio, especially in premium televisions
HDR in several models from 2015 to date
Offers excellent performance at fast action 4K content
OLED models have excellent black, color and contrast
Top-shelf models such as the XBR ZNF series have an X-wide angle feature for beautiful pictures from every side
Disadvantages of Sony televisions
Slightly on the expensive side, especially for premium model LCD televisions
The Android television platform could work a little better.
Wrapping up
If you love sports, fast action television and gaming, then Sony televisions are the way to go. Sony TV reviews reveal that most people love the unparalleled realism, extraordinary contrast and multi-dimensional sound features, especially in the top-shelf models.

1-b6c6-d9ea0090442b">