*** TVReviewland.com earns commissions on qualifying purchases made through affiliate links ***
Our LG Signature 65 inch OLED Smart TV review covers the latest premium product line is called the W8. The displays in this line employ powerful Alpha 9 chipsets to harness all the picture-perfect goodness that comes with an OLED panel. To all that, they added a simple, intuitive operating system and a breathtakingly beautiful design. The final product is a viewing experience that will amaze you in many different ways. So let us count the ways.
LG Signature 65 inch OLED Smart TV review part 1: Unboxing the LG 65W8
This widescreen TV comes in a package that also contains magnetic wall mounting gear, an LG magic remote, a power cable and some paperwork. Most importantly, the LG 65W8 comes with a soundbar and the ribbon you will need to connect the soundbar and the TV.
Design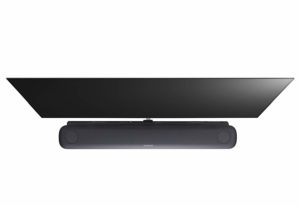 The LG 65W8 is an ultra-thin, smart TV. Looking at it, you could almost see yourself taking the display out of the bezels and folding it. Like you would a painting from its frame. That is how thin it is, at a depth of only 0.15 inches. You can actually bend the TV if you want to. But don't, you might get a paper cut.
The panel of the 65W8 has slim bezels that free up most of the screen to display images. These bezels are colored at a gradient that goes from deep black to metallic grey. The edges of the TV are covered in matte black trim.
You may wonder where LG put the speakers and other hardware in such a paper-thin screen. The thing is, they don't.
That is what the soundbar is for. It connects to the screen with a ribbon that is nearly invisible. This versatile device is a long, chrome-colored, sleek affair with forward-facing vents, retractable speakers and a panel of inputs at the back. This LG Signature 65 inch OLED Smart TV review is just getting started.
Inputs, outputs and connectivity
There are enough input ports on the LG 65W8 for all your devices. The soundbar houses four HDMI ports, three USB ports, an antenna connection, a composite port, an Ethernet port, one RS232 mini jack and an optical output port.
The TV also has wireless adapters for Bluetooth and Wi-Fi.
Smart TV: Interface
Most LG smart TVs run on WebOS, a Linux-based operating system. It has a simple home screen that is bare, except for a few menu items on the top right-hand corner and a menu ribbon at the bottom. The ribbon has all your favorite streaming apps, from Netflix to YouTube to Hulu. With time, the ribbon becomes a custom-made menu that is based on your preferences.
LG improved upon WebOS by adding ThinQ, their proprietary smart assistant. In the past, ThinQ could only act on a limited set of commands. So LG gave their smart assistant a boost by integrating it with Google Assistant. The result is kind of awesome.
Now, the smart assistant in the LG 65W8 can present you with search results when you ask questions. If you ask a question about Winterfell, you will get search results with Game of Thrones content.
Thanks to the powerful chipset of the 65W8, you will enjoy super-fast response times as you move between menu items.
The LG 65W8 as a Smart TV hub
WebOS and ThinQ are compatible with Alexa as well. To enable Alexa you simply need to install a new skill from the LG content store. Speaking of app stores, some people are making progress with installing android apps in open WebOS. This will open up a whole new world of content in the future.
The 65W8 is compatible with three web assistants, which means that it can act as a smart hub for devices that run on ThinQ, Google Home and Alexa. So you can control your LG smart fridge or your smart lights from the TV, which is cool. The next section of this LG Signature 65 inch OLED Smart TV review will explore how this TV displays pictures.
Picture quality: Color, contrast, sharpness, brightness
In a word, the picture quality of the 65W8 is stunning. The blacks look like darkness and the other colors are rich. This makes for amazing contrast. The A9 processor uses the wide color gamut of this OLED screen to deliver color accuracy that matches the source of the video.
Better still, the display of the 65W8 has a wide viewing angle, which means that the colors remain the same even when you watch TV from the side. The TV also has peak brightness that is north of 800 nits. This means that the TV remains bright even in a brightly lit room. One more section and we'll wrap up our LG Signature 65 inch OLED Smart TV review.
Picture quality: Resolution and HDR support
This 4K screen supports four types of HDR: Dolby vision, HDR 10, HLG and Advanced HDR by Technicolor. So whatever content you want to watch, the 65W8 will display it exactly how it was meant to be displayed.
Pros
Beautiful design
Great picture quality
It comes with an LG magic remote
The sound bar produces high-quality sound
Cons
There is no difference between the display panel of the LG 65W8 and that of the 65W7 from 2017. Only the A9 chipset improves performance
There is no HDMI 2.1 port
There is no allowance to set up the TV with a stand
LG Signature 65 inch OLED Smart TV review verdict: This is one of the most fun purchases you will ever make
If there was a magic TV that would light a little spark in your life, this premium TV from LG would be it. At 65 inches across, the TV is large enough to command a room. The wafer-thin depth and the gallery mode setting of the LG 65W8 will turn your wall into art. All your friends will be in awe when they see this TV.
And that is before they experience the crisp, lifelike picture that will pull them into whatever world that will be playing on your screen. You will chuckle as you watch one of your guests duck a football or a dragon tries to fly out of the TV and into your living room. So, should you buy this TV?
Yes. Do it for you and your friends and family. Do it for the immersive experience. Click here to purchase one.