*** TVReviewland.com earns commissions on qualifying purchases made through affiliate links ***
If you are one of those stumbling about wondering what is a fire stick, you have come to the right place. The Amazon Fire TV Stick 4K is a glimpse into a future of pocket-sized set-top boxes. Its diminutive frame houses a host of powerful features. This TV stick will be best known for its awesome image quality and versatility.
Amazon created the Fire TV Stick to give its users seamless access to content from Amazon, other streaming services and the web in general. To set itself apart, Amazon created this TV to stick render HDR, HDR10 and Dolby video at an affordable price. The stick also comes with some useful features.
What is a fire stick: first looks and setup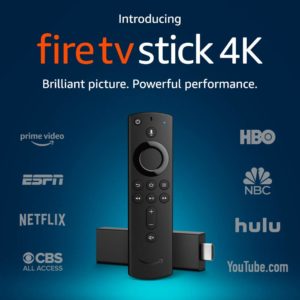 What is a fire stick you ask? It is a 10 cm long dongle that plugs directly into a TV's HDMI port. To power the stick, you need to connect it to an outlet via a USB cable. If the HDMI ports on your TV are on the side, the dongle and its power cable will be quite noticeable.
That said, it is still smaller than Apple TV hardware.
The setup process is fairly simple. Once you plug it in, the TV stick will connect to the Wi-Fi network and ask to link to your Amazon account. It will also perform any needed software updates.
Once it is up and running, you will be able to customize it to your liking.
[Read what others are saying about the Amazon Fire TV Stick 4K]
Amazon Fire TV Stick 4K features
Amazon's TV Stick 4K comes with Alexa and all that she can do, which makes the fire TV capable of controlling both a TV and as a smart home as well. Voice commands can be given through the microphone on the voice remote, or a connected Echo speaker.
If HDMI-CEC setup goes off without a hitch, you will actually be able to start the TV stick with a voice command.
The voice remote that comes with the fire TV stick can control the TV and even select HDMI inputs. It has an infrared blaster that allows you to change channels on the TV
Thanks to Alexa, you can use voice commands to find content based on parameters like image quality or an actor's name. That said, expect the search results to be skewed towards Amazon offerings. Which means that you have to use very specific search terms to get exactly what you want.
For ease of use, the Fire TV stick has an interface that 'pulls' your favorite TV shows from their apps and into the 'recent' section, which makes them easier to reach
Amazon has improved on the previous TV stick model by fitting this latest version with a faster processor. As a result, it is extremely responsive, and you will enjoy zero lag time as you put the stick through its paces.
The Fire TV Stick 4K also offers MPEG2 video support so that you can watch over the air channels through a TV tuner connected to your Wi-Fi network. Hope we answered all the questions of everyone wondering 'what is a fire stick?'
Pros
Has excellent image and sound quality. The fire stick supports HDR, Dolby and HDR10
The fire TV stick allows voice control through its remote's microphone or Echo speakers
It comes with a versatile voice remote that can control the TV
Has pretty much all the functionality of Alexa, so you can use it as a mini control center for a smart home
It is quite affordable
Cons
It does not come with Walmart's VUDU service, which means that you have one less source of Dolby vision content. Sadly, neither Netflix nor Amazon have the variety of Dolby and HDR content that Vudu does
Amazon likes to promote its offerings, and they really hog the space on the home screen
There is a limit to how much you can customize the home screen
You may have a hard time using voice commands to navigate a playlist or queue
There is no native YouTube app on the fire TV stick, so watching YouTube TV will take some doing
The selection of apps is not as extensive as that of competitors like Roku
Should you buy the Amazon Fire TV Stick 4K?
If you love high definition pictures then yes, this is exactly the TV stick for you. The Fire TV Stick 4K performs well and comes chock full of features that are useful and convenient. The icing on the cake? It is more affordable and performs better than its competitors. Read more about this streaming device.
Read more:
Samsung Q70 Series Review: Good Performance at a Good Price
Naruto Television Show: The Enduring Appeal
Sony 85-inch TV XBR85X850F Ultra 4K HD: Is It Too Big to Succeed?
Samsung Crystal UHD Review: Good Picture Quality for a Good Price