*** TVReviewland.com earns commissions on qualifying purchases made through affiliate links ***
Ever find yourself wondering what does Apple TV do? This article is for you. Each iteration of the Apple TV comes out better than the previous one, thanks to continued hardware and software upgrades. The fourth generation of the media player is no different. The Apple TV 4th generation has a lot to offer, so how well does it perform?
What does Apple TV do? First looks at the fourth generations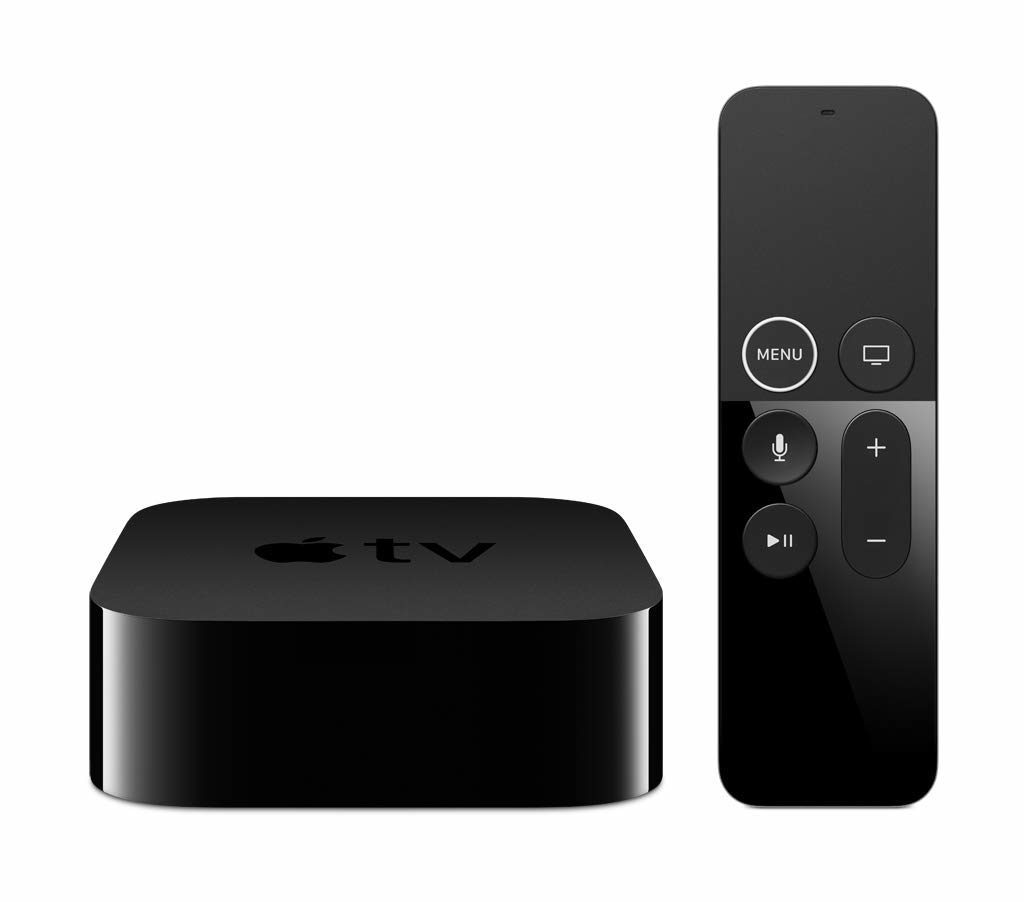 The device is a square box that sits nicely on your palm and it's about 35mm high. At the back, the Apple TV 4 has a power port and a USB service port. It also has an infrared port and an HDMI port that allows it to connect to any HD screen with an HDMI3 port.
Setup
The Apple TV 4 runs on tvOS 10, an operating system designed with large screens in mind. Setup is really simple: Simply power the device and put in your iTunes details via the setup wizard, or by holding your iOS 9 iPhone next to the Apple TV when the device asks you to. Pretty cool, huh?
Interface and controls
On the home screen, the apps are arranged in a grid, but the screen is pretty bare since there are only a few basic apps that come pre-installed (iTunes, Music, iTunes movies, AppStore). You can get whatever else you need from the store and customize the screen by creating folders and moving the app icons around.
The interface is intuitive. When you use the Siri remote to move between apps, the app icons mirror your movements. Better still, the interface is very responsive, with zero lag time as you move from one menu item to another. This is all thanks to an A8 chip, 2GB RAM, 32 or 64 GB storage, and a good OS.
Still wondering what does Apple TV do? Let's dive further into this review.
Functionality
Siri returns useful search results, with content related to a voice-issued search term. This is a welcome improvement because, with earlier versions of Siri, you had to give very specific voice commands to get the content you wanted.
Image quality
Apple TV 4 has 1080p resolution. While not as high as that of 4K TV sticks, Apple TV's lower resolution makes for extremely fast streaming and buffering. For those who absolutely must have 4k resolutions, there is the Apple TV 4 4K.
[Read what others are saying about the Apple TV 4]
Content
Apple TV has a bit of content, and hopefully, the number of apps in the store will increase. There is Netflix, HBO, Hulu and great games like Lumino City. You can also find useful apps for shopping and booking things like flights and accommodation.
Apple TV 4th generation gives search results from Netflix, iTunes movies, Hulu and any other content apps you can find in the store. However, if you want a wider array of content, you may have to use a browser to find what you want.
Future updates
There is a whole bunch of APIs for tvOS 10. This will allow developers to add capabilities like Smart HomeKit to this Apple TV, and that is something to look forward to. Still wondering what does Apple TV do? Here is a summary of the pros and cons of this device.
Pros
Unlike Chromecast, there is no need to use a smartphone to work the apps
Continued updates keep improving the user interface. They also add more functionality to Apple TV 4
The device has great image quality
The Siri remote has a responsive trackpad, which makes it fun and easy to use
Cons
The optical audio port is gone from this version
There is no support for Ultra HD 4K
The on-screen keyboard is hard to use, and the remote iOS app does not work with this model
The app store could use more apps
Is it a good purchase?
For the person with an Apple ecosystem, the Apple TV 4 is a nice addition. It is a lot of fun to use, thanks to the Siri remote and the responsive interface. Click here to learn more about this device or purchase one.