*** TVReviewland.com earns commissions on qualifying purchases made through affiliate links ***
Our expectations were high when we started our LG 55UM7300PUA review, but we were not disappointed. LG is a brand with a reputation for creating televisions with breathtaking picture quality. Many of their products are high-end statement pieces designed to provide an immersive, inspiring, viewing experience.
Others, like the LG 55-inch UM7300 are basic 4K smart TVs geared towards buyers who want a good TV at a good price.
Some LG smart televisions come with WebOS, LG's own operating system. Others come with Roku TV. Recently, LG made an agreement with Amazon, and they are now loading some of their TV sets with Fire TV. The LG 55UM7300 is one such model.
If you are wondering what it is like to have two powerhouses come together and bring a product to market, read on to find out.
LG 55UM7300PUA review part 1: Unboxing and first looks
The 55-inch UM7300 ships with an Amazon voice remote, a pair of batteries, a pair of TV stands, a power cable, a cable tie and a user manual.
You will like the simple, elegant design of the LG 55UM7300, starting with the display. The screen has glossy, super-thin bezels that take up very little space.
The TV measures 49 x 28.6 inches, with a depth of 3.5 inches. The chunkiness of the 55UM7300 means that the TV will stick out and away from the wall if you choose to mount it. The back of the TV is curved, which gives it an element of sleekness despite its thickness.
You will find two input panels and a 300×300 VESA wall mount pattern at the back of the TV. Our LG 55UM7300PUA review is just getting started.
Ports and connectivity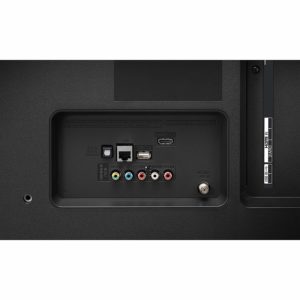 There are two sets of connections at the back of the TV. Both are on the left side of the screen, with one input panel facing outwards and the other facing the rear. The outward-facing side-panel holds two HDMI ports and a USB port. The rear-facing panel holds a third HDMI port, a second USB port, an Ethernet port, a digital optical audio output port, a set of component AV ports and an antenna connector.
The LG 55UM7300 connects to the home network via its Ethernet port or its wireless adapter. The wireless adapter also allows you to connect your Bluetooth-enabled devices directly to the TV.
[Read what others are saying about this television]
Fire TV: Content, Alexa and smart home devices
Amazon's Fire TV provides a rich and satisfying user experience. The interface responds to your commands with near-zero input lag. This is why you will never experience freezing or choppy animation with this OS.
The interface allows you access to a huge number of streaming apps, many of which are already installed when you set up the TV. If you feel like you need more apps, you only need to browse the app store to find what you need.
Fire TV also ships with Alexa, the useful smart assistant that helps you control and manage compatible smart home devices, among other things.
Performance: Brightness, black levels and color accuracy
The LG 55UM7300 is an IPS panel that has 4K resolution and direct backlight technology. The 55UM7300 has a peak brightness level of 277cd/m² for SDR content and 320cd/m² for HDR content. These levels are high enough in a room with low lighting.
But in a bright room, the screen will appear dim and you will have a hard time making out distinct images. That's arguably the main low-light of our LG 55UM7300PUA review.
The TV has a narrow color spectrum. Combine a narrow color spectrum with limited brightness levels and you get a small palette of available colors. This means that the 55UM7300 has fewer colors to work with. Yet this TV makes it work. The processor that runs the 55UM7300 uses the available palette to 'create' and render vivid colors.
Sadly, the TV also lacks local dimming, which limits its black levels. You will not notice this limitation when watching TV in a bright room. In a dark room though, black colors will appear grey. The limited range between the brightest colors and the minimum black levels affects the contrast ratio of the TV.
Performance: Contrast
The TV has low contrast, but if you set the contrast level to high, the video becomes clearer, more defined and more detailed.
Because the 55UM7300 is lacking when it comes to local dimming and brightness, its native contrast ratio is low. You will not notice the low contrast as you watch TV in a fairly bright room, but you will notice it in a darker room.
There is a workaround for the low contrast, though. Just set the contrast level to high, and the picture should become clearer, sharper and more defined. You should get acquainted with the settings menu because you will need to play around with the picture settings at some point. Our LG 55UM7300PUA review still has a lot to cover.
Performance: Motion handling and input lag
This is where the LG 55UM7300 shines. It has a very fast response time, with an input lag of only 11ms. This impressive response time is comparable with many high-end LG television sets.
Fast, action-packed sports content plays beautifully on this TV. The same goes for your favorite action sequence from your favorite show.
Performance: Sound
The LG 55UM7300 has a pair of internal 10-watt speakers. You will like the balanced sound that comes from the speakers, but you should get a soundbar anyway. Especially if you want the full home-theater experience.
Pros
Color accuracy and contrast improves with a little calibration
Wide viewing angle
Fire TV allows you to access a wide variety of content
The 55UM7300 Fire Stick edition comes with Alexa, allowing it to act as a smart home controller
Very low input lag and excellent motion handling
Supports basic HDR content
The TV has very little glare, thanks to the anti-glare finish on the surface of the screen
Cons
The lack of deep black levels makes it a little hard to watch this TV in a dark room
Support for HDR content is limited, with no support for Dolby or HDR10+
The TV stand is stable enough, but the legs are positioned at the very edges of the TV. You will either need a very wide tabletop, or you will need to mount the TV onto the wall
The rear-facing inputs would be hard to reach if you chose to mount the TV. You'd need a mount that allows you to pull the television away from the wall like the Pipishell Full Motion TV Wall Mount Bracket
No cable management at the back of the TV
LG 55UM7300PUA review verdict: This television is worth a second look
LG puts a lot of care into their products and this budget 4K Fire TV from LG is no exception. What the display panel lacks in brightness and color range, the processor corrects. The result is very good picture and wide-screen viewing experience.
If you choose to buy the 55UM7300, you will have yourself a durable TV that offers a fun and immersive user experience. Thanks to Amazon Fire TV, in large part. Read what current owners of this TV model have to say about it.
Related reviews:
LG OLED77W8 77 Inch 4K Smart TV Review
LG Signature 65 Inch OLED Smart TV Review
LG TV Reviews 2018: The Good, Bad, and Ugly