*** TVReviewland.com earns commissions on qualifying purchases made through affiliate links ***
A Sony 48W650D 48 Inch 1080p Smart TV review has been long overdue given the fact this budget Smart TV that has been in the market for a while now. As you use this TV, you will get the feeling that the people who designed it were going for simplicity.
Its outer design and Smart TV interface are as unassuming as the Google search page.
The thing is though, beneath a search engine's minimalist web design is something truly powerful. This review will examine if the performance of the Sony 48W650D is as powerful as its design is simple.
Sony 48W650D 48 Inch 1080p Smart TV review part 1: Unboxing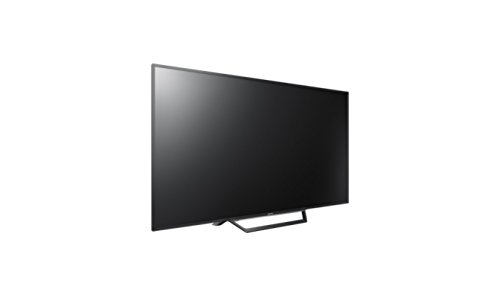 When shipping this box, Sony wanted to make sure that you lacked for nothing. Besides the power cable, power brick, a remote and its batteries, you will find other useful things in the box. For starters, you will find VESA spacers and some screws to help you mount the TV.
You will also find a TV stand, which will also help with cable management. As will the complementary cable tie. Lastly, you will find some user manuals.
First looks
The Sony 48W650D has a simple design. It looks better than many similar TVs in its price range. Its chassis is made of plastic that comes in charcoal black. The screen is framed with bezels that are three-quarters of an inch wide. They are colored at a gradient that ranges from charcoal black to chrome. The bottom bezel has the Sony logo in the middle.
This TV measures 43 inches by 24 inches. It has a stable stand with a small footprint that is only eight inches wide. Compared to similar budget TVs, the Sony 48W650D is pretty slim. At its widest point, the TV is about 2.5 inches thick.
The back of the TV is simple, with the inputs at the very bottom. There is one little problem with the placement of the inputs: If you mount the TV on the wall, you will have a hard time reaching the rear-facing HDMI and optical inputs.
[Read what others are saying about this television]
Connectivity
The Sony 48W650D has three sets of inputs in the middle of the bottom panel.
The side-facing inputs are made up of two USB ports, an HDMI port and an audio port. The downwards-facing inputs consist of an antenna connector, an Ethernet port, a set of RCA AV ports and a DC power port.
The TV also has a rear-facing HDMI port and a rear-facing optical audio output. These two outputs will be out of bounds as soon as you mount the TV.
Internally, the TV has a Wi-Fi and Bluetooth adapter. As inputs go, the Sony 48W650D has you covered with the basics. But there are competing models that have more inputs.
Smart TV interface and features
The Sony 48W650D has a no-frills operating system that comes with a few basic apps. Like the Opera app store where you will find the likes of Hulu, Netflix and Amazon videos. If you want a wider selection of apps, you can look for another play store app in the selection offered by the Opera app store.
This manufacturer specific operating system forces the Sony 48W650D to compete with TV models that carry more versatile systems like Android and Fire TV. The good news is once you install another app store, you will be able to access a whole new world of content and features.
Display: Color
This 1080p LED-backlit TV has some good things going for it. The LED backlight technology helps to render good black levels. But because the TV does not support localized dimming, the blacks are not intense. The good news is that this only becomes a problem in a dark room.
The Sony 48W650D does not have a wide color gamut. Still, its color spectrum is wide enough. So for any kind of content, you will be able to enjoy high fidelity colors.
One downside of this TV is its limited viewing angle. From the side, the colors do not look the same as they do when you look at the screen from the front. Blacks become greyer and the other colors lose their richness. This Sony 48W650D 48 Inch 1080p Smart TV review still has a few more bases to cover.
Display: Contrast and sharpness
The TV comes with a high contrast ratio of 3397:1, which is quite good. Sadly, the black levels are not deep enough to showcase the full effect of the contrast. Still, you will be able to enjoy vivid, clear, sharp and detailed picture, even with 480p, 720p and 1080p inputs. The TV will scale 4K input down to 1080p.
Performance: Input lag
Input lag is important for gamers and people who would use the Sony 48W650D as a computer monitor. The screen has a refresh rate of 60Hz and an input lag of around 42 milliseconds for 1080p resolution.
Changing to the gaming mode preset does not improve the screen's response time.
Performance: Motion
Here is where we see a little contradiction. Fast-moving objects will not blur on this TV. But you will see blurring when a camera pans really fast. You may also notice the screen become darker in some spots and brighter in others.
For the hawk-eyed sports enthusiast, this could be a let-down.
Pros
The TV stand has allowances for cable management
A high contrast ratio that results in great contrast and sharpness
The Sony W48650D upscales lower resolutions like 480p and 780p. It also allows you to stream 1440p and 4K content
The Sony W48650D has smart TV capabilities
It has very low input lag, which gamers will like
The screen surface has a semi-gloss finish to prevent glare
The internal speakers are loud and clear
This TV works well when mounted above eye level
Cons
The brightness of this TV is limited, so you will have a hard time making out images in a bright room
This is not a TV that supports wide-angle viewing
If you mount the TV on a wall, you will have a hard time reaching some of the ports
The settings menu does not give you the latitude you need to fine-tune the colors
In a bright room, you will notice glare
Sony 48W650D 48 Inch 1080p Smart TV review verdict: It will work fine as a general purpose TV
The Sony 48W650D works. It works well as you stream a show in a bright room. It will get the job done as you watch the news or play a game.
However, if you are the type of person who likes to host movie nights or watch sports with a bunch of your friends, then you should go for something with slightly more power to its performance.
If you are looking for a simple TV that will allow you to get the basics done, then the Sony 48W650D does the job. Click here to learn more about this TV or to purchase one.