*** TVReviewland.com earns commissions on qualifying purchases made through affiliate links ***
When it comes to the best gaming monitor brands, most people need their monitors to perform more than one function. They need one that is great for sports, movies, and gaming. Fortunately, the Acer R240HY can do all of these things and more. The size, zero-frame, and flicker-less display ensure you can enjoy using the Acer 23.8-inch monitor for hours on end.
Best Gaming Monitor Brands Reviews Part 1: Introduction
If you are looking for one of the best gaming monitor brands and a screen that doesn't hurt your eyes, offers superior picture quality and allows you and your friends to play games or watch movies from any viewing angle, then the Acer 23.8-inch monitor should be your first pick. This monitor is quite affordable, but it has features that are often found in more expensive models and brands. The zero-frame design allows you to put two or more monitors side by side for seamless viewing.
While other TFT and TN computer monitors have poor visibility at different angles, this monitor uses IPS technology for stunning color despite your viewing angle. This monitor is also very energy efficient, reducing your carbon footprint and lowering your power bills.
However, one of the features that a lot of reviewers appreciate about this monitor is the Flicker-free technology. If you have ever been forced to stop using your computer because of eyestrain or headaches, then the Acer 23.8 inch monitor is the answer to your dilemma. This monitor has a blue light filter that reduces the amount of blue light reaching your eyes for less eye fatigue. Furthermore, the monitor has a fast refresh rate, ensuring your eyes do not notice the flicker. Therefore, you can use it for longer without experiencing migraines or headaches.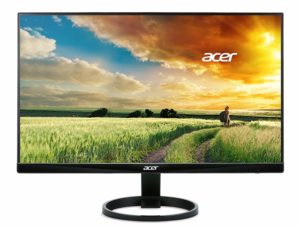 Who is this product designed for?
Most of the reviewers who praised this monitor are gamers who were very impressed by its low input lag, excellent visuals, and zero-frame design. Individuals who lose track of time because they are playing an interesting game do not have to be reminded that it's time to step away from the screen by the eye strain and blinding headaches. The flicker-less technology helps reduce eye fatigue so that gamers can enjoy hours of entertainment on this screen. That one of the many things that make this Acer monitor one of the best gaming monitor brands.
Individuals who also love watching movies online will love using this monitor. The frameless look allows you to put more than one monitor side by side so that you can watch your favorite shows on a larger screen. Furthermore, the IPS technology offers superior colors and excellent viewing quality, regardless of where you are seated while viewing the screen.
If you need a screen for a work, the Acer 23.8 monitor can also serve you very well. The Full HD screen ensures that details and texts on the screen are very clear. The size is not too small or too large, making it perfect for working on an office desk. The anti-glare screen also ensures the screen does not reflect light in bright rooms.
Product overview
Consumers who purchase inexpensive monitors usually expect fewer features. This is because most manufacturers sacrifice quality in order to lower the price point. However, Acer has managed to cram quite a few features in their Acer 23.8 inch R240HY monitor while still making it budget-friendly. This monitor works with most computers, including MacBooks. It's also great for playing fast-paced games, as it has a low input lag.
In terms of looks, this monitor is very aesthetically appealing. The casing is glossy with a very thin bezel, especially on the sides and the top, for a frameless look. This plastic casing sits atop a ring-shaped base with a tilt angle range of between -5 and 15 degrees. This allows you to tilt it forward and backward for a viewing angle you are comfortable with. Unfortunately, the stand does not support height adjustment or swivel movement.
The panel measures about 24 inches with full HD display and a screen resolution of 1920×1080 pixels. The Acer monitor has an aspect ratio of 16:9 and an anti-glare screen coating, ensuring there are no reflections when you view it in a bright room. Furthermore, the screen is very clear with a maximum brightness of 250 nits.
The bottom of the monitor has five buttons to help set the brightness and contrast of the screen. This location also houses the power switch. The monitor's measurements are 21.3 inches x 7.3 inches x 16 inches and it weighs 6.5 pounds. Lastly, this monitor has DVI, VGA, and HDMI ports, as well as a headphone jack. Unfortunately, it does not have any USB ports, DisplayPort input or audio peripherals. That one of the few drawbacks that came up during our best gaming monitor brands reviews.
I purchased this monitor in order to play my favorite games on my Xbox One. Fortunately, my Xbox one has an HDMI cable, so connecting it to the monitor was very simple. The quality of the pictures was superb, and the fast refresh rate meant that I could play fast-paced computer games without worrying about input lag.
[Read what others are saying about the Acer R240HY]
Best gaming monitor brands part 2: Important features
1. Flicker-less technology
If you spend hours in front of your computer, then the flicker-less technology in this Acer 23.8 inch monitor will do you a world of good. This technology is designed to reduce annoying screen flickering that causes eye strain, especially if you work on your computer for long periods of time.
Most monitors produce blue light, which is very glary and can cause eye strain and headaches. The LED backlight is supposed to fix this problem. However, the light emitting diodes are usually pulsed at a fast or slow rate to make the screen brighter or darker, and some people perceive this refresh rate as flicker.
Flicker-less monitors have a much higher refresh rate, and due to the speed increase, your eyes will not perceive the flicker easily. This results in fewer headaches and eye fatigue. The higher refresh rate also results in clear images and fluid movements. The faster the refresh rate, the more comfortable the monitor will be on the eyes. The refresh rate is certainly something you want to keep an eye on when it comes to the best gaming monitor brands.
Furthermore, the Acer R240HY has a blue light filter that shields your eyes from blue light to reduce eye fatigue.
2. Full HD
This monitor has a Full HD screen with a resolution of 1920×1080 and an aspect ratio of 16:9, which makes even small texts and details very clear. Full HD is one of the major selling points in most televisions, and it offers the same quality and clarity in monitors. Combined with the high resolution, the Full HD feature makes the monitor perfect for watching movies, video games and watching HD online videos. In fact, you will be able to watch this movies and videos in widescreen as it was intended to be seen in the theater.
3. IPS (In-Plane Switching)
This monitor has an IPS screen, which produces excellent color and superior viewing angles. In-plane switching is a screen technology that aligns the liquid crystals horizontally instead of vertically. Therefore, the viewer can enjoy a wider viewing angle because IPS technology changes the physical behavior of the liquid crystal layer. This has made it very popular in displays for monitors, televisions, and laptops. IPS screens are also more viewable and readable under bright outdoor lights or direct sunlight.
Unfortunately, the IPS screen has a disadvantage. IPS ensures better viewing angles by letting more light pass through the panel. However, this can result in light bleed. Acer 23.8 inch monitor reviewers have complained that there is a bit of a glow around the edges and corners of the screen. You'll notice it more when viewing scenes with lots of black colors or dark scenes.
4. Zero frame design
The Acer 23.8 inch monitor has a frameless design, which features a very slim bezel on the top and sides of the panel, for more screen and less distraction. In fact, the whole cabinet is about half an inch thick at its thinnest point. This ensures an excellent viewing experience, especially if you want to place two or more monitors side by side. It's a feature we weren't really expecting to find when we started this best gaming monitor brands review.
5. Ergonomic tilt
This monitor has an ergonomic tilt design, which adjusts the display from -5 to 15 degrees so that you can choose the best sightline for your viewing enjoyment. This ensures that you have the best view possible. However, it does not have any swivel, height or pivot adjustment, which would have improved your viewing experience even more.
6. Energy-friendly
If you like monitors that energy efficient, then you will love the Acer 23.8 inch monitor. The monitor only uses about 19 watts of power in Standard mode, and only 12 watts in ECO mode, ensuring it does not stress your electric bill.
7. Picture quality
This monitor has a 4ms grey-to-grey pixel response time, which makes it ideal for fast-moving images. There is also no evidence of blurring or ghosting, making it especially suitable for gaming. The input lag time is about 9.6 milliseconds. Reviewers stated that the picture quality of games like Grand Theft Auto and Crisis was excellent. Even games such as Battlefield and Overwatch look crisp on this monitor.
This top-selling best gaming monitor brands has decent color accuracy, with very perfect blues. However, color tests reveal that the reds and greens are slightly misaligned. Fortunately, the colors are very well-saturated, and can also display vivid images and colorful scenes from movies and videos.
The grey-scale performance was good, and the Acer 23.8 inch monitor was able to display all shades of grey. The whites are bright and the blacks are deep, and you do not get any of the yellow tints that are common in budget monitors. However, you will not get the same level of shadow detail that you get in the higher end IPS panels.
Best gaming monitor brands reviews part 3: Pros and cons
Pros
Thin, stylish monitor
Low price point
4ms pixel response time
6ms input lag
Energy-friendly
Flicker-less technology makes it better for your eyes
Great color and grey-scale performance
Cons
It is not VESA compatible straight out of the box. If you want to mount it on a wall, you have to purchase an adapter separately.
Most reviewers have complained that it has more light bleed than other IPS monitors
Does not have a Display port unit
Best gaming monitor brands reviews part 4: FAQs
1. Can I mount this monitor on my wall?
Absolutely!
2. Can I tilt the monitor downwards?
Yes. This monitor can tilt downwards.
3. Can I adjust the height?
Unfortunately, you cannot adjust the height of the monitor, you can only tilt it.
4. Does this monitor have USB ports?
Unfortunately, this monitor does not have any USB ports. However, it has HDMI, VGA, and DVI, which you can use for external connections.
5. How can I connect this monitor to my MacBook
You will need a DVI cable. Simply plug one end of the cable into your MacBook and the other end into the monitor. If you are using a VGA connection, you will have to get a mini DVI-to-VGA adapter that comes with the MacBook. Put one end of the VGA cable into the VGA end of the adapter, and insert the adapter DVI end into your MacBook. Plug the other end of the VGA cable into your Acer monitor.
6. Does this work with Xbox one?
If your Xbox one has a VGA, HDMI or DVI cable, the monitor should work just fine.
Final verdict
There are very many monitors on the market, and most buyers have many choices. However, if you want the very best of everything without paying too much money, then the Acer 23.8 inch monitor is perfect for you. This monitor is designed with gamers and movie lovers in mind, but it can serve individuals who want to use it in a home office. The Acer R240HY offers great value for money without sacrificing quality. If you are in the market for a monitor, then this would be a worthwhile purchase. Get yours today!
Save 10% on select product(s) with promo code 10ACERGAMNTR on Amazon.com