*** TVReviewland.com earns commissions on qualifying purchases made through affiliate links ***
This Vizio TV review discusses the key features and benefits of this brand of televisions, and why it is one of the most sought-after brands.
There are quite a few economical and budget-friendly television brands in the market, but Vizio is by far the most quality-oriented. The company offers very competitive features for its price range, ensuring consumers get the best bang for their buck. Consumers can expect excellent display specifications, superior connectivity, web access and above-average premium technology, such as HDR specs and full-array LED backlighting.
Let's jump right into out Vizio TV review.
The price of a Vizio television is very competitive. There is something for most budgets. However, if you want the very best technology money can buy, Vizio offers premium televisions with their Reference-Series models.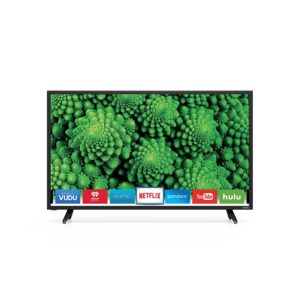 Key features noticed during Vizio TV review
The following are some of the features of Vizio televisions in some of the most popular models in the market today.
Full-array LED backlighting
According to various Vizio TV reviews, full-array LED backlighting is one of the brand's most popular features, and it may have been the reason behind the now-discontinued P-series' fame. Unlike most other television brands, Vizio has full-array backlighting in televisions that are larger than 55 inches in the P-series and M-series models, despite their affordable prices. This feature is also available in the expensive Reference-Series televisions. The only difference is in the number of active LED zones in the various types and sizes of TVs.
For example, the older P-series had more than 70 active LED zones in the largest models, while the M-series has up to 32 individual LED zones. The more expensive Reference Series premium televisions have up to 384 active LED zones.
The main advantage of this full-array LED backlighting is that it helps Vizio televisions offer exceptional levels of brightness and contrast while augmenting vibrancy of onscreen colors.
VM50 Ultra-HD engine
VM50 engine is Vizio's version of similar processors in other brand-name televisions, such as the X1 processor in Sony televisions. The purpose of this processor is to help sharpen the detail level in onscreen 4K graphics while adjusting contrast and color for better viewing quality and greater realism. Furthermore, the VM50 engine also helps with the ultra-upscaling process in 4K televisions.
Ultra-upscaling
This technology in Vizio televisions is available in 4K televisions and helps upscale non-4K content. Therefore, if a consumer is viewing 720p, Full HD or SD content, the ultra-upscaling feature will expand this content in 4K televisions so that it looks a lot sharper spread across the 8.3 million pixels of the Vizio 4K television screen.
HDR
All of Vizio's television releases from 2016, as well as the company's premium Reference Series, offer HDR. The company's HDR feature is based on Dolby technology, which makes the standard different from that of most name brand HDR televisions. There were no exceptions during our Vizio TV Review.
Display characteristics
Vizio delivers superior visuals, especially in the M-series and P-series televisions, all of which feature HDR displays. The visuals in the Reference-Series are excellent by every standard and measure, even compared to what other name brands television companies have to offer. This realty was constant throughout our Vizio TV review.
In the more popular M-series models, consumers can expect reasonable contrast, decent colors and active LED or dimming zones that are quite effective at providing precision local dimming with rich dark colors.
Vizio's older televisions may not be quite good at judder control and motion handling compared to other major brands. However, later models, such as the 2016 P-series and M-series are a lot better at this, and the improvement is impressive and notable.
Connectivity
Vizio provides across the board access to key connectivity essentials for viewing different types of content. Most models have HDMI 2.0 and USB 3.0, as well as the various analog and digital audio/video connections. All brands also offer Wi-Fi and Ethernet connectivity. Vizio also supports HEVC (or H.265 for 4K televisions) content compression and HDCP 2.2 content copy protection.
Unfortunately, non-Reference television models that the company manufactured before 2015 do not have web browsing capacity or support for VP9 4K content compression. As a result, they exclude certain sources of native streamed 4K content. However, this changed in 2016, as most new models have these features.
Smart TV platform
Older Vizio models that were built before 2015 have smart TV platform with Internet Apps Plus OS design, which is pretty basic but provides access to a wide range of 4K content apps with a few notable exclusions. Unfortunately, these older models do not have any content from sources that use Google's VP9 compression codec, as Vizio does not support this. Therefore, consumers have access to apps such as Netflix and Amazon Prime, but they do not have access to YouTube 4K videos as other smart TV platforms do. The interactive features of this older Vizio platform are also quite limited.
However, the company completely revamped its smart TV platform in 2016. Vizio created a smart TV version known as Smart Cast, which does not run from the television display itself. Instead, this platform exists on a tablet remote control that uses a native Android operating system. The app is not limited to this tablet remote control, as it comes pre-installed with the TV. Smartcast makes it easy to use Google Cast, brose media apps and download movies.
Consumers can also download Smart Cast on any compatible mobile phone or televisions, ensuring they never lose their remote as the smart mobile devices can be turned into remote controls with a simple download. In addition to the Smart Cast tablet remote control, the televisions also have a very basic button remote for television controls.
Price considerations
Vizio has something for every budget point, with a small M-Series television going for a few hundred dollars and a 120" Reference-series TV retailing at over $100,000. The most popular televisions, according to Vizio TV reviews are the M-series, which are quite inexpensive, with a large 70" model going for approximately $1300.
[Read what others are saying about Vizio TVs]
Advantages of Vizio televisions
Wide selection of televisions in different prices and quality ranges
Excellent color performance
Elegant design
Superb upscaling features
Full-array LED backlighting in large models
Decent connectivity specifications
Price flexibility
Disadvantages of Vizio televisions
Older models do not have web browsing capabilities
The contrast is not as precise in older models
There is no VP9 compatibility in older M-series televisions
The price of Reference-Series televisions is too expensive
Wrapping up
To sum up our Vizio TV review: Vizio's full-array backlighting, Dolby HDR technology, and the Smart Cast smart OS design have made it one of the best televisions to own. Visit a dealer to find out which of the various televisions they offer meets your viewing and budgetary needs.
Read more:
Samsung Q70 Series Review: Good Performance at a Good Price
LG 55UM7300PUA Review: Alexa Built-in 55″ 4K UHD Smart LED TV
Enacfire E19 Review: Bluetooth Wireless Earbuds, Good Build, Great Performance, Awesome Pricing
Naruto Television Show: The Enduring Appeal
Sony 85-inch TV XBR85X850F Ultra 4K HD: Is It Too Big to Succeed?