*** TVReviewland.com earns commissions on qualifying purchases made through affiliate links ***
When it comes to the tireless question, 'what is the best television to buy?" based on our TCL TV reviews, the misguided belief that the very best televisions are reserved for people who can pay an arm and a leg for them has been squashed. While there are a lot of top-shelf brands that manufacture superb TVs, TCL television still has skin in the game. These TVs are very affordable, and they have all the features that set them apart from other budget televisions while giving them a fighting chance against big-name brands. There are currently the top selling TVs in the U.S.
What is the best television to buy: Part 1
Design
In order to provide the very best services at an affordable cost, TCL had to make some few compromises in the design department. If you care more about a television's aesthetics, then this may not be the best brand for you. TCL televisions have a very simple and basic design. Most of them have a plastic casing, and the television sits atop a simple base. However, the 6 series has a metallic finish for a sleeker and more high-end look.
One of the design features that most TCL TV reviewers liked is the visible power button. For some reason, a lot of television manufacturers like to banish the power button to the back of the chassis or some other inconspicuous location. Apart from this, the rest of the design is nice but not remarkable.
All TCL televisions are wall mountable via the VESA mount point. The television itself has a number of input ports. Most of the more recent models have USB and HDMI ports as well as an Audio Return Channel and an optical audio out. Depending on your specific model, you may also get an Ethernet port, a headphone jack and composite video input jacks.
TCL smart televisions use the Roku smart TV platform and come with the Roku remote. This remote is very simple and straight-forward, with only the basic buttons that you are most likely to use. Still wondering what is the best television to buy?
Display characteristics
Picture quality is one of the biggest factors when choosing a television, which is why TCL did not cut any corners in this department. According to TCL TV reviewers, this television has all the picture features that matter, including low input lag and high refresh rate. TCL also manufactures one of the most affordable 4K models in the market, allowing consumers to enjoy high-quality viewing without dipping into their children's college fund.
Cheaper brands do not have local dimming but still offer very great picture quality. However, the 6 series offers local Full Array Local Dimming, which is often a reserve for televisions that cost a lot more than TCL TVs. Some of the TCL models also have Wide Color Gamut capabilities and support Dolby Vision and HDR10 formats.
TCL TV reviewers who have used other brands in the past claim that these televisions can hold their own when tested against more expensive brands. The contrast levels are excellent, though some consumers complained that it does not get very bright. The colors are quite accurate, though there is still some room for improvement. Some users complained that Caucasian skin tends to appear a bit ruddy
If you like playing video games, TCL televisions may be the perfect choice for you. Features such as Action Smoothing and LED Motion Clarity help to reduce input lag and motion blur. With Game Mode engaged, this television has an input lag of 15.43 milliseconds for Full HD televisions and 17.5 milliseconds for 4K televisions. When Game Mode is turned off, the input lag increases to 56 milliseconds from Full HD sources and 121 milliseconds from 4K televisions.
[Read what others are saying about TCL televisions]
Connectivity
Most TCL televisions have HDMI ports, analog video input, USB ports, a headphone jack and an optical digital audio output. You may also get an RF antenna input and an Ethernet port.
Smart TV platform
One of the best decisions that TCL ever made was using the Roku smart television platform. Roku has plenty of advantages, including more than 4,000 channels to choose from and more apps than any other television systems. TCL TV reviewers also liked the fact that there are a lot of feature improvements and frequent updates.
Roku television is very intuitive and has a user-friendly interface with simple menus and quick responses. You can even perform a cross-platform search for your favorite shows, and the platform helps you know when and where to watch, as well as the price of a movie or program on different apps. If you like watching live TV, TCL allows you to pause live television from an antenna source.
The more high-end Roku remotes feature a headphone jack for private listening and support voice search. Some even have a remote finder that makes it easier to find your remote in the couch cushions. Something else that reviewers liked is the fact that the remote can communicate with the television without needing a line of sight. Are you still wondering what is the best television to buy?
[Related: TCL 55-inch TV review]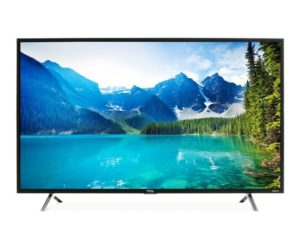 Price considerations
Price is often one of the most important factors to consider when buying a television. Consumers have often wondered whether twice the price means that the television is twice as nice. However, this is clearly not the case, as TCL TV reviews reveal that this television is just as good as a lot of its expensive counterparts. Most TCL models boast features and technology that rivals that of best-selling brands such as Sony and Samsung.
What is the best television to buy: Part 2 pros and cons
Pros
Very affordable
Roku television platform is user-friendly and intuitive
Simple Roku remote with only the features you need often
Mobile app turns your smart device into a streaming companion
Deep black levels and decent picture quality
Cons
Video processing falls short
The television's brightness levels are quite low
Wrapping up our quest to find the best television to buy in 2018
Television buyers are often spoiled for choice, and they may not be able to make sense of all the marketing jargon out there. TCL has dared to focus on what customers really look for in a television, and based on all the positive press the company is getting, it is clear that the strategy has worked. All they have to do is improve on the video processing and brightness, and they will give the top-shelf brands a run for their money, literally.
Ready for a new TV? Get a TCL television today!
Read more:
Samsung Q70 Series Review: Good Performance at a Good Price
Sharp TV Reviews: What Buyers Should Know
LG 55UM7300PUA Review: Alexa Built-in 55″ 4K UHD Smart LED TV
Best Budget Sound Bar: Vizio SB3621-E8
Pilestone TP-025 Red-Green Color Blind Glasses Review