*** TVReviewland.com earns commissions on qualifying purchases made through affiliate links ***
We were not disappointed during our LG OLED77W8 77 inch 4K Smart TV review. The signature 77-Inch OLED Smart TV is one definition of the term 'love at first sight'.
It looks more like an art piece than the feature-rich smart TV that it is. But this TV has more to offer than just its looks, so go ahead and find how the LG 77W8 4K HDR Smart TV really performs.
LG OLED77W8 77 inch 4K Smart TV review part 1: What is in the box?
The LG OLED77W8 ships with a soundbar and mounting gear to help you put it up on the wall. It does not ship with a stand since this TV was made to be displayed as a wall-mounted art piece.
Along with the TV, you will also find an LG magic remote, its batteries, a power cable and the near-invisible ribbon that connects the soundbar to the TV.
The design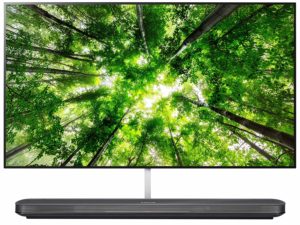 LG wanted to make a statement with the LG 77W8, so they did. The concept that LG's designers were going for is 'picture on a wall', which is why the LG 77W8 would fit in just fine in an art gallery.
The LG 77W8 is 76.4 inches in diagonal length, which makes it imposing. Now, combine that with a thickness of only 2.57 millimeters and you have a sight to behold. These dimensions give you the impression that you can roll up the 77W8 into a scroll, like some futuristic E-paper.
Side note: LG's sister company is really into making foldable screens. Synergy, maybe?
It stands to reason that with a screen so incredibly slim, many of the usual TV guts have to go someplace else. That place is the 60 watt sound bar that ships with the TV. It houses the retractable speakers and the inputs. This LG OLED77W8 77 inch 4K Smart TV review is just getting started.
Inputs and connectivity
The soundbar connects to the screen with a wide ribbon cable. It contains a lot of the hardware that is usually packed into the back of the TV, including the inputs.
All the inputs are at the back of the soundbar, on the right side. They are arranged in two rows. The top row holds an RS232 C jack, a composite AV jack and an optical audio output. The bottom row holds three USB ports, four HDMI ports and an Ethernet port.
Being a smart TV, the LG 77W8 also comes with built-in Wi-Fi and Bluetooth adapters. This LG OLED77W8 77 inch 4K Smart TV review covers a lot more. Let's keep going.
Smart TV features: Interface
Like other LG smart TVs, the LG 77 Inch W8 runs on WebOS 4.0, an operating system that is built on a Linux kernel. One of the more useful features of WebOS is the ThinQ smart assistant, which we will talk about in more detail.
The home screen of WebOS is easy to use. It has the input and settings menus at the top right-hand corner of the screen. At the bottom of the screen, you will find a ribbon filled with your basic streaming apps. Other than these two features, the home screen is empty.
As you play your content, you can call up the menu and do all sorts of other things without pausing playback. All thanks to the A9 chipset that allows the TV to multitask.
Smart TV features: AI ThinQ and your smart home
LG puts ThinQ, its own proprietary smart assistant, in its electronics. AI ThinQ is the made-for-TV variation of this smart assistant. You will find it in many LG smart televisions, where it sits atop webOS.
In the LG 77W8, AI ThinQ allows you to control the TV with voice commands. Thanks to the Alpha 9 processor, ThinQ can process fairly complex voice commands and search for content from all available sources. It also allows the TV to act as a smart hub that controls other LG smart devices in the home wifi network.
Even better, ThinQ is compatible with both google assistant and Alexa. In fact, AI ThinQ ships with google assistant. So you get to enjoy all the features that come with a smart home: Whether you want weather and traffic updates, the latest game score, or the video feed to your security system, the LG 77W8 can do it all.
LG OLED77W8 77 inch 4K Smart TV review part 2: Images
Color
OLED displays are known for their perfect colors and the LG 77W8 is no different. The blacks are as deep as oblivion, and the rest of the colors are as vivid as real life. It literally feels like you are looking out a window instead of watching TV. The color gamut of the LG 77W8 is especially wide and the A9 processor takes full advantage of it.
Another thing that is wide in the TV is its viewing angle, which allows a bunch of people to watch TV from different positions.
The chipset allows the display to take full advantage of a 3D color lookup table. Which is how the LG 77W8 does an amazing job of correcting colors from an input source of lower quality.
Picture quality: Contrast and Sharpness
The vivid colors and deep blacks help to render amazing contrast. Also, the A9 processor performs contouring that makes images sharper and more detailed. This allows the TV to take full advantage of its 4K resolution and its HDR capabilities.
The icing on the cake is that the LG 77W8 supports Dolby vision, HDR10, HLG and advanced HDR by Technicolor. The wide compatibility provides you with a large selection of quality content to choose from. We are almost getting to the end of this LG OLED77W8 77 inch 4K Smart TV review.
Motion handling and input lag
As response time goes, the chipset shines yet again. The A9 processor takes full advantage of the refresh rate of up to 120 frames per second. The result is zero blurring even with fast-moving video or a panning camera. As for input lag, there really is none. Even when you use the remote as a wand to spin an image really, really fast.
Sound
The speakers in the Dolby Atmos soundbar fire forwards and outwards to produce clear, surround sound.
Pros
A gorgeous design that is enhanced by gallery mode, which makes the TV look like a painting with an elaborate frame
The magnetic wall mounts allow for super easy setup
ThinQ AI allows you to control the TV with voice commands
The WebOS operating system is compatible with Alexa and Google assistant
The LG 77W8 can act as a smart home hub
The LG magic remote control allows you to give voice commands, scroll through the interface and use it as a wand
OLED technology allows the TV to render perfectly lifelike colors with truly deep blacks
Great sound quality for a TV
Cons
The TV lacks an HDMI 2.1 port, which means that you cannot watch HDR content from an external source connected via an HDMI port
Though it is impressive, the screen is the exact same one that was released in 2017. Only the chipset was upgraded
The design of the soundbar does not lend itself to cable management, but you get used to it
LG OLED77W8 77 inch 4K Smart TV review verdict: You have to have it, and it is worth every penny
The LG 77W8 is one of those televisions that enchants you the minute you lay eyes on it. When you take it home, you will not be disappointed. The picture quality is amazing, which makes sense since providing stunning pictures is LG's specialty. Better still, the TV has a wide and useful array of smart capabilities.
To top it all off, this super-sleek screen is so slim that it looks like a framed painting on your wall. It is bound to make an impression with your house guests. So if you are thinking of getting this TV, go right ahead. You will enjoy every minute of it. Click here to purchase one.