During our Sceptre E248W-19203R review, it quickly became apparent this was a well-priced monitor that provides good performance. This screen was designed for everyday tasks like surfing the web, watching online videos and using computer applications that do not need high-performance graphics.
Sceptre E248W-19203R Review: The design 24-Inch 1080p LED monitor
The Sceptre E248W-19203R monitor is beautiful. It has a metallic cabinet which gives the monitor a sleek, slim silver frame with the manufacturer's logo at the center of the bottom bezel. Thanks to its ultra-thin bezels, almost all of the screen's surface (23.8 out of 24 inches) is used to display images.
The screen is only a few inches thick, which gives it a super-slim profile.
Controls and ports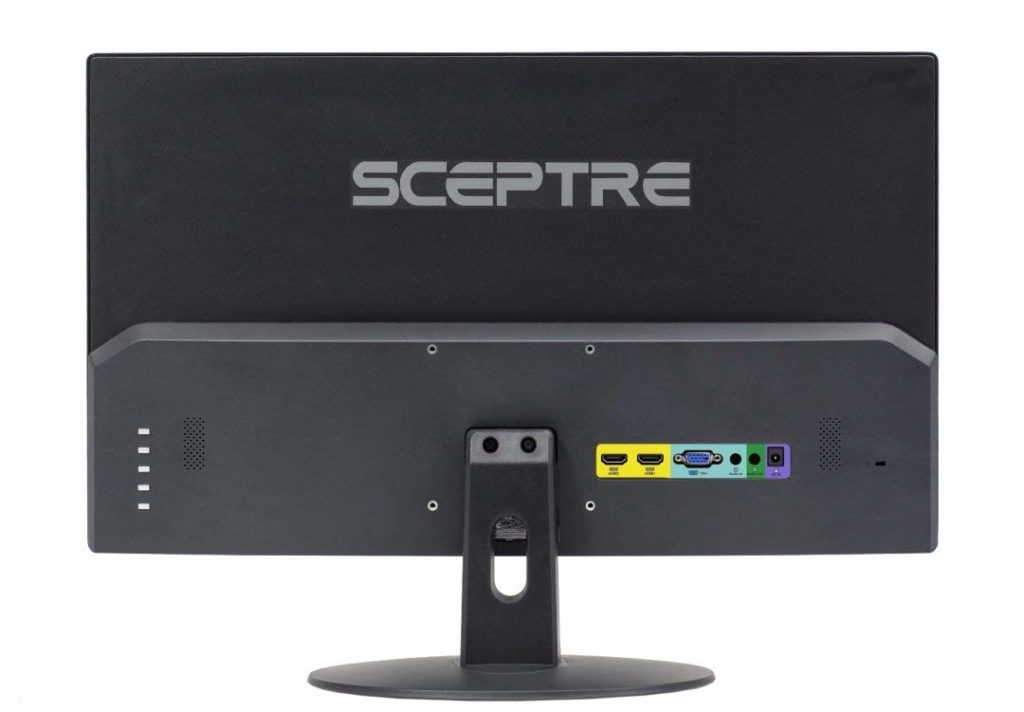 The back of the screen has a matte, metallic finish, with the upper half sporting the Sceptre logo. Attached to the bottom half of the back is a light grey panel. It holds five (unlabeled) control buttons on the left side. The right side of the panel has two HDMI ports, a VGA port, a pair of input/output audio jacks and a power jack.
The screen's internal speakers are also housed in the panel, which has an allowance for VESA wall mounting. However, if the monitor is mounted, you will have a hard time reaching the ports and the controls, since they all face backward. Let's dive further into this Sceptre E248W-19203R review.
[Related: Sceptre 40-inch TV review]
Display
The screen is a 24-Inch TN panel with LED backlights. It has a resolution of 1920x1080p and a 16:9 aspect ratio, which makes it a full HD display. The monitor has a 75GHz refresh rate which allows it to display fast action 1080p video with no blurring or ghost images.
Sceptre also did a good job with the monitor's responsiveness. The input lag of the E248W-19203R is just as low as that of more expensive models. The screen has a fairly wide color palette and renders rich colors that provide quality pictures.
[Read what others are saying about the Sceptre E248W-19203R]
Pros
Beautiful design
Full HD image quality
The screen is well priced with solid performance, which means that you will get value for your money
It has a wide horizontal viewing angle of 178 degrees
Cons
You will not be able to adjust the height of the monitor or turn the screen
The ports and the controls are at the back of the monitor. They would be hard to reach if you were to mount the screen onto a wall
The screen lacks advanced color settings, which limits how far you can control the image quality
It is not a 4K screen, so expect some lag and blurring when playing high-resolution games
The control buttons are not labeled, so it is hard to know which button does what
Sceptre E248W-19203R review verdict: Is it a cut above the rest?
For its price, the Sceptre E248W-19203R 24 Inch monitor performs well. Thanks to its 1080p resolution, the screen renders sharp contrast and rich color. The monitor also allows you to view clear, sharp pictures at wide angles.
Unfortunately, this screen lacks some important ergonomic features of a monitor. The Sceptre E248W-19203R 24 Inch will not be turned from side to side or adjusted for height, and this can be a drag.
Are there monitors that can compete with the Sceptre E248W-19203R in both performance and price? Yes, there are. That said, the image quality of this screen is good enough for day to day use. So if you can live without adjusting the screen, go ahead and buy this monitor.
Click here to learn more about the Sceptre E248W-19203R or purchase one.
Read more:
Samsung Q70 Series Review: Good Performance at a Good Price
Sharp TV Reviews: What Buyers Should Know
LG 55UM7300PUA Review: Alexa Built-in 55″ 4K UHD Smart LED TV
Best Budget Sound Bar: Vizio SB3621-E8
Pilestone TP-025 Red-Green Color Blind Glasses Review
Remember to smash that like button!