*** TVReviewland.com earns commissions on qualifying purchases made through affiliate links ***
Black Friday in 2019 is a lot like Thanksgiving football game if the shoppers were the players and the game took place inside a mall. Every amazing deal that a person gets would be a point on a shopper's scoreboard. Every dodged elbow would be a small victory.
It is also a day of opportunity, but only if you plan ahead. A seasoned Black Friday enthusiast needs to know exactly what they want, and the item's location in the store. It then follows that the big day is not the time to figure out what features you want in a smart TV, or how much you're willing to spend. Take a cue from young children, who know the exact toy they want, many months in advance.
For many, Black Friday is an opportunity to purchase holiday gifts at discounted prices, saving themselves lots of money in the process. Our Best Christmas Gift Ideas article can point you in the right direction.
All this may seem overwhelming this close to Black Friday but we're here for you with some helpful information. Use this guide to find out about the best televisions that the market has to offer. Then find out how many of them appear on the Black Friday 2019 lists of different retailers.
What are you looking for in a TV deal for Black Friday 2019?
Have you been eyeing a top of the line OLED screen from LG, just waiting for the prices to drop? Or maybe your trusty old TV decided it was time and died; now you need a replacement. The sudden (or expected) demise of your TV has pushed you into the strange world of Smart TV jargon. And now you have to figure out how to get the most value for your hard-earned money.
Whether you want to splurge on a TV for yourself or someone you love, you need to find one that will withstand the test of time as well as the odd bump. You need to find a TV that can keep up with all your devices while rendering excellent picture. Most of all, you want maximum bang for your buck.
Towards these ends, let us take a look at the best that the year and has to offer:
The year in TV excellence: Trends that will inform this Black Friday 2019
There are buzzwords and acronyms that you will come across in almost every review article that discusses television sets. Many of them have to do with picture quality. Here are a few terms that will help you understand the price (and performance) of a prospective purchase.
This is currently the holy grail of picture quality. Each pixel in an OLED TV is its own backlight, pretty much. That means no bulky LED components to increase the thickness of the TV. Also, OLED televisions render rich, lifelike color. For a price.
This is OLED's less accomplished cousin. QLED televisions need LED backlighting, but they have quantum dot films that filter RGB light to render accurate color. QLED televisions have excellent picture quality, but OLEDs do it better. That said, QLED televisions are cheaper.
TV manufacturers constantly find ways to make their televisions more realistic. If they could find a way to reproduce a real-life ocean breeze, they would. For now, though, they have to settle for cramming as many pixels as they can into one square inch. This brings us to the term 4K resolution, or the consumer version of the term, UHD.
A high-resolution television uses pixel density to pull off neat tricks like saturated, accurate color, an amazing level of detail, razor-edge sharpness and best of all, zero pixelation or jagged edges. The icing on the cake is that 4K televisions get cheaper with each passing year. They'll be even cheaper during the Black Friday 2019 sale campaigns.
This makes it easier for you (and your pocket) to own a large screen TV without suffering through pixelated content.
Simply put high dynamic range is the difference between the brightest colors and the deepest blacks that a TV can render. It is a measure of the range of brightness and the wide color gamut available on the television's display.
An HDR-capable TV with excellent performance will use its native black levels, peak brightness and color palate to render lifelike pictures. A reflection off a car's bumper will be brilliant. Outlines and movements in a dark cave will be distinct. The dark embroidery on a dark coat will pop out and every scale on that reptilian alien will stand out in great detail.
If your prospective purchase has 4K resolution, great backlighting, good brightness levels and good black levels then you can bet that the TV does a good job of rendering HDR content. If you take advantage of Black Friday 2019 you can get a television with all these features, for a great price.
You connect a lot of devices to your TV. You may need to connect even more in the future. Make sure your prospective purchase has enough ports, with the capability to accommodate future innovations.
In addition, ensure the TV has enough HDMI ports. At least one of them should have HDMI 2.1 ARC capability, to allow for the two-way flow of sound and video between the TV and an external device. Make sure the TV also has enough AV ports, a couple of USB ports and a coax connector for over the air content.
Maybe you're one of those people who want a customized user experience when you turn on your TV. If so you need a Smart TV OS that is easy to use, with a lot of available content and a voice assistant that saves you the hassle of scrolling through long menus.
You may also want a Smart TV that can control other smart home appliances. If this is you, choose a TV with an operating system that is compatible with Alexa or Google Assistant. Choose one with Roku, Amazon Fire TV or if you want to be a pioneer, Android TV.
Through this lens, let's take a look at the offerings that will (likely) be available on Black Friday 2019.
The best-performing TVs of 2019
You need to strike a balance between performance and price as you work out the particular model of TV that you want. However, you will put more stock on one of the two. You might decide to spend more money on a high-performance TV set or try to get maximum value for your money.
We use both of these metrics to compare the best televisions that 2019 has to offer. Black Friday 2019 may allow you to score one of these at a bargain.
1. Sony A9F OLED TV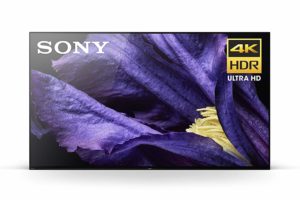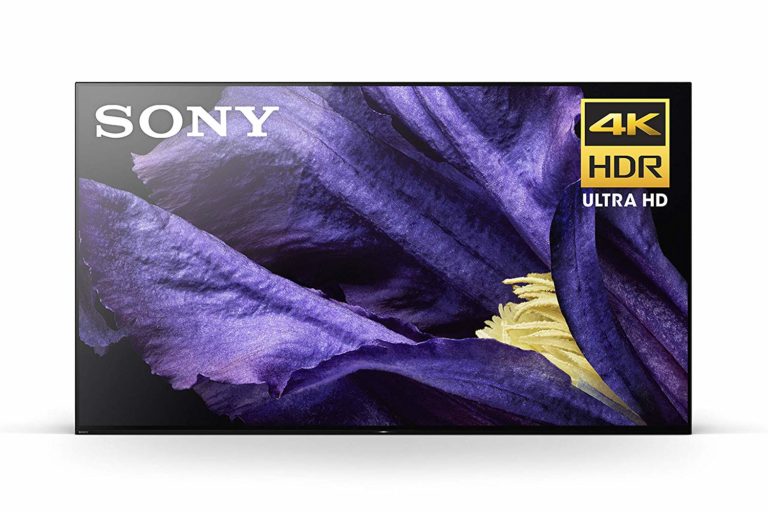 If you are looking to splurge, you can't go wrong with this statement piece from Sony. It usually goes for about $3800, but it is well worth it. Being an OLED panel, the Sony A9F renders rich color, amazing contrast and an incredible level of detail, even with the darkest picture. This TV has the best picture quality of all the OLED TV sets in the market.
Better still, the TV runs on Android OS. You get access to all the content in Google's Play Store. All of it.
Apart from the paper-thin screen that is par with the course for an OLED screen, you get to enjoy other awesome design features. The built-in speakers of the Sony A9 are integrated into its kickstand. Their placement allows the surface of the A9 to act as a launching area for surround sound.
It's currently going for a little over half price on Amazon as part of their Black Friday special.
2. The LG C8 OLED TV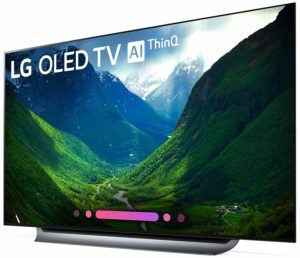 LG OLED panels render incredible picture quality and this model is no different. Enjoy an ultra-thin widescreen TV with wide-angle viewing and a responsive smart TV interface. WebOS is LG's proprietary Linux-based operating system. It provides a smooth, intuitive user experience and allows access to vast amounts of content. The interface is compatible with both Google Assistant and Alexa, allowing your TV to act as a smart home hub.
Here's our full review of this television.
You can buy this TV at a markup price of around $1300 for the 65-inch version.
3. TCL 6 series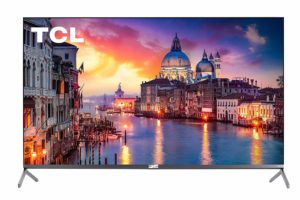 This inexpensive but high-performance TV is a bargain. Its display panel supports localized dimming, which allows for amazing contrast and details. As picture quality goes, this model comes pretty close to an OLED screen. Add to that the content-rich Roku OS and you have yourself a winner. This is one TV that you should consider.
4. Samsung Q8 Series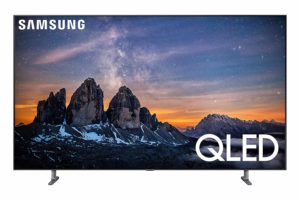 This is a product line of QLED panels that perform almost as well as OLED screens. Samsung's QLED televisions may not have the wide viewing angles of OLED screens, which is one of the downsides of using VA panels. But what VA panels lack in viewing angles, they more than make up for in brightness response time. This makes the Q8 series the best product line for HDR content.
The Samsung Q8 series is also a gamer's dream. The panel's native response time of 13ms lends itself to excellent motion handling and near-zero input lag. The Q8 panels also support FreeSync, an open-source technology that allows the TV to sync its refresh rate to that of an input device like a gaming console.
The result? If you're playing with a person a few thousand miles away from you, it will feel like they're sitting right next to you, playing on the same console as you. That said, the Q8 series is pretty pricey, but you can get over $1,000 off thanks to Black Friday deals.
5. Vizio P series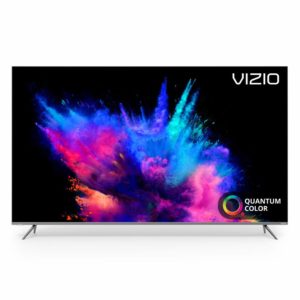 This series of televisions work a lot like the Samsung Q8 televisions, except that they're less pricey. They have impressive brightness levels, just like QLED screens. This allows them to produce a great rendition of HDR content.
The Vizio P series of televisions also have vertical panels and narrower viewing angles. The upside is that VA panels also have minimal input lag and great motion handling. All in all, the performance of the Vizio P series is comparable to that of Samsung QLED televisions. As for pricing the P series wins over the Samsung Q8, hands down.
The best-priced televisions you will find on Black Friday 2019
A budget TV can perform at a level that is comparable to premium panels. You just have to know where to look. Right here would be a good place to start:
1. LG UM7300 49 Inch TV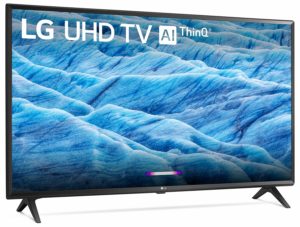 You may wonder why an LG product appears under the 'best priced' category. This particular model belongs here. At $299, you get to enjoy the peerless picture quality that you expect from LG's higher-end models.
Being a smart TV, the UM7300 comes with WebOS, LG's proprietary interface. The OS allows for the integration of both Alexa and Google Assistant,
2. TCL S425 55 Inch
The picture quality of the TCL S425 is comparable to that of the 50-inch LG panel listed above. Better still, you get to enjoy a wider screen as well as the Roku OS and all the content that comes with it. The S425 also has enough ports to handle several devices at the same time. It's currently going for almost half price.
3. Toshiba 55-Inch UHD TV: Fire TV edition
This affordable TV has good picture quality as well as Fire TV. It is a great purchase for people who operate in the Amazon ecosystem. An Amazon Prime membership goes a long way to improve your user experience, should you choose to buy this TV.
4. TCL S405 49-inch TV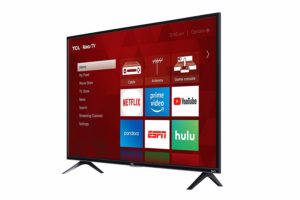 TCL should change its logo to 'The utmost value for money'. The S405 offers an ample screen, Roku OS and at just under $400, a great price. This TV is not the widest screen out there, which makes it ideal for smaller spaces.
5. Insignia 39 Inch 1080p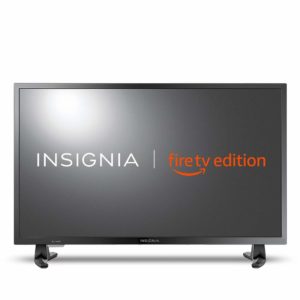 You can find this TV for as little as $169. Being a compact TV, this Insignia model is perfect for a gaming station, an apartment, bedroom, kitchen, or dorm room. The television runs Fire TV and has all the smart features that come with Alexa.
Unlike the other TV sets on this list, the Insignia has a resolution of 1080p, which is plenty good for a 39-inch screen. In fact, the TV renders great picture all round.
For a widescreen TV, picture quality should be high on your list of priorities
The point of high-performance televisions is to allow the rendition of detail, color saturation and sharpness; all without jagged edges and pixelation. A widescreen TV should have good brightness levels and consequently, high native contrast. Both these features will allow you to make out details from the darkest movie scenes, and bright ones as well. HDR content also looks a lot better on televisions with high brightness levels.
Widescreen TVs also need 4K resolution to ensure color saturation and prevent pixelation. So be on the lookout for LG C8, TCL 6-Series and Samsung Q8 models. Take advantage of the Black Friday 2019 deals currently being offered.
For a smaller TV, go with these brands and models
TCL comes through again with performance and attractive pricing. The Series 425 is an excellent choice, with pretty good picture quality and the excellent Roku OS.
Where to find the best deals for Black Friday 2019
Now that you have an idea of the kind of TV you want, find out where to get one for a good price. Here is what different retailers are offering this Black Friday.
The top Black Friday Deals of 2019, overall
These are the deals that give you the best prices and/or the largest savings.
| | | | | | |
| --- | --- | --- | --- | --- | --- |
| Retailer | TV model | Markup Price | Black Friday Deal | Dollar Savings | |
| Target | TCL S425 65-Inch | $749.99 | $399.99 | $350.00 | 47 percent off |
| BJ's | Samsung RU800D 55-inch | $979.99 | $529.99 | $450.00 | 46 percent off |
| BestBuy | Vizio P-Series Quantum 65-Inch | $1,199.99 | $899.99 | $300.00 | 25 percent off |
| BJ's | LG SM8600 65-Inch | $1,469.99 | $769.99 | $700.00 | 48 percent off |
| BJ's | Samsung NU6950 75-Inch | $1,499.99 | $749.99 | $750.00 | 50 percent off |
| BJ's | Samsung Q6D 65 Inch | $1,799.99 | $999.99 | $800.00 | 44 percent off |
| Samsung | Samsung Q70R 65-Inch | $2,199.99 | $1,199.99 | $1,000.00 | 45 percent off |
| BJ's | Samsung Q60R 75-Inch | $2,999.99 | $1,499.99 | $1,500.00 | 50 percent off |
| BJ's | Samsung RU800D 55-inch | $3,179.99 | $1,779.99 | $1,400.00 | 44 percent off |
| BJ's | Samsung Q6D 82 Inch | $3,799.99 | $1,999.99 | $1,800.00 | 47 percent off |
| BJ's | Samsung Q7D 82 Inch | $4,499.99 | $2,499.99 | $2,000.00 | 44 percent off |
If you are looking for a well-priced television set, then BestBuy has you covered. The displays on this list were already affordable and BestBuy's Black Friday 2019 list just sweetened the deal. Here are the offers to watch
Target has great deals all year round. On Black Friday the deals are even better, especially for TVs. If you need a TV that offers maximum value for money, you should check out the following deals:
| | | | | |
| --- | --- | --- | --- | --- |
| TV model | Markup Price | Black Friday Deal | Dollar Savings | |
| TCL S425 65-inch | $749.99 | $399.99 | $350.00 | 47 percent off |
| TCL S425 55-inch | $449.99 | $279.99 | $170.00 | 38 percent off |
| TCL S325 40-inch | $259.99 | $169.99 | $90.00 | 35 percent off |
| Samsung RU7100 65-inch | $899.99 | $599.99 | $300.00 | 33 percent off |
| LG UM6910 43-inch | $349.99 | $249.99 | $100.00 | 29 percent off |
Samsung Black Friday 2019 Deals
If you're in the market for a Premium Samsung TV, you could go to the source. You can shop directly from Samsung if you want a good deal on a QLED TV. Here is what they're offering for Black Friday.
| | | | | |
| --- | --- | --- | --- | --- |
| TV model | Markup Price | Black Friday Deal | Dollar Savings | |
| Q60 QLED TV 75 in | $2,999.99 | $1,499.99 | $1,500.00 | 50 percent off |
| Q90R QLED TV 65 in | $3,499.99 | $2,199.99 | $1,300.00 | 37 percent off |
| Q80R QLED TV 75 in | $3,999.99 | $2,999.99 | $1,000.00 | 25 percent off |
| Q70R QLED TV 65 in | $2,199.99 | $1,199.99 | $1,000.00 | 45 percent off |
| The Frame TV | $1,599.00 | $1,299.00 | $300.00 | 19 percent off |
Costco's Black Friday 2019 list
Apart from bulk purchases, Costco has good deals on electronics. Take a look at their list of wide-screen displays and see if there's one that will work for you.
| | | | | |
| --- | --- | --- | --- | --- |
| TV model | Markup Price | Black Friday Deal | Dollar Savings | |
| Vizio G1 75″ | $2,499.00 | $1,700.00 | $799.00 | 32 percent off |
| Vizio G1 65″ | $1,299.99 | $1,000.00 | $299.99 | 23 percent off |
| Samsung NU6950 (50-inch) | $329.99 | $280.00 | $49.99 | 15 percent off |
| TCL R613 65-inch | $699.99 | $600.00 | $99.99 | 14 percent off |
| LG UM8070 LED TV (86-inch) | $2,249.00 | $1,950.00 | $299.00 | 13 percent off |
BJ's Black Friday Offers
BJ has a nice selection of premium widescreen televisions. Many of their Black Friday deals are going for about half of the markup price. Here are the best deals so far:
| | | | | |
| --- | --- | --- | --- | --- |
| TV model | Markup Price | Black Friday Deal | Dollar Savings | |
| Samsung Q6DR 82-inch | $3,799.99 | $1,999.99 | $1,800.00 | 47 percent off |
| Samsung Q6DR 75-inch | $2,999.99 | $1,499.99 | $1,500.00 | 50 percent off |
| Samsung NU6950 LED TV 75 inch | $1,499.99 | $749.99 | $750.00 | 50 percent off |
| LG SM8600 65-inch | $1,469.99 | $769.99 | $700.00 | 48 percent off |
| Samsung Q7DR 65-inch | $2,199.99 | $1,199.99 | $1,000.00 | 45 percent off |
Get yourself a good Black Friday 2019 deal with a little basic information
With this (sort of) exhaustive catalog, you have the basic information to handle Black Friday 2019 and come out on the other side with a TV that you will enjoy for a long time. Browse top Black Friday deals now.