*** TVReviewland.com earns commissions on qualifying purchases made through affiliate links ***
Our Samsung NU8000 55 Inch 4K Smart TV review taught us that this high-end LED television has a lot to offer. It was made to perform brilliantly in every way.
Samsung's philosophy is to pack their products with top-notch performance and as many useful features as they can. At the best price possible. So let us unpack all the good stuff contained in the NU8000. That way, we can see how well this TV really works.
Samsung NU8000 55 Inch 4K Smart TV review part 1: The design
The NU8000 is a joy to look at. It actually looks like something an interior designer would pick out. At 0.4 inches, the black bezels at the top and the sides of the TV are nearly invisible. The same goes for the silver trim that frames the bottom edge of the TV.
The black-and-metal TV stand looks just as good as the rest of the TV. Then there is the back of the TV, which has a textured, matte-black finish with cable tracks that run along its length. There is an input panel at the lower-left corner, just above one end of the tracks.
Inputs and connectivity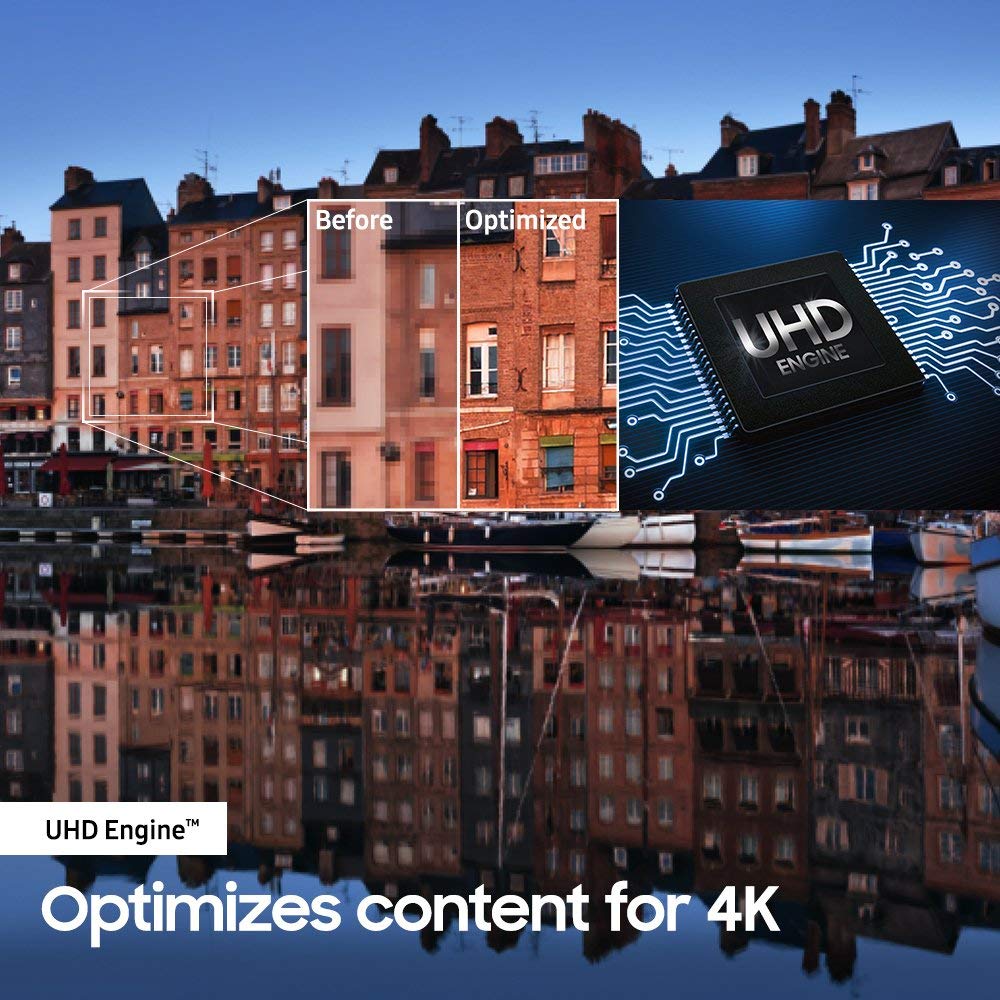 All the input ports are held in a left-facing side panel on the left side of the TV. The panel holds two USB ports, an optical audio port, four HDMI ports, an Ethernet port, an RS 232 connector and an antenna input.
The TV does not have the (almost) legacy AV ports that you will find in many televisions. That means that you cannot hook up that DVD player that you put away.
On the wireless side, you will enjoy Wi-Fi and Bluetooth connectivity with this smart TV. In the next section of this Samsung NU8000 55 Inch 4K Smart TV review, we will take a look at how well this television's smart features perform.
Smart TV features
The Samsung NU800 runs the manufacturer's operating system, the 2018 Tizen. It has a simple, intuitive interface and Samsung's well-stocked app store.
One downside of the interface is that its animations lack smoothness. You will notice that animated elements of the interface tend to move like a really fast slideshow. Every now and then, you will see ads and notifications appear on the interface. You will be unable to shut them off.
The Tizen interface comes with its own voice assistant named Bixby, who will help you when you cannot or will not use the remote buttons.
Picture: Color and contrast
The Samsung NU800 is a 4K TV that delivers. It has a high contrast ratio that delivers the deepest of blacks. It also has a wide color gamut. Combined, the deep blacks and the millions of colors result in images that are super realistic.
Simply put, the contrast is great and the colors are vivid. The result is sharp, detailed, lifelike video and stills.
[Read what others are saying about this television]
Picture: Brightness
The NU800 has peak brightness levels that range from 850 to 550 nits. The peak level varies depending on the user mode that you choose.
This means that the TV can hold its own in very bright rooms. When you are watching a movie in the dark, you can choose a viewing mode that works best in low lighting.
Picture: Viewing angles and glare
The surface of the screen has an anti-glare finish. Still, it does reflect some light.
Also, this TV does not have a wide viewing angle. The colors start to change as you move to the side of the TV. You could say that the NU800 has a narrow viewing angle.
Which is a shame, because this TV renders awesome sports video. As long as you sit directly in front of it.
Performance: Upscaling lower resolutions
The Samsung NU800 will fill in the blanks of even the lowest quality video. It will upscale 480p, 720p and 1080p content from all kinds of input. It also does an excellent rendering of native 4K video.
Performance: Input lag
When it comes to response time, the NU800 shines. It has very little input lag that peaks at 72 milliseconds at a 60Hz refresh rate, outside of game mode. Some presets have a response time as low as 6.5 milliseconds.
With this TV, an avid gamer will have little to complain about.
Performance: Motion
The fast response time also translates into a great experience when gaming, watching sports or enjoying a fast-paced action flick. You will have to work extremely hard to find any blurring and ghost images.
To see this TV at its absolute best, have it process high-resolution content. So you should go ahead and put the Samsung NU800 through its paces. You will be impressed.
Pros
The Tizen interface has the Samsung app store, which comes with all the content you could want. A stocked app store is impressive, especially for a manufacturer OS
You can control the TV with voice commands thanks to Bixby voice assistant and the microphone button on the remote
The picture quality in terms of both color and contrast is great
You will see no blurring or ghosting as you view fast-moving content
The Samsung NU800 is a good-looking TV that will look pretty amazing in your living space
Its inbuilt speakers are loud and clear
Cons
Bixby does not function as smoothly as Google assistant or Alexa
There is no wide angle viewing with the Samsung NU800
You may experience choppy video as you watch content from 24p input sources
The screen reflects light so you should expect with a little glare
Samsung NU8000 55 Inch 4K Smart TV review verdict: This is a great TV for most uses
Samsung always tries to give its customers maximum value for their money. The NU800 is a good example of their efforts. With this TV, you will enjoy great picture quality no matter what you are watching.
Not to mention that this screen is a gamer's dream. The way it handles fast-moving content is a major reason why it is such a great buy. Click here to learn more about this TV or purchase one.