*** TVReviewland.com earns commissions on qualifying purchases made through affiliate links ***
Ready to find out what we discovered during our Sceptre X515BV 50 inch 1080p TV review? Sceptre televisions have cornered the niche market of no-frills, affordable displays. One such model is the 2019 Sceptre X515BV 50 Inch, 1080p screen. It is a wider screen TV that is designed to render a great viewing experience.
The makers of this TV limited the features of the Sceptre X515BV so they could concentrate on perfecting the basic, most necessary aspects of the TV. Sounds like a clever approach. Let us see how it worked out.
Sceptre X515BV 50 inch 1080p TV review intro: What is in the box?
The Sceptre X515BV ships with a remote, its batteries, a power cable, a pair of TV stands and some documents. Which is all you need, at the end of the day.
Design
This 50 Inch screen measures 44.3 by 25.5 inches, with a diagonal length of nearly 50 inches. It is 3.6 inches wide, which is slim for a budget TV but quite chunky compared to higher-end models.
The display is housed in a chassis made of lightweight, textured, metal-black plastic that gives the X515BV an appealing look. The slim bezels are colored at a gradient that goes from black to metallic grey.
The back of the TV has four holes to accommodate a 200mm VESA wall-mount setup. It also houses the inputs and the internal speakers. This Sceptre X515BV 50 inch 1080p TV review is just getting started.
Input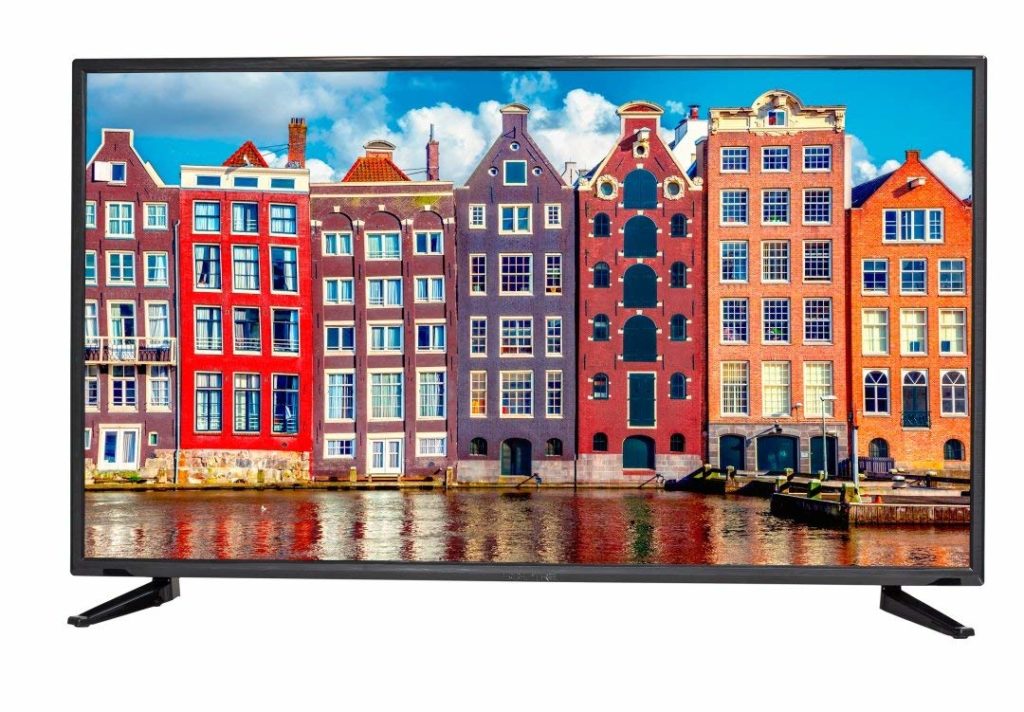 There is a panel right at the back of the Sceptre X515BV. It doubles as an allowance for a VESA wall mount setup and as housing for the inputs. The panel holds a USB port, a composite video jack, three HDMI ports and a 3.5 mm audio jack. You will also find a coaxial connection for an antenna or cable.
Surprisingly, the X515BV has a PC input that allows you to use it as a monitor. It also has an optical audio output if you want to hook up surround sound to the TV.
Connectivity
When it comes to connecting to the internet and other devices, the X515BV might as well be from the eighties. It has no Ethernet, Bluetooth or Wi-Fi adapters. This seems to be a feature and not a bug, seeing as the Sceptre X515BV has no smart TV capabilities. We'll take a look at picture quality during the next segment of this Sceptre X515BV 50 inch 1080p TV review.
Picture quality: Color
The X515BV has a wide color gamut that allows it to render vivid colors. Sadly, this TV does not do an accurate translation of colors from the source material. It displays cooler versions of the original colors. For example, the display translates yellows to greenish-yellow and adds a tinge of blue to warmer colors. This leads to actors with washed-out or pale skin tones.
That said, people who are not particular about these kinds of things will not really notice.
Picture quality: Contrast, sharpness, brightness
The Sceptre X515BV uses LED backlit technology, with mixed results. The black levels and the brightness levels are good, which helps to render good contrast. But the lighting itself is not uniform. You will likely notice the backlight frame the screen's edges with bright light while leaving the corners dim.
As for sharpness and detail, the X515BV has a tiny but important drawback: Detailed images like patterned clothing can look snowy.
Picture quality: Motion handling and input lag
The X515BV has 1080p resolution with a refresh rate of 60 frames per second. It employs Motion Estimation and Compensation MEMC to make fast-paced videos as smooth as possible. With mixed results.
You will be able to enjoy a fast-paced action flick or video game, thanks to the low response time of this TV. But if the fast-moving content has images with elaborate details, you may see 'static' forming on the images.
[Find out what others are saying about this television]
The remote
The theme of the Sceptre X515BV is simplicity and the remote is part of that theme. This retro remote has buttons for power, volume control, inputs and navigation. It also has a number pad that allows you to change channels.
Sound
The X515BV comes with a pair of built-in 10-watt speakers. You will love the fact that the speakers will not rattle the TV, even when you turn the volume all the way up.
At moderate volume, the speakers are loud and clear. That said, they lack bass. They also become tinny at very high volume. It is a good thing that you can connect external audio devices through the optical audio port or 3.5 mm audio jack. Our Sceptre X515BV 50 inch 1080p TV review isn't done yet. We'll go over who should consider this Television in the next section.
Who should buy this TV?
In terms of dollar per square inch, the Sceptre X515BV is a steal. It is a good purchase as:
A secondary TV to be used for things like gaming
A large TV that displays large images, for someone who has vision problems
A no-frills TV for someone who just wants to watch over the air channels and cable
Pros
A wide color gamut
Very low input lag, which gamers would appreciate
Affordable
An appealing design
It is a simple TV that is easy to use
Cons
This is not a smart TV, so you will have to buy an external device like an Amazon Firestick that allows you to stream content
The internal speakers are not that powerful, so you will need to connect external speakers for better sound quality
Overall, the TV has limited features, but this leaves room to perfect the few features that the TV has
Poor color accuracy that causes colors to appear cooler than they should be and people to appear pale or washed out
Sceptre X515BV 50 inch 1080p TV review verdict: An affordable TV that gets the job done
Some people just want a widescreen that keeps the bells and whistles to a minimum. The Sceptre X515BV is one such screen. It has a wide display with fairly good picture quality. Its response time also makes it a fun gaming screen.
If you are simply in the market for a basic TV, you could do worse than the Sceptre X515BV. But for the people who want a more immersive, more engaging entertainment experience, spend a little extra for a smart TV instead. Click here to purchase one.