*** TVReviewland.com earns commissions on qualifying purchases made through affiliate links ***
Ready to jump into our TCL 50S425 4K Roku Smart TV Review? This article has been long overdue. TCL is making a name for itself with budget televisions that have the features of more expensive models. In keeping with this trend, they have released the TCL S425 50 Inch Roku smart TV. When TCL partnered with Roku, they made it so that every TCL smart TV comes with the versatile and feature-rich Roku TV.
So you know that as far as content and other useful apps go, the TCL 50 inch S425 pretty much has it all. The next thing you should find out is how well the television performs as a display.
Luckily, this review does just that.
TCL 50S425 4K Roku Smart TV reviews part 1: What is in the box
In addition to the TV itself, you will find a remote, a power cable, a pair of TV stands and a user manual. You will also find a useful dongle that adapts RCA input into 3.5mm composite video input.
First looks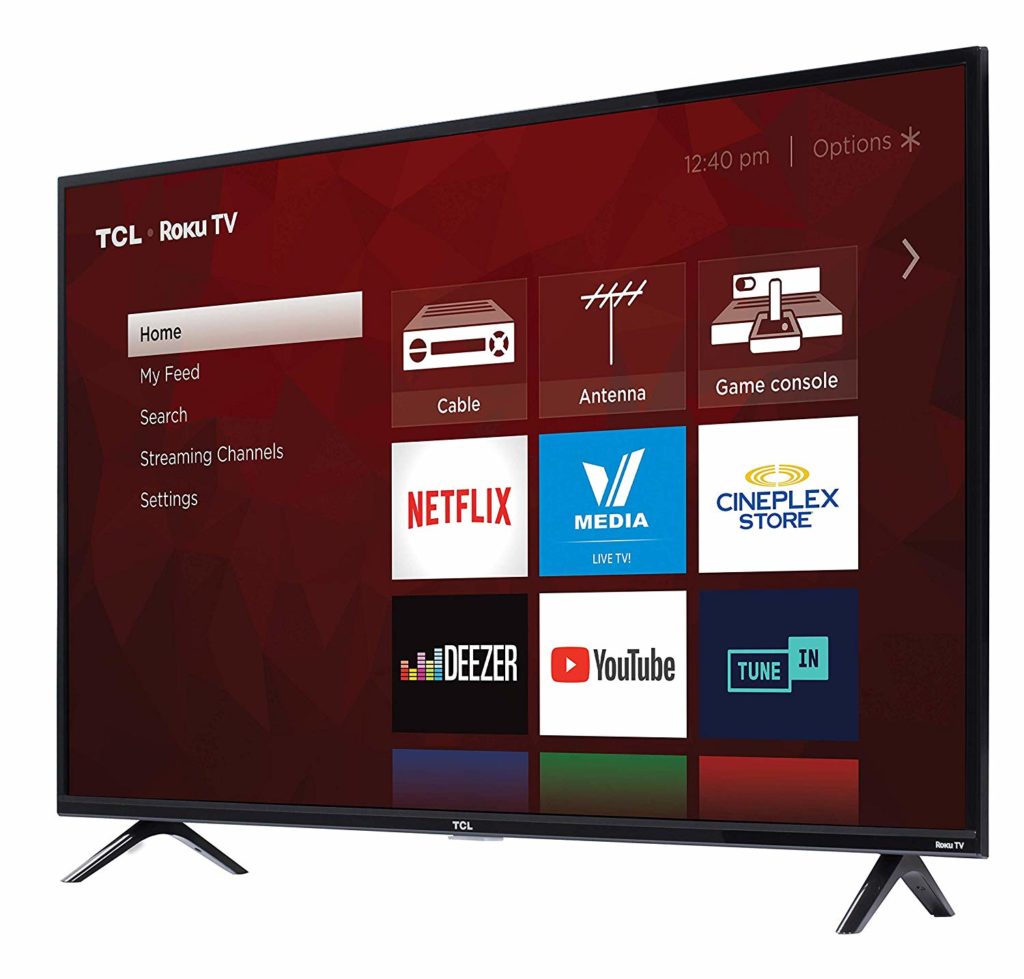 The chassis of the TCL S425 is made of black plastic of varying texture and color. The top and sides of the screen are framed by bezels that measure 0.4 inches at the top. 0.5 inches at the side and 0.8 inches at the bottom. The bottom bezel is silver, with the TCL logo at the center and the Roku logo on the right.
You will find the basic control buttons (power, volume) under the TCL logo. The TV is only 2 inches thick, except at the bottom, where the built-in speakers and input panel are. Here, the TV bulges to a thickness of three inches.
Inputs and connectivity
There is a single set of inputs on the left side of the TV. They are arranged vertically in the following order: One USB port, an Ethernet port, three HDMI ports, an antenna jack, a 3.5mm composite video input, a 3.5mm audio input port and an optical audio output.
You also will find the power jack on the right side of the back panel. Being a smart TV, the TCL 50S425 comes with Wi-Fi and Bluetooth capabilities. The next section of our TCL 50S425 4K Roku Smart TV reviews will take a closer look at this TV's features.
Smart TV: Basic features
The operating system that runs the TCL 50S425 is hands down the thing that you will enjoy most about this television. The OS installed on the 50S425 is the intuitive and fun Roku TV. When you turn on the TV, you will be greeted by a home screen that lists all your inputs and the devices connected to them.
From the home screen, you can use content from any of the devices or input sources connected to the TV. Or you could select the streaming or gaming app of your choice.
Smart TV: Content
Roku TV lets you enjoy a whole world of content and functions. If the preinstalled apps do not have what you want, there is always the app store.
The Roku operating system comes with basic streaming apps like Netflix, Hulu, Vudu and Amazon Prime Video. It also aggregates content from free sources like the Roku channel, Crackle and NBC.
The operating system comes with pre-installed music apps like Pandora, Spotify and SiriusXM.
[Read what others are saying about this TV]
Useful features of Roku TV
Roku TV allows you to stream from your PC to the TV using Miracast or Wi-Di. With the Roku app, you can also stream directly from your phone or use the phone as a remote.
The app also allows you to use Roku voice search to control the TCL 50S425. Although Roku voice search is convenient, it does not have the functionality of Alexa, Siri or Google voice assistant.
But there is a workaround to this. You can add a voice control Roku skill that is based on Alexa. With this Alexa-based skill, you can issue voice commands through any Alexa device in your home network.
Picture quality: Color
The TCL 50S425 is a 50 Inch LED panel with 4K resolution and a refresh rate of 120Hz. These specs match up with the performance, to some extent.
The black levels are not as deep as the high-end models that TCL makes. If you disable dynamic contrast, you will be looking at black levels of 0.12 nits, which is not that dark. But with dynamic contrast ratio turned on, the blacks dip to 0.04 nits, which is good.
As color goes, the TCL 50S425 has a limited color range. That does not stop it from displaying vivid, lifelike and textured picture. We will wrap up our TCL 50S425 4K Roku Smart TV reviews by taking a closer look at the type of pictures this TV creates.
Picture quality: brightness, contrast and sharpness
With dynamic contrast ratio turned on, the TV has a ratio of 6000:1, which is good. In this respect, the TCL 50S425 outperforms competing models in its price range.
There are some drawbacks, though. With a peak brightness of 224 nits, the TCL 50S425 is dimmer than similar models from the competition.
This TV does not have local dimming, so when you adjust with the settings, the whole screen will dim or brighten uniformly. Also, the black levels do not vary like they would with local dimming.
The result is a loss in sharpness, contrast and detail. When you watch a video with dark pictures, you will have a hard time trying to make out the detail in the darker parts of the screen.
Input lag and gaming
A good TV for gaming should have a response time of 20 ms or less. This is where the TCL 50S425 shines, with an input lag of 15.2 milliseconds in gaming mode. Even in normal viewing the TV still responds fast, with a response time of 31ms.
Pros
The TCL S425 delivers features and performance at an affordable price
The Roku TV OS provides a wide variety of content and useful apps
You can install Alexa voice assistant functionality onto the Roku OS
The input response time in gaming mode is excellent
You can use your phone as a remote thanks to the Roku app
Cons
Narrow viewing angle
The TV is dim, with lower peak brightness levels than similar screens with the same price point
No local dimming, which causes reduced sharpness and detail
The remote control does not come with a microphone and only works within a line of sight
The TCL interface comes with ads that you cannot get rid of
TCL 50S425 4K Roku Smart TV reviews verdict: Is this television worth a try?
Sure it is. The TCL S425 is affordable, rich in features and it delivers good 4K picture quality. As always, TCL has made sure that the TCL 50 Inch S425 is actually worth the money that you pay for it.
Usually, when you choose to buy a budget TV, you expect to make some tradeoffs. With this TV, the tradeoffs are neither huge nor many. Click here to learn more about this television or to purchase one.