*** TVReviewland.com earns commissions on qualifying purchases made through affiliate links ***
Our Acer Aspire 5 review led to us gaining a new-found respect for the brand. The A515-43-R19L is a budget laptop with a configuration that will get you through your basic, day-to-day computing tasks. But with competition from laptops with a similar price point and comparable features, is this AMD version of the Acer Aspire 5 a good buy?
Let's take a closer look to find out.
Acer Aspire 5 review introduction: Unboxing and first looks
Inside the package, you will find a Lithium battery, a power adapter and some documents. You will also find the Acer Aspire 5 A515-43-R19L 15.6" notebook.
This notebook is beautifully put together. Its exterior is made with aluminum, which gives it a matte, metallic-grey finish. The Acer Aspire 5 is also super slim, at a thickness of only 0.7 inches. At a glance, this laptop has the polished look of a far more expensive PC.
You will have a little bit of a hard time getting the laptop open because it lacks a groove or allowance for your fingers. Once you get it open, you will come face to face with a 15-inch screen framed with slim, black plastic bezels. The deck is made of the same aluminum material as the exterior. The final look is a sleek, grey notebook with a little black accenting. There are IO ports on both sides of the notebook. We're just getting started with our Acer Aspire 5 review.
IO and connectivity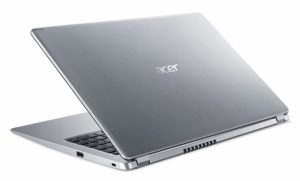 The left side of the Acer Aspire 5 houses a power port, a Gigabit Ethernet port, an HDMI port, a USB 2.0 port and a first-generation USB 3.1 port. The right side of the laptop holds a single USB 2.0 port.
For connectivity, the laptop is fitted with an 801.11ac wireless adapter. You could also connect to a wired network via the GE port on the right side of the laptop.
Keyboard and touchpad
The backlit keyboard is convenient, especially when you need to use the laptop in a place with little or no lighting. The keys have just enough give to be solid without being too hard.
As for the touchpad, its entire surface is responsive, which is great. The touchpad does not come with right-click and left-click keys, which is not great. Who does that? Certainly one of the things we did not like during our Acer Aspire 5 review.
[Related: Acer Predator Helios 300 Review 2019]
Chipset
The Acer Aspire 5 A515-43-R19L has a configuration that is best suited to software that requires moderate processing power. It is powered by an AMD Ryzen 3200 dual-core processor that comes with an integrated AMD Radeon Vega 3 Graphics card. The processor and graphics card share 4GB SDR4 RAM.
The hardware is well equipped to handle basic tasks like streaming, browsing and video. It can handle relatively light applications like word processors, media players, streaming apps and smaller-sized games.
If you need to use heavier applications like Adobe's video and image processing software suite, then you should consider the Intel equivalent of this machine (also from Acer). Gaming enthusiasts that love to play the latest multiplayer games should find a machine that can handle the rigorous demands of large, resource-intensive software. We'll take a close look at this laptop's storage capacity in the next section of our Acer Aspire 5 review.
Hard disk
This iteration of the Acer Aspire 5 comes with a 128GB solid-state drive. SSD drives are slowly becoming the norm, thanks to their small form and incredibly fast boot time. The fact that an SSD occupies so little space is the reason why laptops are getting thinner with each new product release.
That said, 128GB worth of storage capacity is small by today's standards. So this is not the storage drive for the person who likes to store large amounts of media or install large software on their PC. This means that you will have to use an external hard drive as a storage option.
Or you could simply install a second internal storage device. If you are the kind of person that likes to get inside the guts of your laptop, you can add a 1TB mechanical hard drive. You will not need to reinstall the operating system anew after you add the extra drive. While you are in there, you can add some RAM as well.
The Acer Aspire 5 A515-43-R19L has expansion slots that allow you to do both these things.
[Read what others are saying about this laptop]
Display
This version of the Acer Aspire 5 comes with a 15.6 inch IPS panel with 1080p resolution. The panel renders extremely good picture with accurate color reproduction. The blacks are as deep and as velvety as darkness itself. The brighter colors are vivid, saturated and radiant.
The stark difference between the brightest and darkest colors makes for an impressive native contrast ratio. This, coupled with the display's wide color spectrum, allows the Aspire 5 A515-43-R19L to render good shadow contouring and sharp detail.
That is how this display panel is able to render HD content that is accurate and true to the source/input signal.
Battery
A huge selling point of the Aspire 5 A515-43-R19L is its impressive battery holding time. The laptop ships with a three-cell Lithium Polymer battery with a charging capacity of 4200mAh. The laptop accepts a maximum supply wattage of 45W.
If you put this laptop through its paces, you will be happily surprised by how long it holds out between charges. The fully-charged battery can last up to seven and a half hours with moderate to high load. As modern laptops go, this is not bad at all.
Sound
The Aspire 5 has two downward-firing speakers located on the front-left edge of the deck. They are loud enough that you can use them comfortably at moderate volume. We'll wrap up our Acer Aspire 5 review by going over the pros and cons of this laptop.
Pros
Well priced
Lightweight computer with a sleek, modern design
The notebook is fabricated with quality material
A sufficient number of IO ports
Pretty fast for a computer made for everyday use
The anti-glare finish on the screen prevents reflections from ambient light
The display has great resolution and overall, good picture quality
Backlit keyboard and responsive keypad
The laptop shines with a battery holding time of up to 7.5 hours
Cons
A lack of indentation makes the laptop a little hard to open
The touchpad is not as accurate as you would like
It also lacks left and right-click buttons
You could get an alternative notebook with larger storage for this price
No memory card reader
The 4GB RAM is also pretty low by today's standards, meaning that the Aspire 5 A515-43-R19L is not future proof, by any stretch
The laptop's dual-core AMD Ryzen 3 processor is fast enough for basic tasks, but not enough for resource-intensive functionality like gaming or video/image editing
Acer Aspire 5 review verdict: This is a bargain for anyone who wants a laptop for basic, everyday use
If you need an affordable laptop to help you browse the internet, watch videos, Skype with friends or do some basic bookkeeping, the Acer Aspire 5 works. What's more, the sleek, lightweight design of this laptop makes it easy to carry around.
Most of all, you will love the hours and hours of battery time that this trusty little notebook offers, which is actually a huge selling point for this machine.
However, if you need a laptop to help you with resource-guzzling tasks like gaming, find something with more storage, memory and processing power. Here's how you get one.
Read more:
Samsung Q70 Series Review: Good Performance at a Good Price
LG 55UM7300PUA Review: Alexa Built-in 55″ 4K UHD Smart LED TV
Sceptre E248W-19203R Review: A Bargain 24-Inch Full HD Monitor
Enacfire E19 Review: Bluetooth Wireless Earbuds, Good Build, Great Performance, Awesome Pricing
Naruto Television Show: The Enduring Appeal