*** TVReviewland.com earns commissions on qualifying purchases made through affiliate links ***
We're doing a Hisense U6HF review to see if an affordable 65-inch QLED TV can be reliable as it renders stunning, high-quality images.
Hisense offers the U6HF as an alternative to the main U6H series from 2022. While the U6H runs the Google TV platform, the U6HF comes with Amazon's Fire TV. The version with Fire TV must be a success because Hisense is adding a 65-inch model to the U6HF series.
Amazon debuts the 65-inch Hisense U6HF just in time for the 2023 holiday season. This 65-inch TV joins the 50-inch and 58-inch models from the company's 2022 lineup. The latest addition may even have a few extra perks, like complimentary mounting gear. Here's what you get with the 2023 model of the Hisense U6HF Fire TV.
Hisense U6HF review: What to expect from a bargain QLED Fire TV
Hisense uses the U6 designation for its entry-level QLED TVs. The rest of the letters in the product code usually indicate the year of release and the smart platform that runs the TV.
For an affordable price, you get a 60Hz QLED panel with a full-array direct backlight and a few dozen dimming zones. As a budget QLED TV that runs the Fire TV platform, the Hisense U6HF should distinguish itself in the following ways:
Beautiful, high-fidelity colors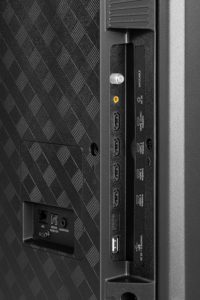 The U6HF boasts a wide color gamut and excellent color reproduction of a QLED panel. This translates to billions of hues that can recreate the richness and subtle nuances of real-world color. The TV's quad-core MediaTek CPU takes it a step further by showcasing the effect of light and shadow on different surfaces.
You get to watch pale moonlight filter through the clouds to paint a layer of silver on the dull, gray barrel of a sniper's rifle. The TV will then transport you to a room where glittering Christmas decorations form a colorful backdrop to a tragic scene.
Vivid scenes from nature documentaries look just as breathtaking on the Hisense U6HF.
Useful smart TV features
Fire TV carries plenty of streaming apps, including staples like Netflix and HBO Max. The platform also has tools that interface with compatible smart home devices, including your security system. Even better, you have Alexa on standby to help with any tasks or queries you have.
People who use the Amazon ecosystem reap extra benefits from the Fire TV platform. For one, they get free content from Prime Video, along with occasional deals on various subscriptions.
The Hisense U6F processor runs the Fire TV OS without too much difficulty; delivering a responsive interface. Navigating the platform is easy, thanks to an intuitive layout that adjusts itself to match your usage and viewing habits.
[Read what others are saying about this television]
Hisense U6HF review: A good companion for light gaming
Four HDMI ports provide connections for multiple gaming consoles and media players. The ports have enough bandwidth for high-resolution content with frame rates of up to 60fps. All four ports also support VRR, FreeSync, and automatic low-latency mode (ALLM). These basic gaming features help to smooth motion and minimize blurring during gameplay. It bears mentioning that demanding AAA games may show motion blur with fast-moving objects.
Lastly, the U6HF renders decent graphics with crisp images and a good level of detail. The result is an enjoyable gaming experience when you play games with moderate graphics requirements.
A decent TV for dark-room viewing
Decent black levels allow the U6HF to render images with rich, dark colors that look good in dim lighting. These qualities make for a good viewing experience as you watch content in a dark room. The Hisense U6HF does a great job of showcasing cinematic content with dark scenes.
There are only a few small drawbacks that you may notice while watching TV in a dark room. The first issue is light blooms in spots where bright and dark elements intersect. You may also notice a hint of banding in darker, moderately saturated colors.
Hisense U6HF review: Good for daytime viewing
A sustained peak brightness level of 400 nits allows the Hisense U6HF to handle glare and reflections in bright rooms. This means that the screen will display crisp, defined images in strong ambient light. You can enjoy nature shows and stream your favorite content while letting the sun in. HDR highlights and vivid colors still pack a punch in the presence of bright light.
Hisense U6HF review: Sports content looks fine
VA panels like the Hisense U6HF have narrow viewing angles and poor off-angle viewing. At an angle, images lose brightness, color accuracy, contrast, and overall definition. This drawback limits the number of people who can gather to watch an important sports event on the U6HF. You may also notice a hint of motion blur with fast-moving objects flying across the screen.
Live games coming through your antenna and cable box look good on this TV, thanks to effective video upscaling. Also, the TV's solid reflection handling allows you to watch sports in bright and sunlit spaces.
Hisense U6HF review: Design, build and usability
The Hisense U6HF QLED TV has a simple design with a boxy side profile. Much of the chassis is a mix of matte and glossy plastic, with a checkerboard pattern on the back panel. Metal TV feet and a metallic lower bezel add some variation to an otherwise all-plastic exterior.
For the most part, the Hisense U6HF panel has a solid build, and there's only the slightest gapping in the TV 'seams'.
Physical setup, port placement, and usability
The TV feet of the U6HF sit at the far ends of the panel, so you'll need furniture that's as long as the TV itself. While the feet are high enough to create room for a soundbar, they are also high enough to cause some wobble if you nudge the TV by accident.
Mounting the TV on the wall offers a more stable setup, but there are tradeoffs you'll have to make. You will have a hard time accessing the optical output and headphone jack because both ports are rear-facing. This is an odd design choice, considering that Hisense positions the power port and antenna connector as side-facing ports at the far ends of the TV.
The port layout is all the more puzzling when we remember that most of us rarely fiddle with the power port or antenna connector. On the other hand, the optical port and headphone hack see regular usage in most households.
Connectivity
Four HDMI ports provide enough connections to a large selection of media players, gaming devices, and sound equipment. You also have your pick of the following ports:
Digital optical output
Mini headphone jack
Composite AV jack
Two USB ports
Ethernet port
Antenna connector
A wireless adapter provides WiFi and Bluetooth connectivity that links the TV to your home network and compatible devices. These wireless connections allow you to cast content directly from your devices to the TV through smart features like Apple Airplay.
Pros
Perfect color reproduction
The Hisense U6HF is bright enough to handle glare, reflections, and HDR content
Decent black levels and contrast
Low input lag
Basic gaming features like VRR and ALLM
Cons
You may notice some clouding and light bleedthrough with dark images
Backlight bleed and slight clouding takes away from the screen's uniformity
Slight motion blur with fast-action content
Middling off-angle viewing
Odd placement of ports
Hisense U6HF review verdict: Good picture quality, and some tradeoffs
The Hisense U6HF delivers on picture quality, with the typical excellence you'd expect from a QLED panel. A wide color gamut translates to perfect color reproduction that creates realistic, unexaggerated hues. Decent contrast allows the TV to paint crisp images with sharp outlines that showcase texture and fine detail. The only drawback of this TV is pixels that take a little too long to change colors, which may cause motion blur.
This Hisense U6HF review finds a budget QLED TV with many selling points and few downsides. The U6HF is a good pick for the shopper who likes the Fire TV platform and a sweet deal. Click here to learn more about this television.
Read more:
Samsung C400 Soundbar Review: Bare-bones Soundbar Produces High-Quality Audio
Bose Smart Ultra Soundbar Review: Big Soundbar, Big Sound
Sony A95L Review: The Artist's Brush Disguised As An OLED TV
Samsung QN90C Review: A QLED TV That Mostly Gets It Right
Exploring the Hisense 50-Inch ULED U6HF Series Quantum Dot QLED 4K UHD Smart Fire TV