*** TVReviewland.com earns commissions on qualifying purchases made through affiliate links ***
Ready for our Sony-WF1000XM3 review? We sure are. Sony has not been much of a participant in the race to develop wireless earbud-style headphones. Still, they managed to create what is arguably the best set of wireless earbuds that introduces a feature that no other set of wireless airpods besides the Sony-WF1000XM3's predecessors have: noise cancellation.
That was certainly the highlight of our Sony-WF1000XM3 review, and it allows the user to enjoy a sound quality that is usually reserved for those huge padded headphones like Beats by Dre.
Sony-WF1000XM3 review part 1: What's in the box
The Sony-WF1000XM3 has completely different aesthetics from Sony's earlier release, the WF-1000X. It comes with a pair of earbuds, new drivers, a QN1e processor that boosts sounds quality, touch controls and Bluetooth 5.0 compatibility.
The style of the earpods is a mix of retro and modern earbud styles. It isn't the most discreet set of airpods since it sticks out a bit more out of the wearer's ears than some of the competition, but it fits securely and is extremely comfortable.
As is the case with other earbud brands, getting a tight seal with the air leads to optimal noise canceling and quality. The Sony-WF1000XM3 comes with a variety of ear tips of various sizes, so there is one for everyone to ensure the best fit.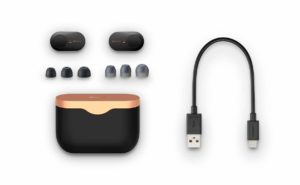 The charging case these earbuds come with has bulky look to it, and it looks somewhat like a miniature eyeglass case. Each earbud contains eight hours of battery juice (when using the noise-canceling function and max volume). The case itself contains three full charges for both airpods. That means you get a total of 32 hours of sound with fully charged earbuds and their case. That's not all though. There's also a quick charge function that allows you to charge up 90 minutes of operating time in only 10 minutes. If you forget to charge up your airpods before your next jog, no big deal. Plug in the airpods, go get ready and you'll be able to enjoy whatever tunes you want throughout your run.
Features
There are touch controls on each airpod that are used to power them on and off and control playback, but the volume has to be controlled on your phone. That is pretty much the standard when it comes to these devices.
You can also use these controls to access the voice assistant or to toggle through the different sound settings which are: transparency mode which allows ambient sound, noise-canceling on and noise-canceling off.
The Sony-WF1000XM3 also comes with a rather cool automatic sensor that detects when you have a pod in your ear. It automatically pauses playback when an earbud is removed, and it continues when it is inserted in the ear. Users can use both earbuds or a single one. You can also use the earpod to make and receive calls.
Our experience using the Sony-WF1000XM3 to make calls during our review was mixed. The sound quality of the person on the other end was always superb, but it was average when it came to how well the person on the other end heard our input. It was good enough for a conversation though, without having to repeat ourselves.
[Read what others are saying about this device]
Wireless connection
The Sony-WF1000XM3 connects to your phone or device via Bluetooth. We experience virtually no issues once a connection was made. The only thing that would disrupt it would be moving out of range.
Noise cancellation
What really makes the noise cancellation on this device is the adaptive control. It automatically adjusts the noise control setting to match your environment. If you step on a train, the Sony-WF1000XM3 automatically filters out background sounds, step on the plane the same happens. It's a really cool feature we don't recall seeing anywhere else.
While we wouldn't say the noise cancellation is a good as what you would get from a pair of quality full-sized headphones, it's really really close. We'll wrap up our Sony-WF1000XM3 review by going over the key features of these earbuds.
Pros
Automatic noise cancellation feature
Bluetooth 5.0
Touch controls
Up to eight hours of use on a full charge, the case holds three full charges
New aesthetics and drivers
Users get 90 minutes run time with 10-minute quick charge
Cons
A bit larger than the average pair of earbuds
Audio input when making calls could be better
Sony-WF1000XM3 review verdict: One of the best wireless airbuds around
The Sony-WF1000XM3 has a few drawbacks that could be improved upon, but, overall, it is one of the best wires airpods we've tested. It's easy to use, durable and it delivers high-quality sounds. The only way you can get headphones with better sound quality is by going with one of the top quality full-sized headphones.