*** TVReviewland.com earns commissions on qualifying purchases made through affiliate links ***
If we wanted to sum up our Pipishell Full Motion TV Wall Mount Bracket review with three words they would be: sturdy, versatile and durable.
Your wide-screen TV looks good as it sits on a strong pair of legs. It would look even better if you were to mount it on a wall. It would also be safer there, immune to the dreaded 'accidental knock' that could send it crashing to the floor.
When you invest in a widescreen TV you expect to enjoy an immersive home theater experience. A wall-mounted TV helps with that. It makes movie night a whole lot more fun. Because a wall-mounted TV is elevated, it offers better viewing angles for a group of people seated in different positions.
Wider viewing angles are also a must-have for the sports enthusiast who likes to have their friends over for the big game. We were glad to notice this and many other useful features during our Pipishell Full Motion TV Wall Mount Bracket review.
You know all this, which is why you are shopping around for a wall mount that will allow you to watch TV the way you have always wanted. Let's get this review started.
Pipishell Full Motion TV Wall Mount Bracket review part 1: What's in the box?
Just by looking at it, you will appreciate the craftsmanship that went into the fabrication of the Pipishell wall mount bracket. The wall mount and its components are made of quality steel with a glossy black finish that is resistant to chips and scratches.
For a full-motion wall mount, the Pipishell bracket is compact and elegant. It has two articulating arms that terminate at the wall plate to form a single, multi-directional extension. Combined, the arms pretty much form a system of hinged joints that can move in several different directions. This mechanism is what gives the Pipishell bracket such a wide range of motion.
Apart from providing full motion, the combination of two articulating arms into one also ensures the stability of the mounted television.
[Read what others saying about this TV mount]
Wall plate: Dimensions and stud spacing
The wall plate of the Pipishell full-motion bracket measures 17 by 7 inches. If your walls have wooden studs you should be able to mount the plate with ease. Just as long as the spacing between your wall studs is between eight and sixteen inches. The brackets will not work with wider spacing.
The bracket also comes with extra components and installation instructions for concrete and brick walls. Instructions include directions on how to drill suitable holes that line up with those of the wall plate.
The faceplate and compatibility with different VESA patterns
The two articulating arms connect to form a hinge joint at the faceplate, which is the part of the bracket that connects to the back of the TV. This hinge allows you to tilt the TV forward and backward. The hinge is also a contact point that helps you move the articulating arms to the left or right.
The wall mount ships with a pair of brackets that you will need to screw onto on the back of the TV. These have a series of equally spaced holes that allow for a range of VESA patterns.
This versatile Pipishell wall mount has you covered, whether you have a wall mount pattern that is as small as 200x100mm, or as big as 600x400mm. In other words, you can mount virtually any TV that measures between 37 and 70 inches, even if it is curved. What's more, the wall mount is strong enough to support weights of up to 132 pounds.
Range of motion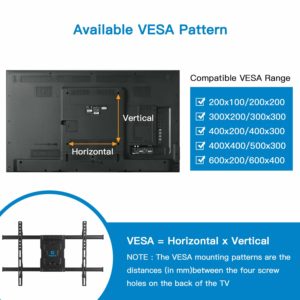 The Pipishell full-motion bracket is versatile in the sense that it accommodates televisions of different sizes and wall mount patterns. It also allows for a wide range of motion. When you push your mounted TV flat against the wall, it will only stick out at 3 inches. When you extend the arms of the bracket, your TV will stand 15 inches away from the wall.
The wall mount also allows for a forward vertical tilt of three degrees a backward tilt of 12 degrees. Its arms also allow you to swivel the TV at a maximum angle of 60 degrees to the left or right. When the designers of this wall mount say that it provides full-motion, they mean it.
The ability to tilt, raise and swivel your TV allows you to enjoy your TV the way you have always wanted to. You can adjust the TV to reduce or prevent glare. Or you can adjust the TV to improve the viewing angle when you host a bunch of people for movie night.
You will need to loosen (and later tighten) the tension screws before adjusting the wall mount, but you will soon get the hang of it. Besides, Pipishell provides you with a special tool to work those screws. We'll wrap up our Pipishell Full Motion TV Wall Mount Bracket review by going over the key things we liked and didn't like.
Pros
The bracket comes with a five-year warranty
The bracket supports both straight and curved televisions
It can hold displays of varied sizes, weights and wall mount patterns
The bracket can also hold weights of up to 132 pounds
Easy to install, thanks in part to a simple and graphical user manual
Light but sturdy
Built with quality materials
Offers a full range of motion
Cons
The faceplate could block rear-facing input ports on smaller-sized TV sets
To adjust the tilt or angle of the bracket, you will need to unlock the arms by loosening a few screws. You will also need to tighten the screws once you adjust the TV.
This is inconvenient, considering that many wall mount brackets come with tension knobs instead of screws
For the center plate, the maximum width for wall studs is 16 inches. However, this will not matter with walls that are made of concrete or brick, since you can drill holes into those
Little allowance for cable management
This is a wall mount bracket worth buying
You never know when you might need to replace your TV. How awesome would it be if you could get a different sized television and reuse your trusty Pipishell wall mount? Well, you can, and at an affordable price too.
The Pipishell full motion wall mount is well-priced, well-made, durable and sturdy. It is strong enough to support weights of up to 132 pounds. It is versatile enough to support television sets of varying sizes. Best of all, the bracket allows you to adjust the position of the TV to your heart's content, which is the point of a full-motion wall mount. Read what Pipishell mount owners have to say.
Read more:
Element TV Review 2019: Things You Should Know Before Buying One
TCL 40S325 40 Inch Roku Smart TV Review
LG 55UM7300PUA Review: Alexa Built-in 55″ 4K UHD Smart LED TV
Best Budget Sound Bar: Vizio SB3621-E8
Sceptre E248W-19203R Review: A Bargain 24-Inch Full HD Monitor