*** TVReviewland.com earns commissions on qualifying purchases made through affiliate links ***
There a simple phrase that expresses what we discovered during our Nakamichi Shockwafe 5.2 review: This soundbar makes a strong statement and packs a powerful punch.
Sometimes you feel the need to be blown away by cascading waves of powerful, beautiful sound. In the days of old, you had to attend a concert or go to the movies to experience the larger-than-life feeling of surround sound.
Not anymore. The age of high-fidelity speakers is with us, and you can get yourself a sound system that transforms your space into a concert hall or a movie theater. A Nakamichi Shockwafe Plus 5.2 Channel, 500W 45-Inch Sound Bar system, for example.
Ready for our Nakamichi Shockwafe 5.2 review? Let's get started:
Nakamichi is an electronics manufacturer that specializes in sound equipment. Their reputation for making top-of-the-line, high-performance sound systems means that their new releases tend to sell out pretty fast. Recently, the company has developed a 45-Inch soundbar system that renders surround sound, defining every small detail in your audio and blending it together into sonic perfection.
Let's see how well this soundbar system lives up to the Nakamichi name.
Nakamichi Shockwafe 5.2 review part 1: The design
The soundbar has an edgy, angular design that will blend perfectly with any modern home entertainment system. The soundbar is shaped like a five-sided polygon, with both ends framed with glossy black plastic and white trim. The front and side surfaces of the soundbar are covered with grey, see-through mesh that allows you to see the different speakers. The rest of the surfaces are made of sleek black plastic.
The front panel of the Nakamichi 5.2 Plus has a bottom half that bends inwards, with internal speakers that seem to bend to the shape of the soundbar. The center of the 5.2 Plus has a five-digit LED display. Right above the digital display is a set of control buttons namely, power, input source, demo and volume. This Nakamichi Shockwafe 5.2 review is just getting started.
Inputs and connectivity
All the input ports are housed at the back panel. You will find four HDMI ports, including one that is ARC enabled. You will also find a USB port, a coaxial input, an optical digital audio input and an auxiliary port. The Nakamachi 5.2 Plus is not a home theater hub, hence its limited inputs.
The soundbar also comes with a built-in wireless adaptor from Qualcomm. It allows you to stream or play content from your phone and direct the audio to the soundbar, via Bluetooth. You can connect several devices via Bluetooth, including the two subwoofers that ship with the soundbar.
Performance: Sound quality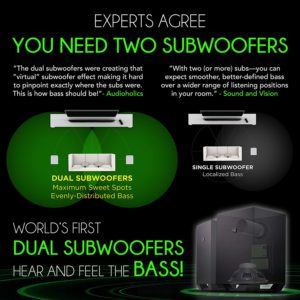 The Nakamichi 5.2 has five internal channels or speakers that are visible from the front. It also comes with two surround subwoofers, which you will need to place strategically to implement surround sound. You will also find two tweeters, one on each end of the soundbar. These enhance the surround sound by reflecting sounds that bounce off the walls, ceiling and floor of your space.
The 5.2 Plus has a powerful chipset that processes digital input signals in a way that makes full use of different channels and subwoofers. And the results are impressive. This soundbar system does an amazing job of rendering detailed, defined, powerful sound.
This is what you should expect with this soundbar: You will hear the formation of a tiny crack coming from one side of the room. You will jump out of your seat as a frozen lake opens up and swallows a character with a massive crash.
You will be right there in the freezing water with your protagonist as they struggle to surface from a frigid, watery world. With only the muted sound of your frantic swimming and distant, panicked voices from above, trying to guide you to precious air.
Performance: Supported audio/video formats
The chipset of the Nakamichi 5.2 Plus can process audio from all kinds of video formats. You get to enjoy clear, immersive audio from varied content. So whether you are watching content that is encoded in Dolby or 4K/HDR, this soundbar will produce clear, accurate sound.
Every detail will be defined and combined to produce sound that seems to come from everywhere, all at the same time.
[Read what others are saying about this soundbar]
The remote
You need a remote that you can use in a dark room, without having to put the lights on. So it is a good thing that Nakamichi made a backlit remote that allows you to enjoy movie night without interruption.
The remote also comes with shortcut keys that allow you to switch between different inputs. It also has shortcut keys that help you switch between different sound presets. You can toggle between small-room, medium-room and large-room presets.
Pros
The soundbar has a small form factor, which allows it to sit in front of a TV without obstructing the screen's IR receiver
The soundbar is well built with an edgy design
This 500-watt soundbar is powerful, especially when combined with two eight-inch subwoofers
Amazing bass levels
Clear, defined sound that blends together perfectly
The sound remains clear, with no distortion, even at high volume
Wireless connectivity allows you to connect to the soundbar system via Bluetooth
Has an ARC-enabled HDMI port that allows you to control both the TV and soundbar with a single remote
The soundbar supports multiple sound formats, including Dolby audio and sound from 4K HDR content
Cons
It may be a little pricey, but it is worth every penny
Limited number of ports which means:
You cannot use this soundbar as a hub for your home theater setup
The Nakamichi 5.2 Plus soundbar system is a great investment
Nakamichi Shockwafe 5.2 review verdict
When you buy an entertainment system, you expect it to serve you well, preferably for many years. The Nakamichi 5.2 plus will do just that. It is made with quality materials and fabricated with the utmost skill and care.
The result is a soundbar system that delivers excellent sound quality and guarantees many years of great service. So if you are in the market for a home theater experience that leaves an impression, you should go with the Nakamichi 5.2 plus. This durable, powerful soundbar will give your TV the boost you never knew it needed.