*** TVReviewland.com earns commissions on qualifying purchases made through affiliate links ***
Here's an Amazon Kindle Scribe review to help with your search for a new digital companion. People who look for e-book readers want a device to keep them company as they travel or settle in for a quiet evening. The ideal device should also have features that facilitate work, study, errands, and tasks that organize your life. Where does the Kindle Scribe fit into this short but basic list of needs?
Amazon presents the 10-inch Kindle Scribe as an e-reader with plenty of screen for content and productivity tools. The Scribe advertises a battery that supports weeks of light usage between charges. Better still, you can write on the Kindle Scribe, thanks to a versatile stylus that simulates paper's physical feel and texture.
Ample screen space and long battery life are good opening pitches for an e-reader. Expanding the e-reader into an electronic notepad with support for different document formats only sweetens the deal. The vendor goes on to make a great deal even better by adding native support for the import and sharing of documents
Amazon Kindle Scribe review: Accessories
The Kindle Scribe comes with a digital pen that attaches to the e-reader through a magnetic mechanism. You can choose a standard stylus, but we recommend paying a little extra for the premium version. The premium digital pen comes with an eraser and a programmable button. You'll be able to customize the button to cycle through highlighter, pencil, or any other output mode that you want. The stylus works without the need for a battery. Instead, the pen and its circuitry use the tablet's electromagnetic field as a power supply.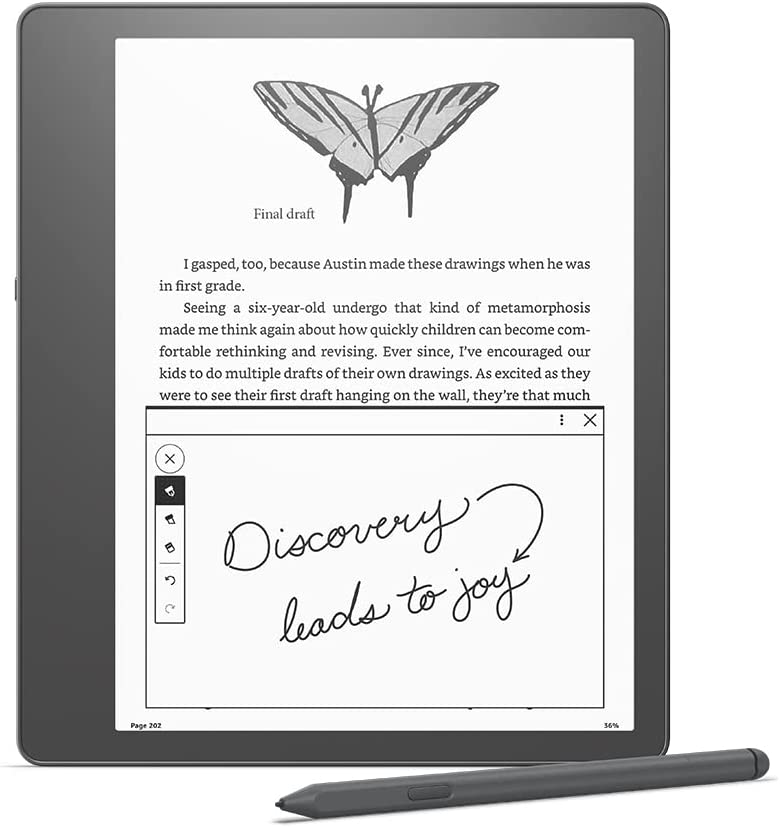 Next, you get a power cable that plugs into the USB-C port on the left side of the Kindle. Lastly, you'll need a cover for your e-reader, which is an extra expense on your part. Amazon offers form-fitting covers that put the Kindle to sleep upon closing. Opening the cover also Choose a cover that doubles as a kickstand for the days when you want to prop up the Kindle Scribe without having to hold it yourself.
First looks
At nine inches high and 0.22 inches thick, the ultra-thin Kindle Scribe mimics a sheet of A4 paper. The e-reader has an asymmetrical look, with a left bezel that is much thicker than the rest of the bezels. This design choice creates room for a left-handed grip that frees up the reading area from obstruction.
Flipping the Kindle Scribe allows left-handed people to grip the e-reader with their right hand. As you flip the device, the content on your screen will also auto-rotate to remain upright.
The Kindle Scribe has an outer shell that comes in black or denim. There are no accents, bells, or whistles to adorn the exterior of this e-reader. To add character to the Scribe, you have to rely on Amazon's protective covers. The last thing you notice about Amazon's latest Kindle is that its protective screen merges seamlessly with its frame.
[Read what others are saying about the Kindle Scribe]
Amazon Kindle Scribe review: Hardware
In line with the manufacturer's climate pledge, the Kindle Scribe has an outer shell made from recycled Aluminum. Amazon also has a program that could see you save a little money by sending your old Kindle for recycling. Here's what you get with the Kindle Scribe.
1. Hardware: Connectivity
Use the USB-C port on the Kindle Scribe to charge the device battery or for file transfer. All other data transfer happens wirelessly via Bluetooth or dual-band WiFi. You'll need a WiFi connection to access the Kindle library and other cloud services.
The Kindle Scribe lacks a physical headphone jack, which forces you to rely on Bluetooth earphones for audio playback.
2. Hardware: Charging and battery life
Amazon uses compelling marketing speak that you need to unpack. When the vendor advertises 'months or reading and weeks of writing' between charges, what do they really mean? Amazon promises three weeks of writing if you write for half an hour daily. This translates to a battery life of about 11 hours of heavy use.
It takes less than three hours to charge the tablet with a 9-watt power adapter. Charging the battery with your laptop takes much longer, with an average charging time of seven hours.
3. Hardware: Storage
The Kindle Scribe comes with storage options of 16GB, 32GB, and 64GB. All three hardware configurations have a 1.2 GHz dual-core processor that you can push to a maximum clock speed of 2GHz.
4. Hardware: Lighting and glare
Most e-readers illuminate their screens with front lights instead of the backlights that are common with tablets. Front lights are dimmer (which is good for the eyes) and consume less energy.
With the Kindle Scribe, the front light adjusts itself to match the ambient light of your surroundings. You can also adjust the screen settings to make the front light a little warmer. Users who like an e-reader that mimics reading a book by candlelight will enjoy this feature.
5. Hardware: Screen
A screen resolution of 300 pixels per inch makes for crisp and blur-free text. Images are equally sharp, with popping detail and no noticeable imperfections.
The glare-free screen also has a slight texture that creates resistance as you write on its surface. It's worth noting that most of the 'texture' and resistance comes from the tip of the digital pen. The screen and stylus combine to allow for freehand drawing and writing. This effectively makes the Kindle Scribe an e-reader that doubles as a digital notepad that you can use to doodle and make notes in e-books and documents.
Screen latency and sensitivity
Low latency allows the screen of the Kindle Scribe to respond instantly to the movements of the digital pen. At the same time, the touch screen is smart enough to ignore the touch of your hand as you use the stylus.
Amazon Kindle Scribe review: Support for e-book, document, and audio formats
Kindle devices have native support for many e-book formats, including EPUB, protected MOBI, AZW (kindle native format), and PRC.
You also get support for document formats like PDF, DOC and DOCX, HTML, and plain text. The e-reader will also render image formats like PNG, JPEG, GIF, and bitmap. However, the device automatically converts graphics and other color content to grayscale.
The Kindle Scribe also supports the Audible audio format for users who love to listen to audiobooks. English speakers can use Kindle's voice-view screen reader when they need to listen to a document. The voice-view text-to-speech app doubles as an accessibility tool for people with visual impairment.
Scribbling and drawing with the Amazon Kindle Scribe
Several software features help you to make, store and organize your drawings and handwritten notes.
1. Make drawings, lists, notes, and reminders with the notepad app
The Kindle Scribe comes with an app that allows you to take different types of notes. The notepad app has templates that allow you to:
Write entries in a journal
Make sticky notes and reminders
Create shopping lists
Make drawings, doodles, and sketches
The notepad app comes with all kinds of 'paper' formats. Some templates have lines of varying and adjustable width. These templates cover the range of lines you find in paper notepads and exercise books. Other templates are vast expanses of blank paper without margins, headers, or footers. You also get a selection of task-specific templates like shopping lists, post-it notes, and reminders.
Like many text editors, the notepad app helps you to organize your notes into single files, titles, or folders. You can share your handiwork through various apps or email. Lastly, you can store your notes and sketches in the cloud and retrieve them later for editing.
2. Import, mark, and export documents
You can use email, the Kindle app, or the tablet's web browser to move documents to and from the Kindle Scribe. Once you have your documents in the tablet's storage, use the digital pen to do one of the following writing tasks:
Draw, doodle, scribble or write directly onto PDF documents
Write, draw and scribble directly on the pages of your Kindle e-book titles
Make sticky notes on Microsoft Word documents
Create handwritten sticky notes on images in JPEG, PNG, and BMP formats
Add handwritten sticky notes in EPUB documents as well as saved HTML pages
The sticky note feature allows you to adjust the layout and font size of your handwriting, scribbles, and doodles.
Pros
The Kindle Scribe doubles as a digital notepad
An expansive screen that mimics the dimensions of a paperback novel
The screen has enough space to accommodate your hands as you write
Support for a wide range of document formats
Compatible with cloud services through the kindle app
Cons
The Kindle Scribe is pretty heavy for an e-reader
There are no page-turn buttons on the Scribe
Storage is non-expandable
Amazon Kindle Scribe review verdict: A useful companion for work, productivity, and leisure
This Amazon Kindle Scribe review finds that an e-reader that allows you to scribble is a great idea. By combining an e-reader and a digital notepad, Amazon turns the Kindle Scribe into a versatile and convenient device. Click here to learn more about the Kindle Scribe.
Read more:
House of the Dragon Episode 6 Recap-Review: Patterns, Symmetry, and Masterful Storytelling
House of the Dragon Episode 7 Review-Recap: Death (And Marriage) At a Funeral
LG UQ9000 Reviews: Easy on the Eye, Easy on the Wallet
Westinghouse 65-inch Roku TV Review
House of the Dragon Episode 8 Review-Recap: First Blood