*** TVReviewland.com earns commissions on qualifying purchases made through affiliate links ***
Our Samsung Crystal UHD 7 Series TU700D review goes over the features and performance of this affordable high-definition TV. For about six large bills, you can now get a 70-inch TV for your living room, bedroom, or guest room.
Let's dive right into our Samsung Crystal UHD 7 Series TU700D review to see what else this television offers us besides a great deal.
Samsung Crystal UHD 7 Series TU700D review: First thoughts
Samsung is one of the biggest names around when it comes to 4K TV makers, and their products typically deliver exceptional performance. The company released the TU700D in 2020 to expand its lineup; the 700D is an entry-level TV that gives you decent performance by current standards and provides a few high-end features like HDR compatibility and a cable management system. Users get all this for about $600 as of Aug. 2022.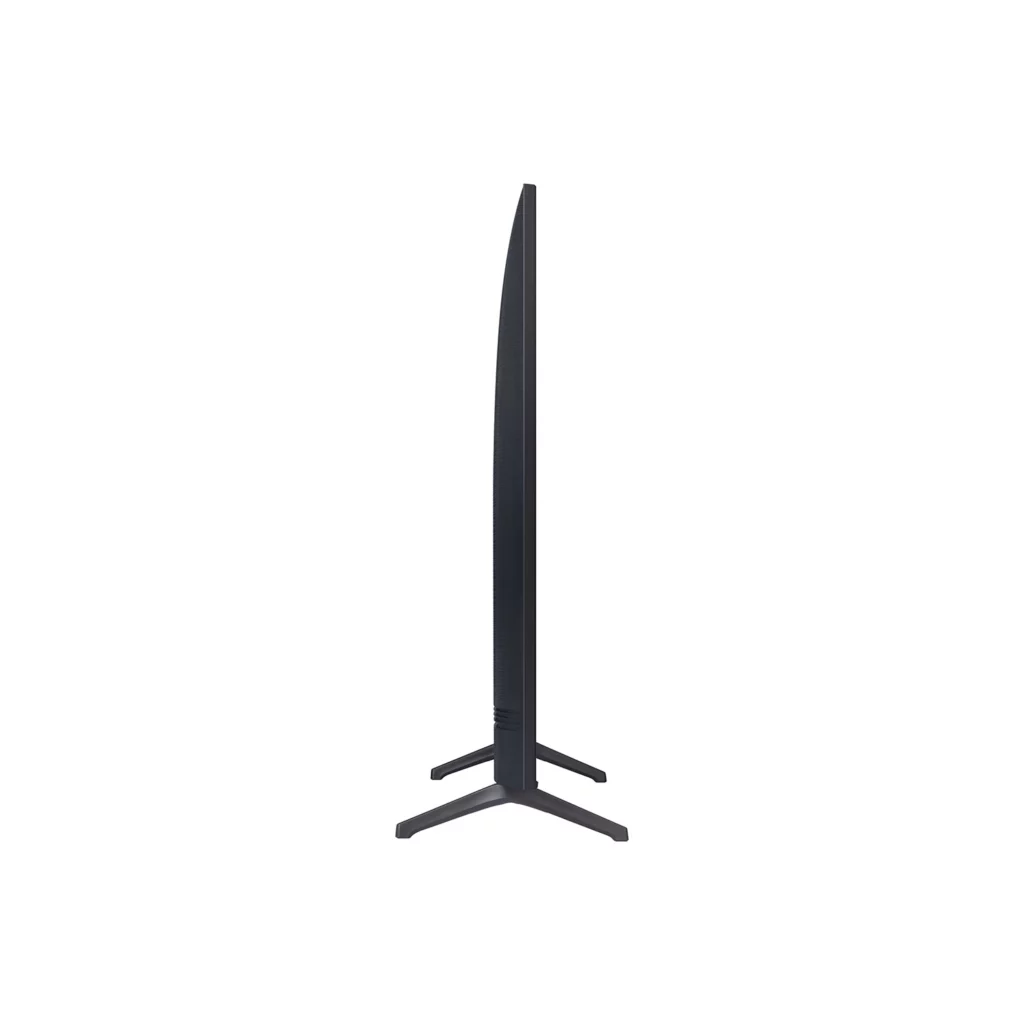 The Samsung Crystal UHD 7 Series TU700D has a modern, elegant design. The display is surrounded by extremely slim bezels that are about 0.35 inches thick. The bezels are made from plastics and come with a matte-black finish. It's a sleek, minimalist design that suits any room.
The TU700D's dimensions are 1386 x 60 x 843 mm, and it weighs about 31 pounds. That makes it lighter than most 70-inch TVs you will run into and light enough to mount on a wall yourself. There are four 200 x 200 mm VESA mounting holes on the TV's back panel, and it comes with a couple of V-shaped feet for those who prefer to keep it on a table. The stands provide poor stability as the television wobbles a bit when nudged. There are tracks all over the TV's backside for cable management and clips on the TV's feet.
Besides the poor stability of the V-shaped feet, there isn't anything to complain about regarding the TU700D's design and build.
Picture quality
The Samsung Crystal UHD 7 Series TU700D TV has a 70-inch display that gives you 4K (3840 x 2160) UHD. This high resolution leads to more vivid and sharper images. The contrast ratio of this TV's display is just as impressive at 5,110:1. A TV's contrast ratio refers to the difference between the shiniest white picture and the darkest black picture a display can produce. 3000:1 is generally viewed as a reasonable contrast ratio, and the TU7000D gives you much more.
This makes the Samsung Crystal UHD 7 Series TU700D an excellent TV for movies and shows with lots of dark/shadowy scenes like "The Long Night" GOT episode. You get to see these scenes just like the director intended.
The TU7000D doesn't have a local dimming feature, but that's not a huge deal, given its high contrast ratio. Local dimming helps enhance black pictures, but this TV doesn't need any additional help.
The most significant flaw we noticed during our Samsung Crystal UHD 7 Series TU700D review was the TV's poor viewing angles. Colors and punctures look washed out and lose accuracy as you move away from the TV's center.
[Read what others are saying about this TV]
The Samsung Crystal UHD 7 Series TU700D supports HDR technology, which enhances the color presentation and brightness of content that supports HDR. This gives you more realistic and natural-looking pictures. Most of the popular streaming apps like Amazon prime support HDR content.
The TU700D has outstanding low input lag at 10.3 milliseconds, making it excellent for playing video games. Anything less than 15 milliseconds is considered ideal for gaming. The 700D also handles fast-paced motion well, making It excellent for watching sports.
Sound
The Samsung Crystal UHD 7 Series TU700D comes with a couple of Dolby Audio-supporting two-channel 20-watt speakers that are loud enough to fill up most rooms while delivering outstanding sound quality. The speakers give clear dialogues in scenes that are not drowned out by background sounds.
However, the 700D doesn't come with an inbuilt subwoofer, and the 20-watt speakers only give you so much bass. We recommend getting a soundbar that comes with a subwoofer to take the sound quality to the next level. The inbuilt speakers are okay, but sound distortion becomes more of an issue as you increase the volume.
Ports and connectivity
Mounting the Samsung Crystal UHD 7 Series TU700D on a wall restricts your access to its ports since most of them are located in the back panel. Go with an adjustable wall mount if you decide to go that route since that allows you to pull the TV away from the wall, giving your better access to the ports.
The TU700D comes with two HDMI ports, with one supporting Audio Return Channel (ARC). The ARC-supported HDMI port can be used to connect the TV to a soundbar.
The 700D also comes with an ethernet port, USB port, RF port, and digital audio output. It also features in-built 802.11 ac Wi-Fi and Bluetooth 4.2 for wireless connectivity.
It comes with a rather basic remote control with dedicated buttons for popular streaming apps like Samsung TV, but lacks the built-in speakers for voice commands most high-end TVs have.
Smart features
Like most Samsung Smart TVs, the 700D uses the Tizen operating system known for its user-friendly interface. Applications don't take long to load, and the system runs pretty smoothly most of the time. Popular streaming apps only take about two seconds to load on the system.
One downside of the Tizen interface is the annoying ads that can't be disabled. The many pre-loaded apps on the TV, like Amazon Prime, HBO, and Hulu, make up for the ads a bit. Downloading new apps couldn't be any easier, so you don't have to stick to the standard apps if you don't want to.
Pros:
An incredible 5100:1 contrast ratio leads to super dark blacks and vibrant whites
Low input lag makes it great for gaming
Hard to find a comparable 70-inch TV at the price
Excellent picture quality
20-watt speakers give better sound quality than you'll get from most TVs
Compatible with Alexa, Bixby, and Google Assistant
Cons:
The Tizen operating system comes with annoying ads you can't get rid of
Not the brightest TV in the world. It's better suited for dark rooms
Poor viewing angles as you drift from the centerline
Samsung Crystal UHD 7 Series TU700D review verdict: Gives you more than you pay for
The TU700D is one of the best TV deals on the market right now. It gives you excellent picture quality and decent gaming performance. At its price point, you won't find any other 70-inch TV that compares to it. Click here to learn more about this TV.
Read more:
Samsung Q60BD Review: Can A Budget QLED TV Deliver?
Alienware 17in Laptop Review for Gamers and Other Heavy Users
Sony X95K Review: Does Well on All Counts
Sony A95K Review: An OLED-QLED Hybrid in a Mixed Bag
House of the Dragons Review: A Song of Hope or Closure