*** TVReviewland.com earns commissions on qualifying purchases made through affiliate links ***
This Sony X95K review doubles as a guide for anyone in the market for a high-performance TV. Use it to find out what the latest flagship TVs have to offer in terms of picture quality and overall user experience.
The Sony X95 is the manufacturer's flagship product line for 2022, with a price point that matches the powerful hardware in the TV. This QLED display should be ideal for all kinds of content, from cinematic pieces to high frame-rate game titles. Let's see how it performs on the different metrics that describe your viewing experience.
Sony X95K review: Design and build
The Sony X95K has an ultra-thin cabinet that is only 2.4 inches deep at its thickest point. This makes for a neat wall-mount installation that will have the panel hugging your wall. Placing the TV on an entertainment stand is easy, thanks to TV feet that attach at three different positions.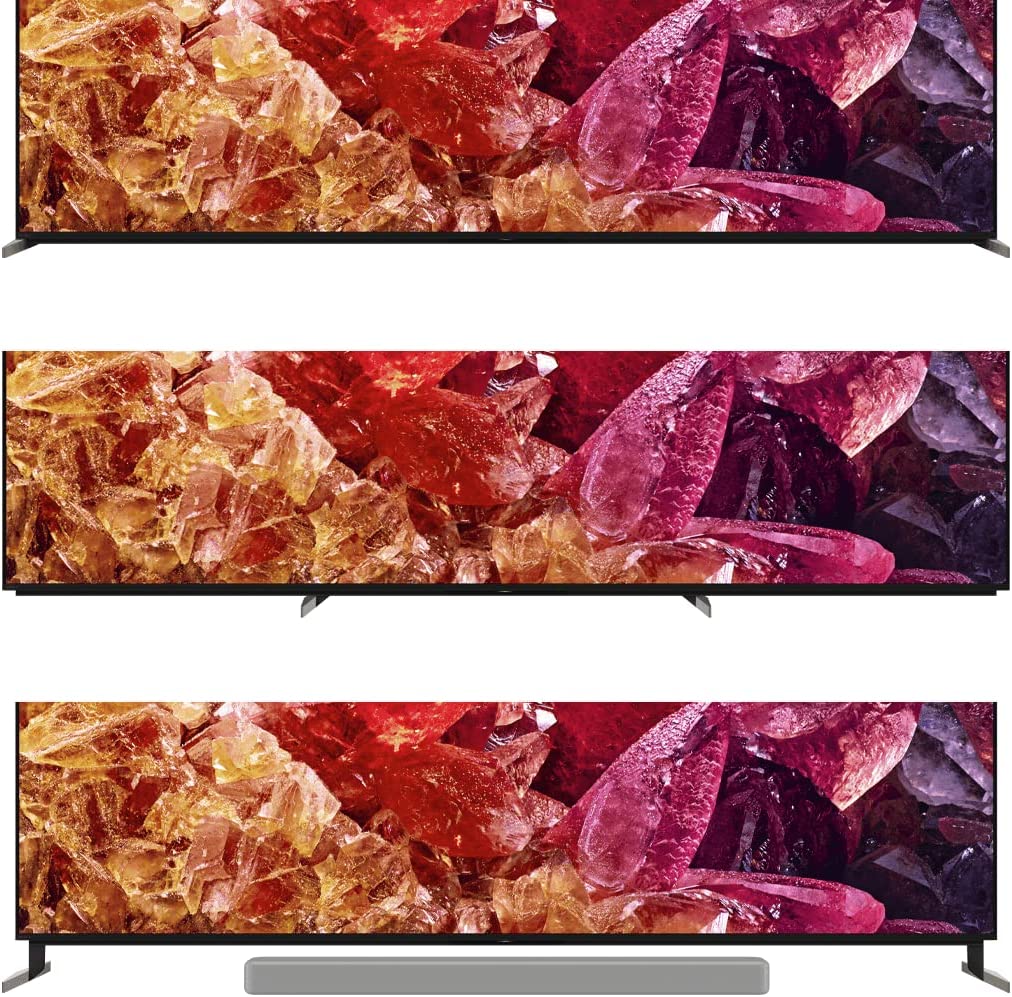 The borders and feet of the X95K are metallic, while the back panel is sturdy plastic with Sony's signature checkerboard texture.
Along with the busy checkerboard pattern comes a 300×300 VESA wall mount pattern and lots of input ports. You can conceal the cables coming from the ports with removable covers that ship with the TV. It's worth noting that the covers are hard to remove once you put them in place. This makes them more suitable when the TV sits on an entertainment stand.
Ports and connectivity
Connecting multiple devices to the Sony X95K depends on the following ports:
Four HDMI ports, two of which have HDMI 2.1 capability
A digital optical output
Cable/antenna connector
Composite input port
Ethernet jack
IR connector
The panel lacks a 3.5mm audio jack, and the omission is a trend that's starting to catch on. It's also noteworthy that one of the HDMI 2.1 ports doubles as the eARC port. This limits you to one available HDMI 2.1 port when you need eARC functions. A dual-band wireless adapter in the X95K panel provides Bluetooth and WiFi connectivity.
[Read what others are saying about this television]
Google TV platform
Google TV offers easy setup, all your favorite streaming apps, and a selection of useful features. The platform's app store offers plenty of content, games, and productivity tools.
Navigating the Google TV interface is enjoyable, thanks to responsive menu items and excellent motion handling. You can also use hands-free voice commands to operate Alexa and Google Assistant via the far-field microphone in the Sony X95K.
The Google platform offers perks like:
Extensive menu that lets you adjust the picture settings of the X95K
Support for Chromecast and Airplay2
An interface that links the TV with compatible smart home devices
The bells and whistles of the Google/Android platform give the X95K an edge over competing brands with similar specs.
Sony X95K review: Hardware
For the X95K, Sony uses a QLED panel with mini-LED backlights and 4K resolution. This 120Hz VA panel should have narrow viewing angles, but the manufacturer tries to mitigate this shortcoming.
The panel has an average peak brightness of 700 nits, which is good by any standard. Scenes with bursts of ultra-bright images can push the panel to peak levels of 1400 nits. On the other end of the spectrum, the X95K reaches black levels of 0.2 nits in HDR. The extremes of radiant light and dark blacks make for excellent native contrast, which the panel enhances with hundreds of dimming zones.
A wide color gamut completes the panel's toolset to render images. Let's see how the hardware holds up when we put it through its paces.
1. Color accuracy
Colors are accurate right out of the box, except for slight coolness in the color temperature. This translates to a blue tinge that is noticeable in paler, less saturated images. Still, the colors that the X95K recreates closely match the source signals that make up your content.
The result is rich, vivid color that mimics real-life images. Like many high-end displays, accurate color reproduction allows the Sony X95 to cosplay as a portal into whatever scene is unfolding on your screen.
2. Contrast and HDR content
The contrast between the brightest and darkest colors provides the material that the X95 needs to execute:
HDR highlights that light up a scene
Depth and dimension
Texture
Shadow detail
To put it another way, the X95K creates lifelike images that will often try to jump right out of the TV.
3. Viewing angles
Being a VA panel, the image quality on the Sony X95 starts to degrade at 50 degrees from the center.
Motion handling and gaming features
The Sony X95 has low input lag that contributes to its responsive smart TV user interface. Even better is the impressive speed (9ms in game mode) at which the screen responds to user commands during gameplay.
How do the pixels of the X95 respond to the high-speed, low-lag signals of your content? They keep up, with a response time of nine milliseconds. This means that the pixels switch from one color to the next in 9ms, give or take. The result is minimal motion blur, especially in bright scenes. Fast-action content with frequent dark-to-bright transitions may have a little black smearing.
A native refresh rate of 120Hz delivers smooth motion in 4K/120 game titles. The HDMI 2.1 ports allow high frame-rate games to render flawlessly from your gaming console. The ports also have variable refresh rate (VRR) and auto low-latency mode (ALLM) capability.
Pros
Good design, solid build, and panel covers for cable management
Vast app selection from Google Play Store
Support for Alexa and Google Assistant
Wide color gamut and accurate color reproduction
Bright enough to deliver high-quality HDR content
Excellent contrast, HDR highlights, and shadow detail
Sony works hard to expand the viewing angles of this VA panel
Good motion handling
HDMI 2.1 ports that allow for 4K/120 content
Cons
One of the HDMI 2.1 ports doubles as the eARC input, which effectively leaves you with one (not two) available HDMI 2.1 input
Activating VRR deactivates local dimming
You will encounter some light bloom in scenes with both bright and dark regions
High-performance TVs like the Sony X95K are pricey
Sony X95K review verdict: It's worth a closer look
This Sony X95K review shows you what to expect from premium TVs with comparable pricing and specifications. Let's conclude by touching on whether or not you should buy a Sony X95 QLED TV.
The Sony X95 has good picture quality, some gaming features, and an enjoyable, smart TV platform. It should make the shortlist of high-performance smart TVs in its price range. Now use the pros and cons in this review to compare it with competing brands with similar specifications. Click here to learn more about this television.
Read more:
Sony X85K Review: In a Class of its Own
Samsung HW-Q990B Review: Knocks It Out of The Ballpark
Bestisan Soundbar Review for the Shopper Who Likes to Keep it Simple
Samsung Q60BD Review: Can A Budget QLED TV Deliver?
Alienware 17in Laptop Review for Gamers and Other Heavy Users