*** TVReviewland.com earns commissions on qualifying purchases made through affiliate links ***
Today's Samsung Q60BD review signals a new era where high-end features appear in mid-range and entry-level TVs.
A snapshot of this trend is an uptick in affordable TVs that come with HDMI 2.1 ports or QLED panels. Take the Samsung Q60BD as an example. This mid-range QLED TV from Samsung advertises a good viewing experience across different metrics. Let's see if the Q60BD delivers in terms of picture quality and overall user experience.
Samsung Q60BD review: First looks
The Q60BD boasts the ultra-thin cabinet you find with flagship product lines. At only one inch thick, the panel is ideal for the kind of wall-mount setup where the TV hugs the wall like a picture frame. Barely-there bezels give the screen a frameless look that completes the sleek aesthetic of the TV.
A pair of L-shaped TV legs will support the screen if you choose to install it on an entertainment stand.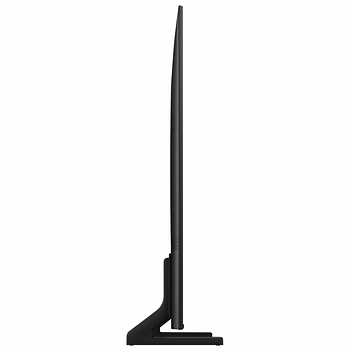 Build quality, controls, and ports
There's a single button at the bottom bezel, right under the Samsung logo. You can use the button as an ON/OFF switch if you have to. The same button can also cycle through different input sources and adjust the volume. This is where the user guide steps in to show you how to do different things with a single control.
This is an excellent time to mention that the TV chassis is plastic, with different shades of gray. The back panel has a textured surface and grooves that run along the length of the TV. These grooves help to manage your cables, and they work great with the clips on the TV legs.
The back panel has a 400×300 VESA wall mount pattern and two rear-facing ports. You'll find the rest of the inputs in an accessible inset on the right end of the TV.
Connectivity
A column of outward-facing ports sits on the right side of the TV, where you can reach them without contorting your torso. These ports comprise:
Two USB ports
A pair of HDMI ports
A coaxial connector for cable and antenna inputs
There is a third HDMI port and an optical audio output right next to the column of outward-facing connectors. This pair of rear-facing ports would be hard to access in a wall-mount setup. A wireless adapter takes care of WiFi and Bluetooth connectivity.
[Read what others have to say about this television]
Samsung Q60BD review: Tizen OS
Samsung's proprietary platform gives you access to an extensive collection of streaming apps and productivity tools. The interface quickly responds as you browse and select menu items, making for smooth, flawless navigation. In addition, Tizen carries useful features like:
Support for Alexa, Google Assistant, and Bixby
Split screen and picture-in-picture mode
The SmartThings app lets you link the Samsung Q60BD to compatible smart home devices
There's little to complain about when it comes to Tizen's performance on the Q60BD, except for one thing: Clutter. Samsung fills the whole screen with recommendations and sponsored content, which is pretty intrusive. The new layout forces you to scroll through the clutter before you access your favorite content.
Hardware and performance
The Samsung Q60BD is a 60Hz VA panel with QLED technology that should deliver excellent picture quality. However, the panel uses edge backlights, a limitation that rules out any kind of local dimming. This leaves the Q60BD to execute contrast through its native peak brightness and black levels. The display's processor also steps in to create contrast and detail through effective signal processing that delivers results.
Here's how the TV performs from a viewer's point of view:
1. Color, brightness, and contrast
QLED technology delivers a wide color gamut that allows the Samsung Q60BD to reproduce billions of hues. This makes for accurate color reproduction of the digital signal that makes up your content.
The panel gets bright enough to expand the color palette while holding its own in a bright room. At the same time, the TV gets dark enough to create inky blacks that allow for excellent dark room viewing. The ratio of peak brightness to black levels makes for impressive contrast that the panel uses to render highlights and fine detail. The display's powerful signal processor reinforces the panel's native contrast to create decent-looking HDR content.
2. Viewing angles
Being a VA panel, the Q60BD has narrow viewing angles that cause colors to wash out as you move from the center of the screen. At 40 degrees from the center, images start to dim and lose their definition. This limitation makes the Samsung Q60BD a lousy fit for anyone who likes to host viewing parties or the season's final game.
3. Motion handling
The Q60BD has low input lag, which allows for a responsive screen during gameplay and browsing. In contrast, the TV's pixels are slow to change color to match the speed of an input signal. This causes motion blur that becomes noticeable with fast-action content.
There's little in the way of gaming features, so gamers have to settle for auto low-latency mode and nothing else. VRR and support for 120 fps are lacking in the Samsung Q60BD. This means gamers who want to use their PS5 or Xbox series X to its full potential should try a different TV.
Pros
Sleek build
Good color accuracy
Bright enough to handle glare, reflections, and bright rooms
Decent detail and highlights in HDR
Rechargeable remote
Compatible with Alexa, Bixby, and Google Assistant
Low input lag, with auto low-latency mode that kicks in when you start gaming
Cons
The smart TV interface has clutter that includes ads and sponsored content
You may notice the slightest tinge of blue with pale colors
The TV could use more ports
Lack of HDMI 2.1 ports
You may notice motion blur in fast-action content
The TV lacks local dimming
The lack of VRR will disappoint avid gamers
Samsung Q60BD review verdict: A good companion for the casual viewer
The Samsung Q60BD is excellent for everyday use that involves watching your favorite content. Its Tizen platform has every content app and tool you could think of. Still, it would be nice if the interface would lose all the clutter that forces you to scroll before you get to your preferred menu item.
QLED panels like the Q60BD are bright enough to render vivid images in bright and dark rooms. The Q60B also has good picture quality for casual viewing and light gaming. However, AV enthusiasts and avid gamers should find an alternative with top-tier HDR execution, great motion handling, and the latest gaming features. This Samsung Q60BD review finds a solid, affordable QLED TV that meets expectations. Click here to learn more about this television.
Read more:
Toshiba M550 Review For The Buyer Looking For A Good Deal
Hisense U6H Review: Punches Above Its Price Range
Sony X85K Review: In a Class of its Own
Samsung HW-Q990B Review: Knocks It Out of The Ballpark
Bestisan Soundbar Review for the Shopper Who Likes to Keep it Simple