*** TVReviewland.com earns commissions on qualifying purchases made through affiliate links ***
It's time for another Alienware 17in laptop review, and we use today's piece to get a feel for the manufacturer's 2022 lineup.
Alienware spares no resources in the creation of the X17 R2 gaming laptop. The manufacturer chooses the latest processors, vast amounts of memory, and an extensive cooling system. What you get is a 17-inch battle machine that can handle any large software or game title you throw at it. Let's kick the figurative tires of the Alienware x17 R2 gaming laptop, starting with its exterior.
Alienware 17in laptop review: Design and build
Earlier Alienware models have bulky frames and lighting that some would describe as over the top. The X17 R2 gaming laptop is different, with a sleek build, tasteful lighting, and a chassis that's the moon's color. An aluminum-magnesium chassis forms a sturdy shell that should protect the Alienware X17 R2 from minor knocks. The different design elements blend together to create an elegant, futuristic aesthetic. Here's a quick tour of this gaming laptop's deck:
Lighting
Let's start with the keyboard, which has programmable RGB backlights that you can customize to your liking. The deck has extra touches of light, with a glowing Alien logo above the keyboard and an accent that goes around the touchpad. You get even more ambient glow from an oval accent that frames the vents and ports at the back of the laptop.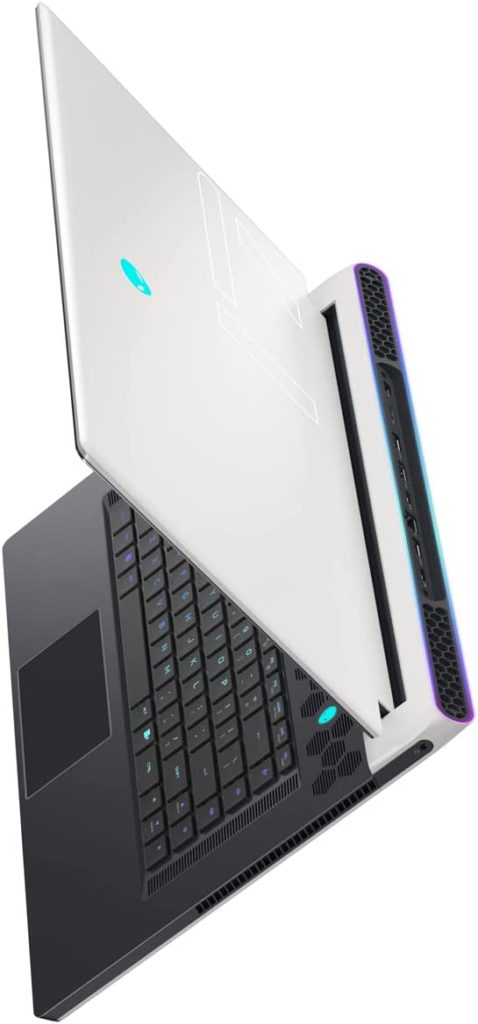 Keys and touchpad
By default, the X17 R2 comes with the Alienware X series slim keyboard. The keyboard works great, but you should spend a few extra dollars for an Alienware X17 R2 laptop with a Cherry MX mechanical keyboard. The keys sink nicely in response to your keystrokes, which makes them fun to use.
A column of media keys sits at the keyboard's right end, and this is one of two unusual design choices you'll notice with the X17 R2.
The laptop's aluminum touchpad is responsive enough, but it doesn't let you click on things. You'll need to use the right-click and left-click buttons for that.
Vents
Top-tier gaming laptops require aggressive cooling systems that involve the clever placement of vents. With the Alienware X17 R2, the vents line every edge of the laptop deck. An array of hexagonal vent patterns sits above the keyboard, which is flanked by even more vents.
Different vents connect to different elements of the cooling system that sits right beneath the surface.
[Read what others are saying about this laptop]
Ports
Apart from the power port and a 3.5mm jack, all the ports sit at the laptop's rear edge. This unusual design choice may be inconvenient for many gamers, but you get used to it. The selection of ports on the X17 R2 includes:
Mini display port 1.4
Micro SD slot
Two USB-A ports
USB-C
HDMI 2.1
Thunderbolt port
Ethernet jack
This selection of ports is enough to set up an expansive gaming station with multiple devices and accessories.
Alienware 17in laptop review: Hardware configuration
At its highest specs, the Alienware X17 R2 can run a Core i9 processor, 64GB RAM, a GeForce 3070Ti GPU and 4TB of SSD storage. The configuration we're reviewing is conservative in comparison. These are the specs that our version of the X17 R2 is working with:
12th generation Intel Core i7 processor
16GB RAM
NVIDIA GeForce RTX 3070Ti graphics card with 8GB of DDR6 memory
1TB SSD storage
17-inch screen with 1080p resolution and 360Hz refresh rate
A powerful gaming laptop generates plenty of heat when you run resource-intensive software. The computer's hardware should then protect itself with an effective cooling system that also keeps you comfortable. This brings us to the cooling system of the Alienware x17 R2.
Cooling system
The cooling system of the x17 R2 has a Gallium-arsenide thermal interface that funnels heat away from the processors. This interface moves heat to four radiators distributed along the back and sides of the Alienware laptop. Each radiator has a dedicated fan that propels hot air to a nearby vent.
Performance
Put the x17 R2 through its paces with hours of gameplay and game titles that devour processor resources. Red Dead Redemption 2 is a good pick for the purposes of this Alienware 17in laptop review.
Frame rate
A 360Hz screen all but guarantees smooth motion, more so when the panel's resolution remains at 1080p. This leaves ample room for Alienware x17 R2 processing modules to deliver as many frames as possible in one second.
Playing RDR2 for an hour results in an average frame rate of around 75fps, which is decent. Motion remains smooth, with zero trailing, blurring, or lag. At this frame rate, the x17 R2 remains responsive enough to prevent the kinds of losses that happen with slow gaming hardware.
Heat and cooling
The Alienware x17 R2 is not the type of laptop you place on your lap. A few hours of gaming will heat the bottom of the laptop to highs of 120 degrees Fahrenheit. The vents on the deck will be even hotter as they expel hot air from different radiators.
You may find that the x17 R2 laptop runs loud and hot at full throttle, but the cooling solution actually does a good job. The only gaming rig that could indeed outperform the Alienware x17 R2 is a desktop computer with comparable specs.
Storage
A one-terabyte SSD can house many of your largest game titles and graphics software. The drive that comes with this particular Alienware x17 R2 laptop has a data transfer rate of around 2GBPS. This means that moving 40GB of assorted files should take less than 30 seconds.
The SSD also allows the x17 R2 to boot a bulky operating system in a few short moments.
Battery life
Four hours of heavy use is a lot to ask of the Alienware x17 R2 gaming laptop. This limitation comes down to an 87WHr battery that has to sustain hungry, powerful hardware. Stay close to a power source because the battery will barely make it to three hours of intense gameplay.
Pros
Solid build and sleek design
Powerful performance during gameplay
A cooling system that works hard to manage the heat coming out of the X17 R2
Clear, responsive screen with good motion handling
Cons
Pricey
The short battery life of the Alienware X17 R2 could be better
Most of the ports are at the back of the laptop, which may be inconvenient
The laptop gets hot the longer you run demanding software, which is common with compact gaming computers
Alienware 17in laptop review verdict: Premium performance at premium pricing
This Alienware 17in laptop review uncovers a sleek, powerful gaming machine that can handle heavy-duty tasks. The Alienware x17 R2 is a good pick for avid gamers who prefer laptops. Even better, you can customize the laptop to match your budget and the types of games you play. Click here to learn more about this laptop.
Read more:
Hisense U6H Review: Punches Above Its Price Range
Sony X85K Review: In a Class of its Own
Samsung HW-Q990B Review: Knocks It Out of The Ballpark
Bestisan Soundbar Review for the Shopper Who Likes to Keep it Simple
Samsung Q60BD Review: Can A Budget QLED TV Deliver?