*** TVReviewland.com earns commissions on qualifying purchases made through affiliate links ***
Here's a House of the Dragons review for the ones still recovering from the final season of Game of Thrones. Will this GoT prequel make amends for the rush-job ending to one of the most popular TV series of all time? Does new material distract from the endless wait for the mythical 'Winds of Winter?'
The series premiere seems like an excellent place to start our search for answers.
House Of The Dragons review: A premise of high-stakes succession
House Targaryen controls a stable of dragons, firepower that secures them the iron throne. Yet the family's god-like power fails to deliver a stable, unproblematic line of succession. Centuries of inbreeding means that heirs to the throne tend to die before their time. This leaves openings for succession struggles that could devolve into civil war.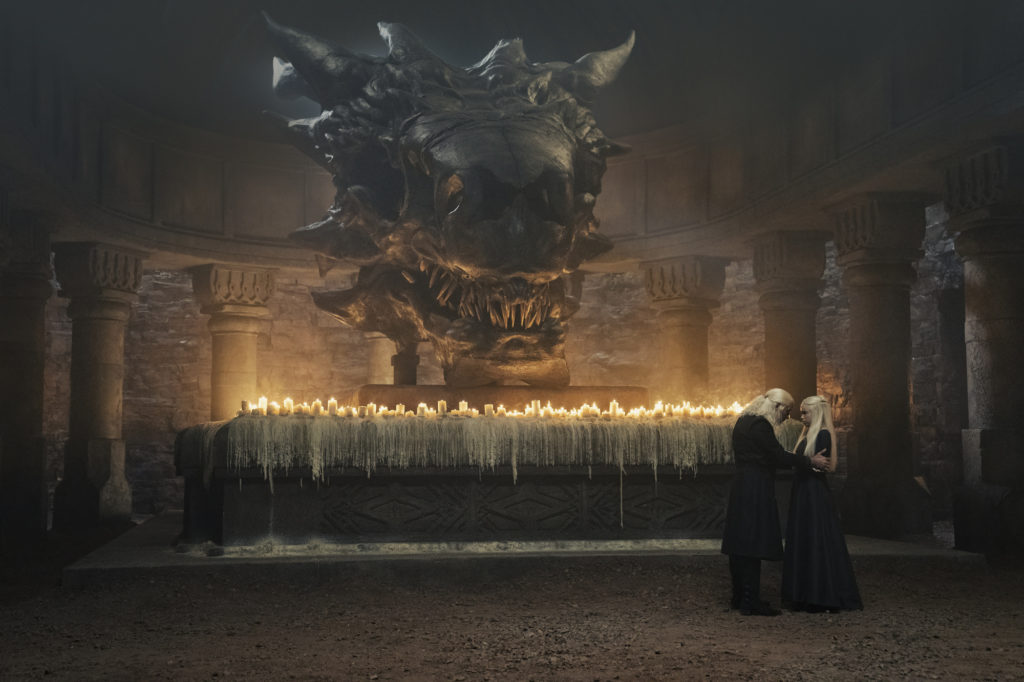 This is the premise of House of the Dragons, and the dim lighting of the opening scenes suggests that you brace yourself.
You now find yourself among the realm's nobles, watching a just and heirless king choose his successor. The whole thing concludes without bloodletting, but the dimly lit scenes give this…aura.
Welcome to the absolute and precarious reign of the Targaryens.
Concept and production
It looks like George R.R. Martin chooses to direct his energies toward adding dimension to the world of Ice and Fire. His world-building takes us back in time (and away from the Winds of Winter) to an era where dragons flew the skies. What we get is a hefty tome that reads like an actual history book, in a nod to J.R.R Tolkien. This is the vast source material for the prequel to Game of Thrones.
Martin plays an active role in House of the Dragons as a co-creator and executive producer. His first task was to convert his fictional history book to a TV format. He partners with writer-producer Ryan Condal (Colony), who serves as co-creator and series show-runner.
Miguel Sapochnik completes the team to (hopefully) replicate the greatness of one of the best TV episodes of all time. As show-runner and occasional director, Sapochnik's input may infuse some of the qualities that made GoT successful. The series premier's interweaving of deadly childbirth and an equally bloody joust suggests as much. It's safe to say that the creative team means to make an impression right from the first episode.
So far, filming for House of the Dragons takes place in the UK, Spain, and California. The bulk of season one was filmed in a Warner Brothers studio in the UK.
House of the Dragons review: Cast and characters
The main characters come alive through the talents of a skilled and experienced cast. We start with a potential villain in the form of Daemon Targaryen. Matt Smith sheds his polite portrayal of Doctor Who to channel a prince with a cruel streak and a taste for chaos. The character promises to be a primary source of trouble and entertainment.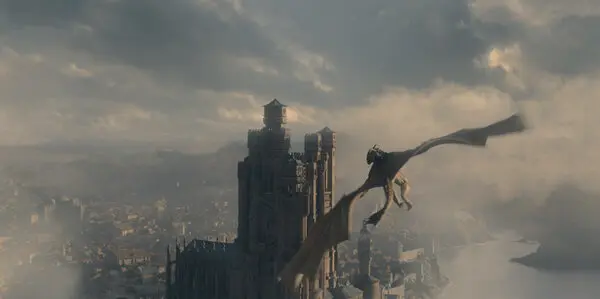 King Viserys, the first
He's Westeros's sitting ruler and a man who must find a suitable (read male) heir to the throne. The task is difficult because Targaryen children have an unusually high mortality rate. After the tragic death of his wife and newborn son, King Viserys scrambles to find a successor that will hold the kingdom together. The natural choice would be his brother, Prince Daemon. However, Viserys finds Daemon to be a loose cannon that cannot be trusted with the throne.
Paddy Considine does an excellent job with the character of Viserys Targaryen. He shows us a peaceable, sometimes shiftless king who leads with his heart. Then he portrays a husband who green-lights a C-section guaranteed to kill his wife, whom he loves dearly. Finally, Considine's Visarys reveals a king that is nowhere near as naïve as he seems. He uses his insight to choose a successor that surprises his courtiers.
Otto and Alicent Hightower
This father-daughter duo will propel the plot towards conflict. Alicent Hightower is the childhood friend of Rhaenyra Targaryen, the only living child of King Viserys. The two girls are practically sisters, and there's genuine love between them.
Alicent's father is ambitious and as warm as a block of ice. He's also the king's hand that's getting ideas after the death of Viserys' wife and son. Otto Hightower sees his daughter as a means to gain even more power.
Rhaenyra Targaryen
She is the only living child of King Viserys, which would be even more meaningful if she was male. Rhaenyra's gender doesn't stop her from being healthy, intelligent, and capable. At the start of the series, the princess lives a relatively carefree life with her dragon, her best friend, her uncle Daemon, and her mother.
Her mother's death happens halfway through the first episode, and the tragedy drags her into a game of thrones.
How it all comes together
We may not be familiar with the cast, but many of them are about to become household names. Each lead actor delivers a powerful performance that's fueled by talent and an excellent script. Together, the ensemble creates a sense of looming conflict that lurks beneath a (mostly) respectable veneer.
The visuals of House of the Dragons are the non-human stars of the series. From dim spaces where important things happen to an ornate throne room, the scenes often steal the scene. It makes sense, as cinematography is one of the ingredients that bring the worlds of George R.R. Martin to life. Already we foresee brilliant battle sequences that will keep audiences watching.
House of the Dragon looks promising
The series premier adopts a measured tone, but a sequence of big events sneaks up on you at a brisk pace. You can't help but feel like the relative calm is just about to explode into all-out conflict.
In this way, this Game of Thrones prequel charts its path as a compelling series in its own right. This House of the Dragons review finds a show that could grow on you.
Read more:
Bestisan Soundbar Review for the Shopper Who Likes to Keep it Simple
Samsung Q60BD Review: Can A Budget QLED TV Deliver?
Alienware 17in Laptop Review for Gamers and Other Heavy Users
Sony X95K Review: Does Well on All Counts
Sony A95K Review: An OLED-QLED Hybrid in a Mixed Bag