*** TVReviewland.com earns commissions on qualifying purchases made through affiliate links ***
Our Insignia 50-inch TV reviews will cover everything you need to know about this television and its unique history. Amazon has a smart TV operating system called Fire TV, but the only hardware that Amazon 'makes' are small plug-and-play devices that you connect to your TV. To make further inroads into the TV market, they started collaborating with TV vendors like BestBuy.
A recent product from the partnership between Amazon and BestBuy is the Insignia NS-50DF710NA19 50-inch 4K/UHD/HDR Smart TV.
Fire TV is a great smart TV interface. The question is, does the display panel of the Insignia NS-50DF710NA19 50-inch match the excellent performance of Fire TV?
Insignia 50-inch TV reviews part 1: What is in the box?
In the box, you will find a display panel that measures 44.4" x 26.1" x 3.3". Along with the TV comes a bunch of VESA screws, a voice remote for Alexa, a pair of batteries for the remote, a power cord and some paperwork.
First looks
BestBuy chose to use good quality materials for the Insignia NS-50DF710NA19. Better yet, the TV is very well built, with no gaps, rough edges, or loose panels. The chassis of this TV is made of plastic and metal.
The screen is framed with plastic bezels that are textured to look like wood, with the grain and everything. The middle of the bottom bezel has the Insignia logo and underneath the logo, an IR receiver as well as some controls.
The edges of the TV are covered with thick plastic with a matte finish while the stands are glossy, sturdy and designed for stability. Now, to the back of the TV, which is metallic and has little allowance for cable management. Here you will find a 200×200 VESA wall mount pattern. On the left side of the back, you will find two input panels. One faces the rear and the other faces outwards. Our Insignia 50-inch TV reviews still have a lot to cover. We'll go over more components in the next section.
[Related: Insignia 32-inch TV Review]
Inputs, outputs and connectivity
The left-facing panel holds a 3.5mm audio port, a USB port and two HDMI ports. The second panel houses one HDMI port, an antenna connector, a set of AV ports and an Ethernet port. The TV connects to the home network via an inbuilt wireless adapter or the Ethernet port.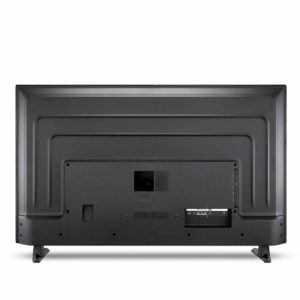 Fire TV: Setup
When you power the TV for the first time, the smart TV interface will guide you through the super-easy setup process. It will give you the option of signing into your Amazon account, which you will want to do. If you choose to use Fire TV without an Amazon account, your experience with the interface will be underwhelming.
Once you are done with the setup, your home screen will appear. It will have a bunch of your favorite streaming apps, like HBO, YouTube, Netflix and Hulu. If you find yourself needing more content, visit the well-stocked Amazon store.
If you have not used Fire TV before, prepare yourself for the ads. Amazon uses their platform to push all kinds of products, retail and otherwise.
Alexa and smart home functionality
Fire TV comes with Alexa, who you can control with the voice remote or any audio device that runs Alexa. This means that you can use the Insignia NS-50DF710NA19 as a smart home hub. You can add functionality to Alexa by downloading and installing new skills from the store.
[Read what others are saying about this television]
Performance: Color and Brightness
The Insignia NS-50DF710NA19 is a 4K HDR display panel with the potential to render great picture, which it does. Though the TV does not have a wide color gamut, it does have a fairly expansive range of color. This allows the display to render vivid, accurate color. As you watch your favorite show, you will appreciate the warm, lifelike skin tones of the actors.
As for peak brightness levels, the NS-50DF710NA19 does okay. It has a peak brightness of 277cd/m² in SDR and 277cd/m² in HDR. There are budget Fire TV displays that are brighter, but they do not perform as well (overall) as our model.
That said, the TV will be dim in a brightly lit room.
Performance: Contrast
The NS-50DF710NA19 has an excellent native contrast ratio, which allows it to display clear, detailed pictures. This is in spite of the fact that the TV lacks local dimming.
Performance: Motion handling and input lag
The TV takes about 20ms to respond to an input signal. This is an impressive response time that allows the NS-50DF710NA19 to handle fast-moving content. You may notice a little motion blur as you watch a ball fly across the screen during a game. The designers of the panel use this motion blur to smooth out motion in the video.
Performance: Sound
The NS-50DF710NA19 comes with a pair of built-in eight-watt speakers. They may not be the loudest internal speakers ever made, but they sound great. They produce rich, well-balanced sound that is a pleasure to listen to.
That said, you should still use a soundbar if you want to get the most out of this TV.
Pros
The TV is well-built, using quality material
The Alexa voice remote is a great bonus
The Fire TV OS gives a great user experience
Fire TV integrates content from streaming apps and over the air channels into a single, tailor-made viewing experience
Good picture quality with impressive native contrast and good color accuracy
Supports HDR content
Rich, balanced sound from the internal speakers
Access to a good amount of content and Alexa skills, thanks to a well-stocked Amazon store
Cons
No local dimming, which limits how well the TV renders detail in dark scenes
The TV does not allow for wide-angle viewing
Annoying ads that you cannot opt-out of
Insignia 50-inch TV reviews verdict: The NS-50DF710NA19 is money well spent
A common complaint with budget TV sets that carry Fire TV is that their picture quality is fine, but not great. That is why the Insignia NS-50DF710NA19 is such a pleasant surprise. The people that designed the display of the NS-50DF710NA19 made the effort to create a screen that performs almost as well as its smart TV interface.
They succeeded, largely. With great contrast and colors that are vivid as well as accurate, this Insignia model is the budget Fire TV to buy. You will get full value for your money and a quality user experience. Read what owners of this TV have to say.
Read more:
Element TV Review 2019: Things You Should Know Before Buying One
TCL 40S325 40 Inch Roku Smart TV Review
LG 55UM7300PUA Review: Alexa Built-in 55″ 4K UHD Smart LED TV
Best Budget Sound Bar: Vizio SB3621-E8
Sceptre E248W-19203R Review: A Bargain 24-Inch Full HD Monitor