*** TVReviewland.com earns commissions on qualifying purchases made through affiliate links ***
Our Insignia TV reviews turned out to be a fun adventure as it turned out to be a lot more impressive than we initially thought. In their own words, Best Buy is all about giving you, the consumer, "A good deal more than you expected." With their depth of experience in consumer electronics, Best Buy is in a great position to know what a person wants in a TV or monitor.
They have leveraged this knowledge to create the Insignia 32 Inch 720p LED Smart TV. The variation we are looking at comes with the Fire TV operating system.
Does the Insignia 32 inch Smart TV NS-32DF310NA19 give a nice loud bang for your buck? Let us see.
Insignia TV reviews part 1: Unboxing and first looks
The Insignia 32 inch Smart TV ships with a user manual, a remote control, a pair of stands and the screws that you need to attach said stands.
This screen measures 31.5 inches diagonally. It has slim black bezels that leave the rest of the front surface for the display. At three inches this TV is quite thin, which gives it a sleek look.
Hardware: Connectivity
The back of the TV holds two sets of input ports. The first set is on the left side of the back panel, arranged from top to bottom. They are; A 3.5mm audio jack, an optical audio output, one USB 2.0 port and three HDMI ports, in that order.
At the bottom of the back panel, you will find an F10/100 Ethernet port, a set of RCA audiovisual ports and an antenna port.
The television also comes with inbuilt Bluetooth 4.2 connectivity which allows you to link the screen to an Xbox 1S or a PS4 console. Also, the TV comes with a Wi-Fi adapter that can connect on both the 2.4 and 5 GHz frequencies.
Hardware: Chipset, storage and memory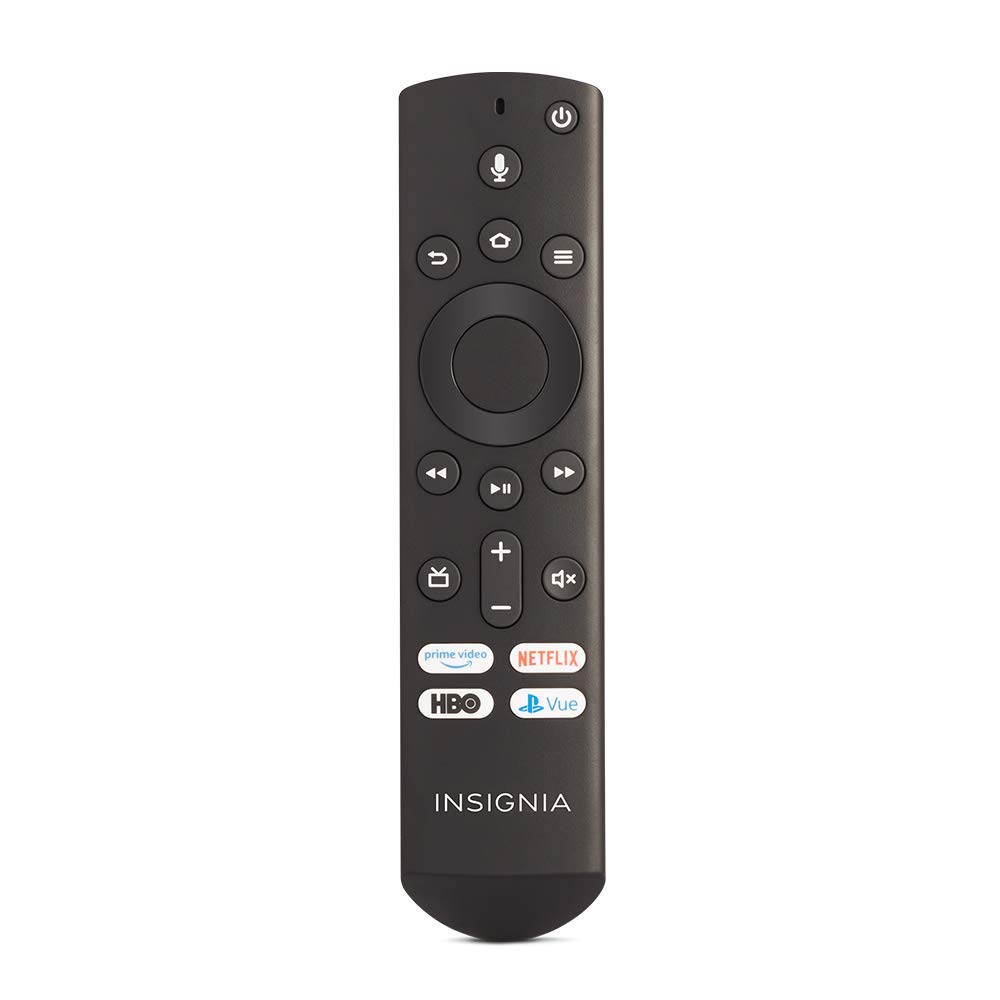 The Insignia NS-32DF310NA19 has the capabilities of an Android TV box that has been combined with a screen. It has an Am logic 1.5 GHz quad-core CPU and a 1GB RAM. The TV is further helped along by a Mali 450 graphics processor.
It also has 8GB of internal storage, which you can expand by connecting an external USB storage device.
The CPU is up to the task of delivering a responsive interface, though the 1GB RAM could be improved upon. 1GB of RAM is not quite enough for many native Android games, meaning that the TV will probably freeze when you try to play such games from internal or external storage.
An interesting note: The network connection will probably be faster on Wi-Fi because the LAN port does not work at gigabit speeds. Our Insignia TV reviews are just getting started. Let's dive in further.
Fire TV Operating system: Home screen
The Fire TV launcher is the first interface you see after you set up the TV. It is a simple interface that has seven tabs at the top: Search, Home, Your Videos, Movies, TV, Apps and Settings.
From the home screen, you can navigate to whatever function or menu item you want.
[Read what others are saying about this Smart TV]
Fire TV: Inbuilt apps and features
The Fire TV system comes with preinstalled apps like Netflix, Amazon Prime Video and YouTube. If you want more content, you can install apps from the Amazon store. Because Amazon's store has a limited selection of apps, you can install some other app store, like Google Play.
Fire TV ships with Alexa, so you can add the features and skills that you want. Also, regular OS updates will keep adding new features to the Insignia NS-32DF310NA19.
Insignia TV reviews part 2: Performance
The chipset of the Insignia NS-32DF310NA19 allows the TV to be extra responsive to user input. You will experience no lagging or freezing as you move between tabs or menu items.
When it comes to streaming, the Wi-Fi adapter truly shines. You can stream video or play online multiplayer games at amazing speeds and with great picture quality. With no buffering or freezing. As long as you have a good internet connection.
Display
The Insignia NS-32DF310NA19 has a 720p resolution and a 60 MHz refresh rate. It uses LED backlight technology to render deep, deep blacks and rich, high fidelity colors. Better still, the picture remains the same when viewed from wide angles.
Though this TV does not have 4K resolution, 720p still works great because the TV has a smaller sized screen.
Gaming
Anyone that is into older games will love this smart TV since it allows you to install and play the most retro of games. The insignia NS-32DF310NA19 is also compatible with PS4, Super Nintendo and Xbox. The best part is that the picture quality, low response time, zero ghosting and great wifi connectivity make gameplay fun.
Pros
The inbuilt Fire TV interface adds lots of functionality to this smart TV
The periodic Fire TV interface updates add new features, including new skills for Alexa
You can use the Alexa remote to give voice commands to the TV
Alexa allows the TV to connect to other smart devices in the home Wi-Fi network
The TV allows you to play most PS1 games and experience great picture quality and no lag time
The Fire TV interface has accessibility features that allow voice commands and an on-screen keyboard for the visually impaired
Cons
The 1GB RAM is restrictive, so the TV is likely to hang as you play most native android games
The Amazon store will not have as many apps as you would like. You will have to install another app store to get more content
The Ethernet port is limited to F10/100 speeds
The Insignia 32 Inch 720p LED Smart TV is worth it
The Insignia NS-32DF310NA19 is worth each dollar you pay for it. It is a versatile TV that works great for gaming, video and streaming. Also, Alexa makes this smart TV able to join your smart home system. That is why the Insignia 32 Inch 720p LED Smart TV is a great addition as a gaming screen or secondary TV.
It seems like all the customer feedback that Best Buy has received over the years has resulted in good products. And the Insignia 32 Inch 720p LED Smart TV is a good product. Click here to learn more about this television or to purchase one.
Read more:
Element TV Review 2019: Things You Should Know Before Buying One
TCL 40S325 40 Inch Roku Smart TV Review
LG 55UM7300PUA Review: Alexa Built-in 55″ 4K UHD Smart LED TV
Best Budget Sound Bar: Vizio SB3621-E8
Sceptre E248W-19203R Review: A Bargain 24-Inch Full HD Monitor