*** TVReviewland.com earns commissions on qualifying purchases made through affiliate links ***
This Samsung TU9000 review aims to find out if the performance of an 86-inch behemoth matches its size.
The sleek build and sheer magnitude of the 85-inch TU9000 raises your expectations. Its picture-frame aesthetic combines with breathtaking ambient-mode scenery to draw you in. It's enough to make you feel like you have to have this beauty of a TV.
Let this Samsung TU9000 review pull you in some more: Right into the viewing experience, you get with the TU9000. Is this the type of TV that transports you into another world? Let's see.
Samsung TU9000 review: Market
Samsung is now making it a point to put out ultra-wide statement pieces. Some of the TVs are the 85-inch variations of certain product lines, while some models are standalone. The 86-inch TU9000 falls in the latter category. Its attractive pricing is a huge selling point for anyone on the hunt for a large TV but on a budget.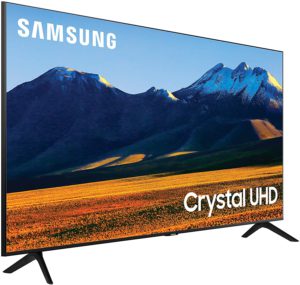 Unboxing and first looks
You would need an extra pair of hands to unpack the 95-pound Samsung TU9000. If you choose to buy it, you'll probably need to incentivize a friend with a pizza or something along those lines.
Once the TV is out of the box, you should be looking at an expanse of a seemingly paper-thin screen. You should be impressed at this point and it only gets better. The solid build of the chassis gives the TV a premium look. The near-invisible bezels create a minimalist aesthetic that instantly upgrades your entertainment room.
There are precious few accessories that ship with this TV. You'll have to make do with a remote, a pair of batteries, a pair of TV legs, and a power cable. There's also a little bit of paperwork in the package.
Samsung TU9000 review: Design highlights
The sturdy back panel has a textured surface that is bare, except for a 600×400 VESA wall mount pattern and two sets of inputs. There are a few grooves that allow for basic cable management.
A convenient design feature is adjustable TV legs that allow for flexibility for your entertainment stand. The legs can sit as close as 52 inches from each other. This allows you to get away with using a stand that is shorter than the TV. Still, going the wall-mount route is a safer bet.
[Read what others are saying about this television]
Inputs and connectivity
Samsung rarely cuts corners when it comes to input ports. They only phase out 'legacy' connections like AV component ports.
The TU9000 has the following array of connections:
Four HDMI ports, one with HDMI 2.1 capability
Optical Audio output
Two USB ports
RS232 connector
LAN port
Bluetooth and Wi-Fi connectivity cover your wireless connections. There's also a near-field connection that allows you to cast playback from your mobile device by tapping the phone/tablet on the TV.
Tizen and user experience
Tizen is a feature-rich interface that offers an immersive user experience. The version that ships with the TU9000 come with Alexa and Google Assistant. You can also install the Bixby voice assistant. All the popular streaming apps come pre-installed while the Samsung store has everything else you need.
The OS automatically pools all the content from your inputs and streaming apps to create a universal guide. With time Tizen learns your preferences and curates content to match your tastes. The interface also comes with convenient features like:
Ambient mode to display stunning visuals that turn the TV into an art piece
SmartThings app that allows the TV to interact or control compatible smart home devices
Casting capabilities via Chrome cast or Apple Airplay
Multi-view allows you to split the TV screen to display different sources of content
Lastly, we touch on navigation and the responsiveness of Tizen. Expect a smooth experience when scrolling through a menu. It only takes a few seconds for Tizen to launch an app. The interface responds to other forms of user input in a split second.
Hardware and picture quality
The TU9000 is a VA panel with 4K resolution and direct backlighting. It has a native refresh rate of 120 fps and a proprietary processor that handles a range of image processing tasks. A quick run-down of the panel's performance will give you an idea of the kind of picture quality you should expect.
1. Color
This 86-inch TV boasts a wide color gamut that covers much of the sRGB color space. However, the colors are a little warm right out of the box. A little tweaking results in excellent color accuracy with vivid, true-to-life colors.
2. Brightness
Large screens need good lighting and thankfully, Samsung put in some effort into the TU9000. The direct array backlight of the display allows the TV to reach brightness levels of around 400 nits. This is enough for the execution of HDR content.
3. Contrast and detail
Deep, dark blacks and local dimming allows the Samsung TU9000 to do an excellent job of detail and shadow contouring. This holds, even for dark scenes or sections.
4. Motion handling
Putting the TU9000 through its paces reveals a TV that can handle anything you throw at it. A quick response time means there's minimal blurring and trailing. The TV also has an impressive input lag of 10ms, which is great for gameplay.
Gamers will also appreciate that the TV comes with AMD FreeSync which executes a variable refresh rate. To make the most out of this feature, plug into the port with HDMI 2.1 capability.
Pros
Sleek design with barely-there bezels
You can adjust the distance between the TV legs past the 52-inch minimum
The TU9000 version of Tizen supports multiple voice assistants at the same time. It has Alexa and Google Assistant as the defaults
Wide color gamut
Direct backlighting allows for local dimming which makes for excellent contrast and shadow contouring
Good response time, low input lag and a variable refresh rate makes for excellent gameplay
Cons
There's no opt-out for ads, which is annoying and intrusive
A 4K TV of this size will not tolerate a shaky internet connection during streaming
The screen is reflective, to a degree
You may need to stabilize Tizen with an update
This VA panel has narrow viewing angles but the size of the screen reduces the effect
Samsung TU9000 review: A statement piece that does the job
Buying an 86-inch screen is an investment that requires some legwork on your part. Luckily today's Samsung TU9000 review helps you to cover a little ground. The review reveals a large-screen TV that catches the eye before and after you switch it on.
The vivid, true-to-life color of the panel immerses you into whatever world unfolds on the giant screen. Then there's the excellent execution of detail in scenes both bright and dark. Combine all this with an operating system that responds to your whims and you have yourself a portal to many worlds. Click here to learn more about this television.
Read more:
HP 15-DS1083CL Review: A Powerful, Convertible Laptop That Punches Far Above Its Weight
Best Budget 4K TV for Gaming: The 49-inch LG NANO85 Covers All the Bases
LG UN7000 Review: A Budget TV that's Great for Gamers
Sony X85J Review: An Affordable Top-End TV
Omen 30L Gaming Desktop PC Review: Feel the Power of 5.2 GHz!