*** TVReviewland.com earns commissions on qualifying purchases made through affiliate links ***
Our Vizio Elevate review reveals that this speaker is the ideal option for any audiophile who wants high fidelity audio at a competitive price. Featuring one soundbar, a subwoofer, and two satellite speakers, the Vizio elevate promises and delivers an immersive sound experience, whether you are listening to a podcast or wish to bring your blockbusters and action movies to life.
The Elevate system delivers true Dolby Atmos surround sound and has an innovative and unusual design that distinguishes it from other speakers and soundbars. In a sea of boring rectangular and simple soundbar systems, the Vizio Elevate stands out with its motorized design that rotates the speakers upward, allowing sound to bounce off your ceilings to create the illusion that sound is coming from above you.
Vizio Elevate review: First thoughts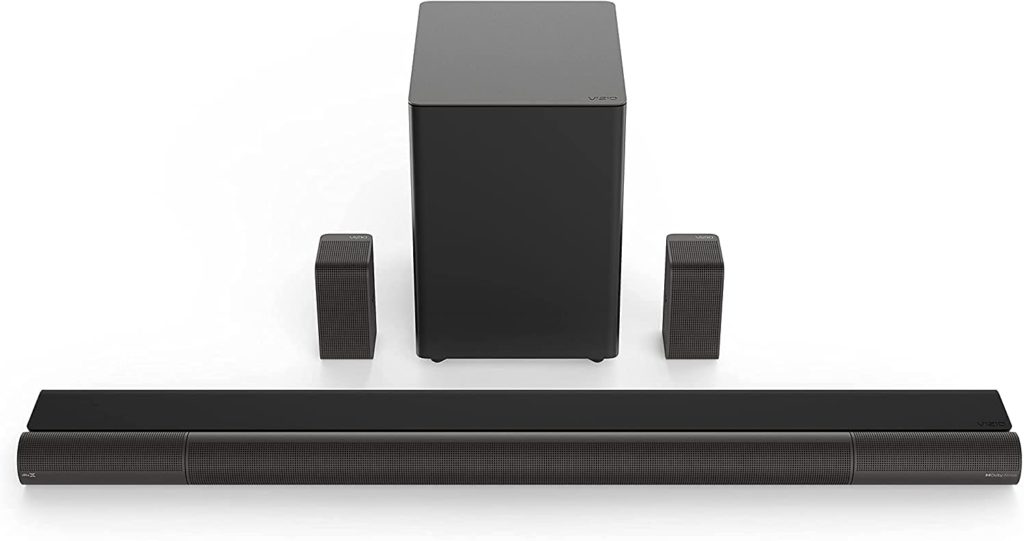 Whether you want to enhance movie nights or crank the audio in your home, the Vizio Elevate is perfect for all types of usage. If you enjoy podcasts or shows with lots of dialogue, this soundbar system offers tonal balance and reproduces voices accurately and clearly. As a bonus, the soundbar has Chromecast, Wi-Fi, and Bluetooth built-in, allowing you to stream your favorite audiobooks and podcasts from any mobile device.
Our Vizio Elevate review also reveals that this speaker is suitable for music lovers, especially those who enjoy hip-hop, as the soundbar has a bass-heavy profile that lends extra punch and boom to your songs. The satellite speakers and subwoofer create an immersive sound experience, and the soundbar has a wide soundstage, making it ideal for action-packed scenes in your favorite movies.
Product overview
The Vizio Elevate proves that quality sound and aesthetic design don't have to be mutually exclusive. This soundbar itself is sleek and elegant and has a cutout area designed to sit perfectly on the Vizio H1 OLED television. The soundbar isn't tall and won't block your television screen. The satellite speakers are compact and don't take up too much space in your living or media room. The bottoms of the speakers feature anti-skid silicone pads, while their backs have screw holes for wall mounting. However, the subwoofer is quite large and can be challenging to hide.
In addition to the speakers and soundbar, the box comes with accessories such as two power cables, a digital optical cable, two analog audio cables, an HDMI cable, and mounting brackets and hardware. The box also includes a remote control with 2 AAA batteries. The remote control has a backlight, allowing you to change audio settings in a dark room.
[Read what others are saying about this soundbar]
The soundbar system's setup is effortless, as you simply have to place the soundbar in front of your television and place the subwoofer at the back of your room near a power outlet. Connect the soundbar to your television using the cable. The subwoofer connects wirelessly to the soundbar, but you have to connect the satellite speakers to the subwoofer using cables.
Based on our Vizio Elevate review, this soundbar system produces well-balanced sound and can get very loud at maximum volume, making it ideal for playing music at large house parties. This system has dialogue enhancement features for dialogue clarity and auto-volume features that automatically adjust the volume depending on the type of show you are watching. The auto-volume feature also adjusts the volume within a program so that there is a difference between dialogue and an explosion for a better sonic experience.
Vizio Elevate review: Key features
Some of the key features of the Elevate soundbar include:
1. Dolby Atmos + DTS:X
When this soundbar system recognizes any Dolby Atmos signal, it mechanically rotates its speakers upwards to add height and spaciousness to Dolby Atmos soundtracks. These auto-rotating adoptive height speakers may look gimmickry, but they are very effective at creating a complete 3D Atmos effect and enveloping your space in a bubble of sound. This helps make sounds more life-like. For example, it feels like airplanes are flying overhead or birds are chirping above you.
2. Thunderous Bass
The high-performance subwoofer has a bass-heavy profile, making it suitable for both music and movie enthusiasts. This subwoofer offers deep and precise bass down to 30Hz, ensuring room-shaking explosions in your favorite action scenes. The booming bass also makes it suitable for listening to hip-hop or music with lots of drums.
3. Wide, focused soundstage
When the soundbar speakers are forward-facing, they produce very clear vocals, making them ideal for music and dialogue. The stereo soundstage seems wider than the soundbar itself, and the sound is accurate and focused. Therefore, audio such as footsteps or voices appears to come from a specific and accurate location.
4. Voice-assistant ready
The Vizio Elevate soundbar system allows you to control Google Assistant, Siri, or Alexa devices using your voice through the Bluetooth connection or via the 3.5mm Aux. As a plus, this soundbar system comes with Chromecast built-in, allowing you to stream audio and music from Chromecast-enabled apps such as iHeartRadio, Pandora, and Spotify.
5. Preset EQ modes
This soundbar system comes with four different EQ presets: Music, Movie, Game, and Direct. These presets allow you to customize sound based on what you are listening to for a better sonic experience. The Music EQ flattens the frequency for clear vocals and deeper bass. The Movie EQ uses all the speakers and upmixes the audio to 5.1.4 for a surround sound experience. The Game EQ dials down the lower frequency effects, giving gamers a sense of special awareness. The Direct EQ matches the speaker channel to the source. The Vizio Elevate soundbar system also has a dialogue enhancement feature to make voices more crisp and clear.
Pros
Delivers true Dolby Atmos surround sound
Innovative and unique design
Wi-Fi, Bluetooth, Chromecast built-in
Wide and focused soundstage
Four EQ presets
Has dialogue enhancement features for clear audio
Backlit remote for changing settings in a dark room
Cons
No graphic EQ
The subwoofer is quite large and hard to hide
Setting it up properly may require a bit of tweaking
Vizio Elevate Review final verdict: Steps your home-audio game up
Our Vizio Elevate Review concludes that this soundbar system offers a 5.1.4 surround sound solution to help elevate your audio experience. The design and performance are impressive, and the soundbar system offers superior sound, whether you are listening to music or playing video games. Dialogue is clear, music is lively and punchy, and explosions are bombastic. Click here to learn more about this soundbar.
Frequently Asked Questions about the Vizio Elevate system (FAQ)
1. Can I mount the soundbar and speakers to the wall?
This soundbar system comes with two wall-mount brackets for the satellite speakers, two wall-mount brackets for the soundbar, as well as four wall-mount screws, and a wall-mount template. This makes it easy to mount the soundbar and rear speakers to your walls.
2. What are the dimensions of the soundbar?
The soundbar measures 48 inches wide by 2.7 inches high by 6.5 inches deep. This means that the soundbar can comfortably fit between the legs of a 55-inch TV stand. Furthermore, the soundbar is not too tall and will not block your television screen.
3. Are the rear speakers wireless?
No, the rear speakers are not wireless. The two speakers connect to the subwoofer via the provided cables.
Read more:
Hisense R7G5 Review: Great TV for Budget-Conscious Buyers
Toshiba M550 Review: Fire TV Gets a Hardware Upgrade
Stay Close Netflix Review: You'll Have to Work Hard for The Payoff
Samsung Freestyle Projector Review: Watch HD Pictures Anywhere
Is the Silent Sea Scary? Silent Sea Review