*** TVReviewland.com earns commissions on qualifying purchases made through affiliate links ***
Our LG SLM3R review goes over the features and performance of this soundbar and its maker's claim it delivers distortion-free sound. The unique carbon diaphragm in its speaker unit is credited for its outstanding sound quality.
Let's jump right into our LG SLM3R review to see if this soundbar lives up to the bold claims made by its manufacturer.
LG SLM3R review: First thoughts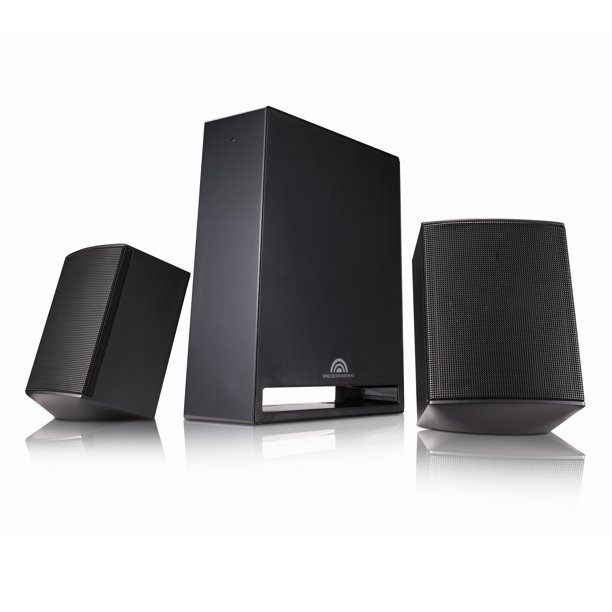 The SLM3R comes with an Adaptive Sound Control feature that delivers the proper audio for the specific type of media you're consuming. The feature automatically determines the type of content being played and adjusts sound settings to give you the optimal audio experience.
You get excellent bass with the SLM3R, thanks to the wireless subwoofer that comes with the unit. It gives you 200 watts of immersive sounds. You also get two extra speakers with the SLM3R that allow you to enjoy surround sound. You can mount these speakers on a wall once you figure out the ideal location for them in your setup.
[Read what others are saying about this soundbar]
The SLM3R, the subwoofer, and two extra speakers come with stylish designs that suit each other. You don't have to worry about these devices ruining the aesthetics of your space.
You have various options to choose from when connecting the SLM3R to your other devices. It comes with optical connections, as well as Bluetooth – which allows you to connect it to your smartphone or Bluetooth-compatible TV. The SLM also comes with an HDMI eARC port.
Other noteworthy features of this soundbar include:
Dolby Atmos® gives you immersive theatre-like surround sound+
High-resolution audio quality
In-built Google Assistant feature allows you to control the soundbar with voice commands
AI Room Calibration feature automatically adjusts sound settings to give you the best sound quality possible
Wi-Fi connectivity
LG SLM3R review verdict: Can't beat the value
The SLM3R gives you close to cinema-quality sound for the price of a budget soundbar. It's one of the best deals you can get on soundbars. It's an affordable way to bring immersive surround sound into your home. Click here to learn more about this soundbar.
Read more:
LG Nanocell 75 Series Review: Hard to Beat the Value
Element 65 4K UHD Frameless Roku TV Review
COD Vanguard Review (No Spoilers)
Sceptre 50 Class 4K UHD LED TV U515CV-U ReviewSony A90J Review: The Poster Child for Premium TVs