*** TVReviewland.com earns commissions on qualifying purchases made through affiliate links ***
This Sony A90J review provides information on all the features and functions of this television that help it hit the sweet spot between technology and style. This television is part of Sony's innovative series and lives up to the company's reputation for producing televisions that balance good design with excellent functionality.
One of the first things we noticed during this Sony A90J review was how the HDR works with a high contrast ratio to deliver crisp and clear images. The great HDR and high color gamut ensure bright colors. The self-emitting pixels produce perfect blacks for exceptional picture quality, especially if you watch movies in a dark room. Gamers will also love this television due to its near-instantaneous response time.
At 65 inches, this television is ideal for living rooms or bedrooms, allowing you to enjoy your favorite shows while relaxing with company or winding down before bed. This television stands out from the crowd with its adjustable feet and the Acoustic Surface Pro+ feature that transforms the screen into a speaker for better audio quality.
Sony A90J review: First thoughts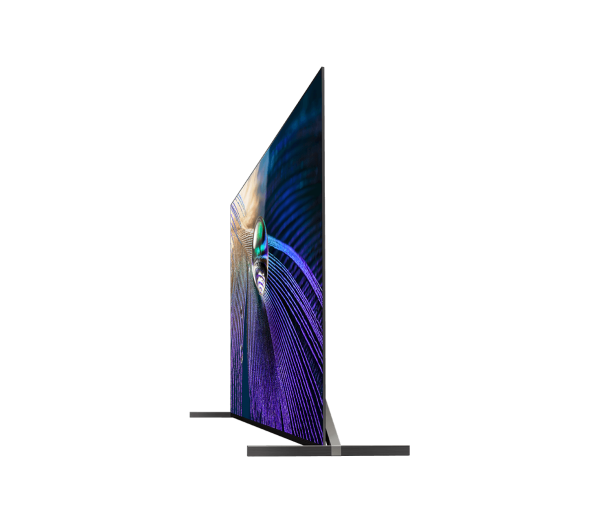 The A90J is ideal for anyone who wants more out of their TV. The Sony A90J can transform any room into a gaming zone, a movie set, or a communication hub. Whether you want to lounge while enjoying your favorite sports or if you want to challenge a few friends to a fast-paced video game, this television has you covered. This TV is excellent for movies due to its high contrast ratio and its perfectly uniform deep blacks. The television also perfectly upscales low-resolution content to 4k and removes 24p judder from all sources.
If you love sports or video games, this television is ideal for you, thanks to its instant response time. Motion from fast-paced games and sports appear exceptionally smooth, and the black frame insertion reduces blurs. The screen has wide viewing angles, allowing everyone at your next football watch party to get accurate images of the screen regardless of where they sit on your sectional sofa.
The Sony A90J also has excellent reflection handling to help reduce glare in bright rooms. The high contrast ratio also allows gamers and sports enthusiasts to play games or watch sports in the dark. You can also use this television as a PC monitor, as it displays proper chroma 4:4:4 at most resolutions, allowing you to view the edges clearly while seated very close to the screen.
If you love gaming, this television has a Game Mode with an input lag of about 9.9 milliseconds, which allows you to play your fast-paced games with ease. Voice assistants make it easier to control your television using voice commands. It comes with Google TV, featuring more than 700,000 television episodes, movies, and live TV. The smart engine brings all your favorite content from across the different apps and organizes them for easier accessibility. Some of the supported internet services include Hulu, Netflix, YouTube, and Amazon Instant Video. In terms of connectivity, this television has HDMI, Wi-Fi, Bluetooth, USB, and Ethernet. This television also has Bravia Core, allowing you to stream your favorite movies.
[Read what others are saying about this TV]
Product overview
Our Sony A90J review revealed that this television balances style and functionality masterfully. The A90J has ultra-thin bezels for a minimalistic and modern look. The television also has metal accents that give it a premium and sleek appearance.
One of the features that set its design apart from other high-end televisions is its adjustable base. The Sony A90J has a stand that you can set two ways. You can set the feet flat so that the television is flush against your TV stand or table. You can also raise the feet to provide ample space for your soundbar. Both configurations are very sturdy to ensure there is no wobble or flex. Many of Sony's competitors are yet to figure out how to make sturdy stands.
In terms of technology, this television has an OLED panel for high contrast ratio, providing perfect blacks in dark rooms for a movie theater experience. The Sony A90J can turn pixels off and on individually to produce perfect blacks without blooming around very bright objects like other OLED televisions. This TV is ideal for viewing from any angle and has exceptional refection handling to ensure glare is not an issue if you watch movies or play games in a bright room. As a bonus, the Sony A90J upscales 480p, 720p, and 1080p input without any issues.
The Sony A90J has additional bells and whistles, such as Acoustic Surface Audio+, XR Triluminos Pro, and Bravia core that make it stand out from the competition. Features such as XR motion clarity ensure that fast-moving images in sports, games, and action-packed movies are free from blurring for an enjoyable gaming or viewing experience. TheA90J is also compatible with Alexa, allowing you to control the various functions with just your voice.
Another exciting feature of the Sony A90J television is the Sony Cognitive Processor XR, which combines Artificial Intelligence abilities with cognitive intelligence. While the AI in previous models used machine learning to analyze sound and signals, cognitive intelligence uses human perspective to enhance audiovisual performance in a way that's more in line with how human beings see and hear. The cognitive processor processes and remasters hundreds of thousands of individual elements on your television screen to deliver more color and realism to all your content.
Key features
Some of the key features of the Sony A90J include:
Acoustic surface audio +
Our Sony A90J review showed us that Sony put a lot of thought into the sound system to ensure viewers have a more realistic and immersive viewing experience. This technology transforms the entire screen into a speaker and backs it up with two bass drivers for a fuller and more robust sound.
The Sony A90J features two 10-watt actuators behind the screen for higher frequencies. It combines these actuators with two 20-watt conventional drivers for lower frequencies. The actuators help generate a crisp sound, as it appears that the sound is coming directly from the screen. As a result, the audio from this TV better matches the content you are viewing on your screen.
To improve the effectiveness of the Acoustic Surface Audio + technology, the A90J also has an auto-calibration feature where the television plays several tones and the remote's microphone measures them from your location in the room. The television then adjusts and tunes its speakers based on these acoustics. The sound quality is so convincing that you can add this television to your AVR as the center speaker in a surround system.
Cognitive Processor XR
The cognitive processor XR goes beyond artificial intelligence to process sound and images the way a human being would. When a human being looks at an object, their eyes and brain subconsciously focus on a particular point to make up the overall picture. Sony A90J's cognitive processor XR analyzes the screen and divides it into several zones. It then identifies the focal point and puts more focus on it for more depth. It also analyzes the various elements, such as color, texture, contrast, and detail, just as the human brain does. This technology then adjusts all of these elements to produce the most life-like picture.
As a bonus, the Cognitive Processor XR analyzes sound positions to ensure that the sound matches the action on your screen. This technology also helps upscale sound from your television to 3D sound for a more immersive acoustic experience.
Two-way multi-position stand
In addition to being wall-mountable, the Sony A90J has feet that you can adjust to work in different positions. The feet are narrow and rectangular to help it stand upright on a flat surface. By default, these feet help keep the television stable on a television stand. The first position involves leaving the bottom of the screen flush against the surface of your television stand. You'll need a wide surface for this, as the feet go beyond the edges of the television's frame.
The second position involves rotating the feet to raise the television to about 7 inches above the surface of the TV stand. This is an excellent option if you want to lift the TV high enough so that you can fit your soundbar under it.
XR OLED contrast pro
The XR OLED contrast pro feature makes images on the screen look almost lifelike, even when the image is moving. This television features a laminate aluminum heatsink that helps with heat radiation. The heatsink dissipates heat away from the panel, and the temperature distribution helps to cool down the panel for better peak brightness. This feature helps the Sony A90J produce very accurate images.
Sony also added changes to how pixels emit color. While other brands and models use white pixels to emit light, Sony added red, green, and blue pixels to add brightness to the colors while keeping them pure without any washout at high peak brightness. As a result, you will be able to distinguish fine details such as the fur on an animal, whether you are viewing your content in a dark or bright room.
XR 4K upscaling
The Sony A90J is miles ahead of its competitors when it comes to content upscaling. The XR 4K upscaling technology uses two databases as opposed to the one found in previous models. If you have to watch non-4K content, this television upscales it naturally and helps maintain smooth motion while keeping details such as skin tones and textures looking life-like.
Pros
XR Triluminos Pro feature ensures pictures and colors are natural and beautiful
Works with Alexa for hands-free voice control
XR motion clarity feature makes it ideal for fast-paced sports and video games
Acoustic Surface Audio + feature delivers excellent voice quality
Perfect black uniformity and grey uniformity
Upscales low-resolution content without any issues
Wide viewing angles
Excellent reflection handling
Smooth motion and low input lag
Removes 24p judder
Features Google TV platform that's easy to use
Wide HDR color gamut
Fast response time
Displays proper chroma 4:4:4, making it ideal for use as a PC monitor
Cons
The Sony A90J is a bit pricey
Some users do not find the television bright enough
There is a risk of permanent burn-in
Sony A90J review verdict:
The Sony A90J television is quite pricey, and this Sony A90J review shows that the performance and features justify the higher tag. This television is as good as it gets in every way. The edge definition, sound quality, motion control, and 4K upscaling are better than what you find in similarly priced TVs.
The audio system is as good as what you get from most half-decent soundbars. The high contrast ratio ensures colors are vivid against bright backgrounds and that shadow scenes in your favorite television shows come through clearly in the darkness. Even skin tones look more natural and saturated on screen. As a plus, this television offers a lot of brightness and has an extensive color gamut. The A90J is worth splurging on if you want premium entertainment in your living room. Click here to learn more about this television.
Read more:
Sony A7IV Review: Another Trendsetter
LG Nanocell 75 Series Review: Hard to Beat the Value
Element 65 4K UHD Frameless Roku TV Review
COD Vanguard Review (No Spoilers)
Sceptre 50 Class 4K UHD LED TV U515CV-U Review
Frequently asked questions (FAQs)
1. Can I use headphones and earphones with this television?
Yes, this television has a 3.5-millimeter headphone audio jack on the side that you can use with headphones. As a plus, the TV has a Bluetooth function that supports A2DP, allowing you to pair compatible speakers, wireless headphones, and wireless earphones to this television.
2. Can I mount this television on my wall?
Yes, this television is compatible with a VESA 300 x 300 wall mount. You can choose to purchase the SU-WL855 wall mount bracket separately.
3. Do I need a soundbar with this television?
This television has Acoustic Surface Audio+ technology, which delivers excellent sound and supports Dolby Atmos. However, if you want surround sound and a full home-theater experience, you may have to purchase a soundbar and speakers separately.