*** TVReviewland.com earns commissions on qualifying purchases made through affiliate links ***
Our COD Vanguard review goes over all the cool features of the franchise's latest release. Activision takes us back to World War II, but not in the way you might expect. We weren't exactly excited when we found out our favorite first-person shooter was returning to the Rhineland. The series started there, and they've gone back to it a couple of times already.
Call of Duty Vanguard is available for the PS4, PS5, Xbox One, and Xbox Series X. Let's jump right into our COD Vanguard review and go over some of the things we liked about the game and some of the things we didn't like.
COD Vanguard review: First thoughts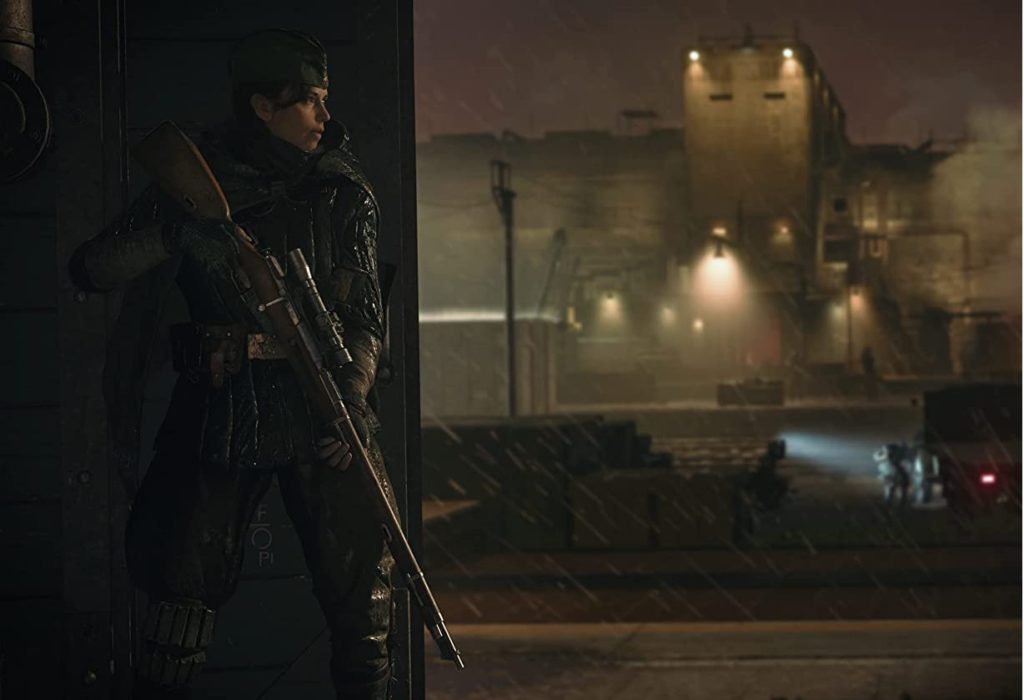 The storyline of Call of Duty Vanguard comes off as a bit unrealistic starting out. You start as Arthur Kingsley, a black British soldier leading a handful of white soldiers. Even the Nazis were just as surprised to see him leading a team. There's one female operator on the squad as well, which might leave you scratching your head.
That's not what my history teacher told me about World War II!!!
Interestingly enough, the storyline is solid, and it's far from being an attempt at wokeness. It's an authentic storyline that gradually explains how the unlikely team was formed. You get to play Call of Duty Vanguard using all members of the team at some point.
Each member of the team has a special power that is unique to them. One guy has a focus ability that takes auto-aim to another level, another guy has markers that allow him to throw grenades accurately, and we'll let you figure out the rest as you play. You get to play as a pilot, grunt, squad leader, and sniper. You get to run through the jungles of the pacific islands with an all-black U.S. platoon, true to the history books.
[Read what others are saying about this game]
Gameplay
Gameplay is what you would expect from any Call of Duty title. The ability to mount your weapon introduced in Modern Warfare has returned, and out can also blind fire from cover. Ammo does seem to be more scarce than previous titles. We guess that's SledgeHammer Game's way of forcing you to pick up weapons from fallen Nazis.
You can search through the corpses of some fallen opponents for more ammo or rummage through crates you find. Polina, the sole woman on the team can climb walls in a way we've never seen in COD before and squeeze through tight spaces. Her storyline is pretty cool, and her character seems to be based on the famous Lady Death, who had over 300 confirmed kills in WWII.
Multiplayer
The multiplayer mode doesn't seem to be as loaded as its predecessor Cold War, but the gameplay is fun, and finding servers feels a lot easier. Haven't had any issues so far. If you're a fan of WWII-era weaponry, you'll absolutely love this.
COD Vanguard review verdict: Fun gameplay and an engaging, realistic storyline
If you're a fan of the franchise, you won't be disappointed with Vanguard. Gameplay is fun, and you get a nice mix of everything. One minute you're in the trenches, then you're flying a plane the next. You get to fight in North Africa, Pacific Islands, and all over Europe. Click here to learn more about this title.
Read more:
Bose Soundlink Flex Review: Take the Party with You
New MacBook Pro 2021 Review: Another Step in the Right Direction
Sony A7IV Review: Another Trendsetter
LG Nanocell 75 Series Review: Hard to Beat the Value
Element 65 4K UHD Frameless Roku TV Review