*** TVReviewland.com earns commissions on qualifying purchases made through affiliate links ***
Our Bose Soundlink Flex review dives into the performance of Bose's latest addition to the Bluetooth speaker market. The new flex is IP67 water and dust resistant, and it comes with a rugged chassis. You can take this portable speaker on your fun trips and enjoy 12 hours of playtime on a full charge.
Let's jump right into our Bose Soundlink Flex review to see how well this affordable speaker performs and explore some of its noteworthy features.
Bose Soundlink Flex review: First thoughts
The new Soundlink Flex has a compact design, so it doesn't take much space to store or use. Its dimensions are 7.9 x 3.9 x 2.1 inches, if you're wondering. It weighs only a pound, so it won't add noticeable weight to your backpack or purse if you decide to carry it along. It comes in blue, white, and black.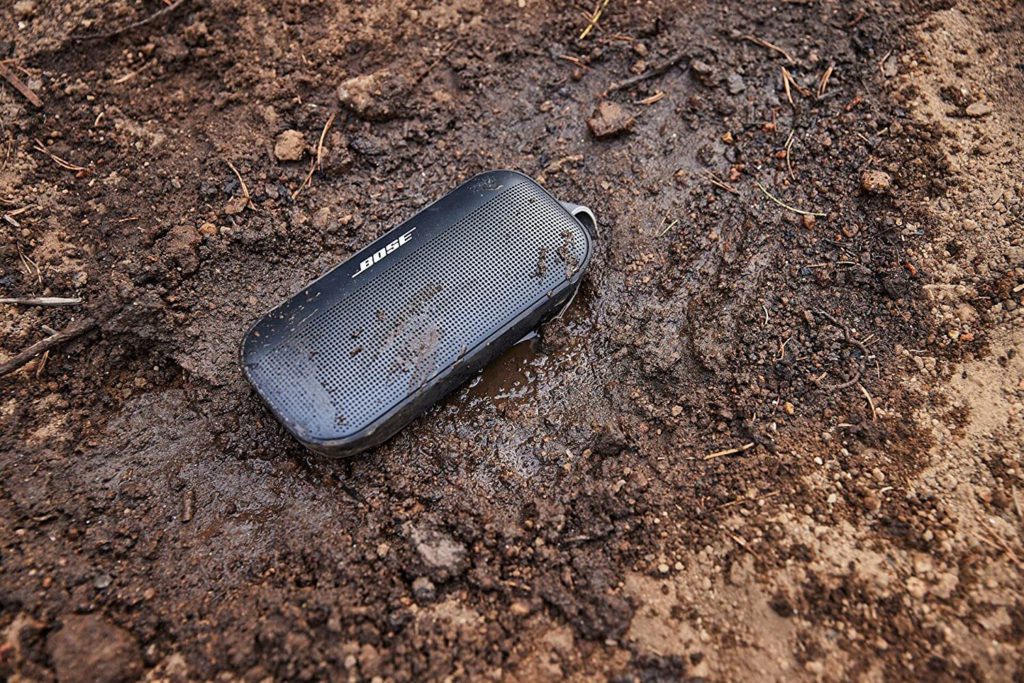 Its frame is designed to resist discoloration from ultraviolet light and corrosion from the elements. The new Soundlink is safe for pools or open water. It's water-resistant, and it floats in water. It's also designed to withstand being dropped from moderate heights.
There's an in-built microphone you can use to issue commands via the Voice Assistant on your smartphone or take calls.
The new Soundlink Flex comes with a lithium-ion battery that gives it 12 hours of operating time. The batteries are charged with a USB-C cable.
[Read what others are saying about this soundbar]
Sound quality
The sound quality is impressive for such a small device. It has a PositionIQ feature that adjusts audio output automatically based on how the speaker is placed. This means you never have to worry about how the speakers are positioned. It automatically adjusts itself, so you get optimal sound quality.
The speaker can also be connected to other Bluetooth audio devices within 30 feet to increase audio output.
The custom-engineered transducer in the Soundlink Flex allows the device to produce clear, deep bass. The new Flex gives you balanced, crisp, and undistorted audio. You can use it to drown out ambient sounds while entertaining outdoors or play it loudly as you enjoy outdoor activities. You can also take it to work with you and enjoy quality audio. You'll get tired of working before this speaker uses up all its juice.
Bose Soundlink Flex review verdict: Great way to enjoy audio outdoors
Bose hit it out of the park with their newest release. It's a lightweight, compact speaker that gives you quality audio you can stream right from your smartphone or other devices. It's a great way to make your next outdoor event more fun. A full charge gives you more than enough juice for most events, and you don't have to worry about the speaker being damaged by the elements around you. Click here to learn more about these speakers.
Read more:
Trexonic Portable TV Reviews: Television on the Go
Intrusion Review: A Plot Line That Leaves Little to the Imagination
TCL R646 Review: Good Pricing Great Performance
Insignia F30 Review: Great for Streaming, Poor for Gaming
Samsung QN85A review: Great for Living Rooms