*** TVReviewland.com earns commissions on qualifying purchases made through affiliate links ***
Our U Evolve headphones review goes over the performance and specs of what many are already calling the best, affordably priced wireless headphones on the market. It's designed to keep the audiophile in you satisfied with whatever audio you decide to listen to. Notes are crystal clear, and bass sounds are as deep as anyone would want them to be.
Let's jump right into our U Evolve headphones review to find out if this gem rivals the more established brands like Beats or Bose.
U Evolve headphones review: First thoughts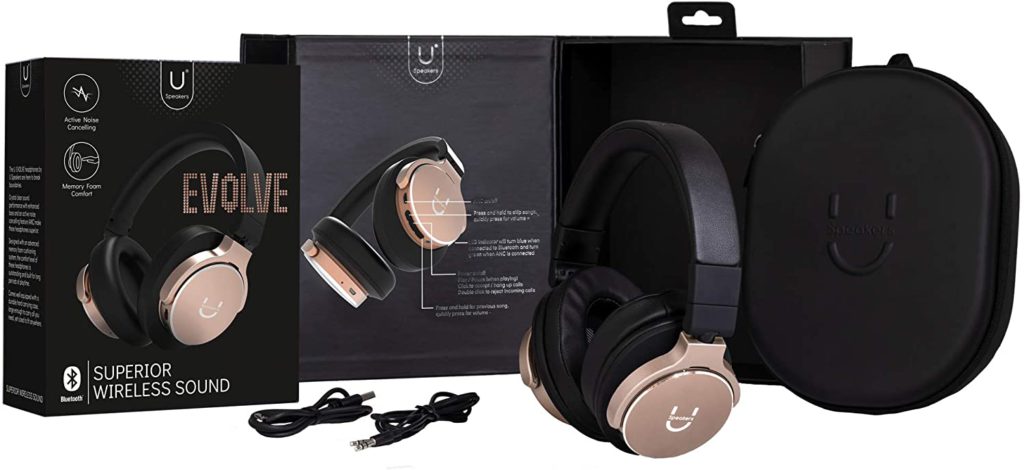 U Evolve's new wireless headphones are aesthetically pleasing with a sleek, quality design. Currently available in green and rose gold, the headphones come with an ergonomic cushioning system that is made with memory foam so you can use your headphones all day without it getting uncomfortable.
It hosts an active noise cancellation feature that can cancel up to 28DB, allowing you to listen to quality audio without having to worry about interference.
The sound quality is excellent with these headphones. Sounds could not be clearer, and deep basses could not be deeper. The headphones also come with an inbuilt mic, so you can use it to take calls on your smartphone or similar device.
[Read what others are saying about these headphones]
The U Evolve wireless headphone comes with inbuilt Bluetooth 5.0 connectivity. It comes with inbuilt powerful batteries that give you over 20 hours of audio playtime and 200 hours of standby time. It also comes with an AUX cable so you can use it as a wired set of headphones when the battery runs low.
U Evolve's wireless headphone also comes with a hard case you can use to take it anywhere with you. It allows you to enjoy quality music wherever you may be while looking stylish. The headphones and case are both lightweight so carrying them around with you won't be a hassle.
Pros:
Comparable audio quality to headphones that cost a few hundred dollars more
Memory foam ergonomics make the headphones very comfortable
Comes with an in-built mic
Over 20 hours of playtime
Deep bass sounds exceptionally well
Affordably priced
Cons:
Might be a bit too heavy for activities like running
U Evolve headphones review verdict: Unmatched value
U Evolve hit it out of the part with this offering. It gives your premium audio quality and ergonomics, plus 20 hours of playback time. You can use it as a wired set of headphones when the batteries run low, and it comes with a cool carry case. We really didn't see anything we didn't like when going over U Evolve's new headphones. Click here to learn more about them.
Read more:
Best Budget 4K TV for Gaming: The 49-inch LG NANO85 Covers All the Bases
LG UN7000 Review: A Budget TV that's Great for Gamers
Sony X85J Review: An Affordable Top-End TV
Omen 30L Gaming Desktop PC Review: Feel the Power of 5.2 GHz!
Samsung TU9000 Review: Solid Performance in An Eye-catching Frame