*** TVReviewland.com earns commissions on qualifying purchases made through affiliate links ***
The best budget 4K TV for gaming should deliver good gaming performance at a good price. Today we find out if the 49-inch LG Nano 85 fits the bill.
LG's Nano85 product line targets the budget-conscious gamer. The 49-inch TV may be the runt of the product line, but it's plenty big for gaming. This review focuses on the LG Nano85 and its performance from a gamer's perspective.
Best budget 4K TV for gaming: What gamers want in a display
Gamers need a responsive screen with great picture quality to boot. There's a lot to unpack in that short phrase.
A responsive screen has pixels that change colors fast enough to prevent motion blur. The screen should reflect user input (the turning of a steering wheel or the firing of a shot) with minimal delay. This is over and above boasting a refresh rate that is fast enough to ensure smooth motion.
Good color, good contrast, and good viewing angles are also markers of a good gaming display. Check out the LG Nano 85 to see how many boxes it checks.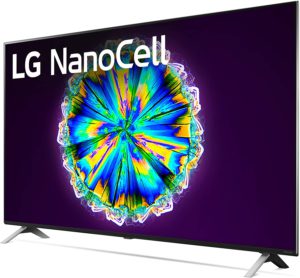 The 49-inch LG Nano85: Design
LG chooses a simple, understated design for its displays, including the NANO85. This TV has a charcoal-black chassis with chrome edges and TV legs that also have a touch of chrome. The metallic back panel extends to become the chrome edges of the TV. Glossy black bezels complete the chassis, and at only 0.35 inches thick, they're slim enough to blend into the screen.
If you plan to set the TV on an entertainment stand find one that's at least 12 inches deep and 45 inches long. That ought to be enough to accommodate the footprint of the TV and its legs
The back panel is bare, except for a VESA wall-mount pattern and a smaller panel that holds the ports.
Best budget 4K TV: Ports and wireless connectivity on the LG NANO85
A small panel sits in relief to the rest of the back panel. It holds two sets of inputs. One set is rear-facing and would be hard to access if you were to mount the TV. Unfortunately, it holds most of the ports. The second set of inputs faces outwards, making it accessible from the right side of the TV. Here's the port selection:
Four HDMI ports, with ports three and four carrying HDMI 2.1 capability
Three USB ports
A digital optical audio port
An Ethernet jack
A coaxial connector for cable or antenna
One set of composite ports
As for wireless connectivity, the LG NANO85 has Wi-Fi that operates on both 2.4 and 5GHz frequencies. Bluetooth is also an option if you run out of ports.
[Read what others are saying about this television]
Best budget 4K TV for gaming: LG Nano85 hardware
The performance of a TV rests with its hardware, which falls into two categories. First is the display panel. The LG Nano85 is a 4K IPS panel with HDR capability and a native refresh rate of 120Hz. This panel is edge-lit, and it simulates local dimming.
IPS panels are famous for their color accuracy and wide viewing angles. They also have passable motion handling. However, the fact that LG chooses edge backlighting for the panel may affect its ability to render stunning contrast.
The second aspect of TV hardware is electronics. LG deploys the Alpha-7 chipset to perform an array of image processing tasks. The processor performs tasks that range from video upscaling to content optimization to basic motion handling. Let's see how the hardware performs when you put it through its paces.
1. Color accuracy
Like most IPS panels, the NANO85 has near-perfect color accuracy right out of the box. It helps that the panel has a fairly wide color gamut to work with. A display's color palette can expand, depending on the peak brightness of the panel.
2. Brightness and contrast
As 4K HDR televisions go, the LG Nano85 is dim. It only reaches a maximum of 270 nits in SDR. This means that you would struggle to make out dark scenes in a brightly lit room. In HDR mode the screen reaches peak brightness levels of 330 nits, which works OK in a dark room.
Contrast is the difference between the brightest and darkest colors that a display can produce. TVs with excellent contrast have native contrast ratios as high as 5,000:1. The Nano85 has a passable contrast ratio of less than 2000:1, which makes sense given the panel's relative dimness. Also, poor execution of local dimming contributes to limitations in contrast. The result is black hues that tend towards grey.
This is the tradeoff that users of IPS panels must make: Color accuracy for contrast.
3. Viewing angles
IPS panels deliver wide viewing angles, meaning that you can sit to the side of the TV with near-zero dimming or color shift. This makes the LG Nano85 the perfect TV for movie night or a gaming session with friends.
4. Screen uniformity
You may notice a little dirty screen effect with sporting games on a green playing field. A black screen could also manifest some light bleedthrough at the edges, near the backlights.
5. Native and variable refresh rates
The NANO85 has a native refresh rate of 120Hz. It boasts a variable refresh rate that is compatible with both NVidia and Radeon graphics cards. There's just one slight problem: VRR performance is glitchy and you may experience some screen tearing if you push your luck with 1440p/4K content.
A firmware update (or two) could help to resolve the glitch. It's worth noting that the TV works great with 1080p games, boasting ultra-smooth motion at 120fps.
6. Motion handling
The panel has a response time of 16ms, which is fine. This translates to just a little trailing or motion blur. An input lag of 16ms is fast enough for gaming with moderately demanding titles.
Pros
Solid build
A wide selection of input ports
Accurate color reproduction
A native refresh rate of 120 fps delivers smooth motion during gaming
The NANO85 offers an impressive variable refresh rate to match your graphics card
Low input lag
Low response time
Cons
The TV is dim, which affects its performance in a bright room
Low peak brightness levels also limit the level of detail in HDR content
Poor simulation of local dimming
Middling screen uniformity
The LG Nano85 may have variable refresh rates, but VRR performance is glitchy. You will have to update the firmware
Best budget 4K TV for gaming verdict: The LG Nano85 makes a good gaming screen You could do a whole lot worse than a 49-inch 4K widescreen with good motion handling. The fact that the TV is compatible with both NVidia and Radeon GPUs is gravy. As such, the LG NANO85 is in the running for the best budget 4K TV for gaming. Click here to learn more about this TV.
Read more:
Westinghouse 58 Roku TV Review: Widescreen 4K at an Unbeatable Price
Vizio V655-H19 Review: Useful Features and Good Performance On a Budget
Lenovo S2 Smartwatch Review: A Pizza-Priced Option
How to Use Old LED TV Panels: A DIY Project With A Nice Payoff
HP 15-DS1083CL Review: A Powerful, Convertible Laptop That Punches Far Above Its Weight