*** TVReviewland.com earns commissions on qualifying purchases made through affiliate links ***
We had no idea what to expect when we started our Pilestone TP-025 Red-Green Color Blind Glasses review. Most people get to enjoy all the vibrant colors of the world. And then there are those of us who are reading up on Pilestone Red-Green Color Blind Glasses.
These affordable, titanium-coated lenses are one way to see the world in its true colors. They work great indoors, where the light is a little subdued, and outdoors as well.
Pilestone TP-025 Red-Green Color Blind Glasses review part 1: Will these glasses work for you?
Many people with color blindness can see color. What makes them color blind is the fact that they find some, most or all colors to be washed out. The reason being that color blind people can only see between 10,000 and 100,000 colors. Compare that to around 7 million colors for people with normal color vision.
The limited color spectrum can be a drag for the colorblind, seeing as how the world is bursting with countless vivid colors, just waiting to be seen.
Colorblind people also have a hard time distinguishing between specific pairs of colors. A small percentage of the color blind will have a hard time telling blue and yellow apart. A tiny, tiny minority will only see the world in shades of grey. The rest are unable to tell the difference between green and red. This is the group of people that Pilestone red-green color-blind glasses aims to help.
As their name suggests, the Pilestone Red-Green TP-025 glasses are meant for people with Red/Green color blindness. If this describes you, then this could be the pair of eyeglasses for that makes a difference. Our Pilestone TP-025 Red-Green Color Blind Glasses review is just getting started.
[Read what others are saying about these glasses]
Color blindness and how the eye works
To understand how color blind lenses work, we should start with the basics of how the eye sees color.
The iris of the human eye has minuscule structures called cones. Their job is to perceive color. There are three types of cones: those that sense red light, those that detect blue light and those that sense green light.
Now, some wavelengths of red light can be detected by yellow or blue cones. Also, certain wavelengths of blue light can be sensed by red or yellow cones. The same goes for certain shades of green, which can be sensed by red or blue cones.
This slight overlap does not affect people with normal color vision. But color blind people, who have some failed or malfunctioning cones, have a larger overlap that distorts how they see colors.
Take a person that has malfunctioning green rods. When exposed to a color swathe, this person's eye will stop sensing the red color spectrum as it slowly cools and gives way to green. The person will be unable to distinguish between cooler shades of red colors and warmer green colors.
How the lenses of Pilestone TP-025 glasses work
The lenses of Red-Green TP-025 glasses act as filters that keep certain wavelengths of light from hitting the eye. They filter out the shades of red and green with wavelengths that overlap in the color spectrum.
The wavelengths that get past the lenses are 'pure' shades of reds and greens, which a color blind person will be able to see accurately.
Pilestone TP-025 Red-Green Color Blind Glasses review part 2: What's in the box?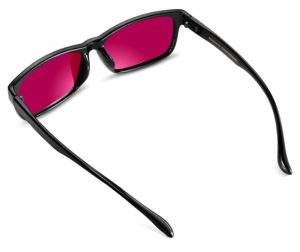 When you open the package from Pilestone, you will find a soft but firm case with glasses inside. Inside the case, you will find a cloth with which to wipe the lenses. You will also find the glasses. They will probably be inside a zip-locked bag for protection. The package will also have some documentation, in case you want to return the eyeglasses.
Pilestone red-green glasses: At a glance
The understated design of these glasses makes them a perfect fit for every setting. The Pilestone Red-Green TP-025 glasses have a black frame that looks both professional and edgy. They will not look out of place at the office or at an outdoor event. The arms of the glasses have the manufacturer name and 'Philadelphia, PA' printed on their inner surfaces.
The glasses also have a titanium coating on their outer surface, which makes them much more reflective than ordinary glasses. The inner surface of the lens has a red tint, which contributes to the performance of the glasses.
As you hold the glasses for the first time, you will be impressed by how weightless they are. Pilestone uses lightweight, high-quality plastic to make the frames. They also do a great job of putting the various parts of the frames together. Each piece of the structure is securely screwed onto the other.
Put together, all these aspects give the glasses a sturdy build, so you know that these glasses will not come apart in a few months.
What do the lenses correct?
A little background on the lenses used to make the Pilestone Red-Green TP-025 glasses: Pilestone has color-blind tests on their website. The tests help to categorize the type of color blindness a person has. These 'types' are denoted by the letters A to F. Pilestone makes and names their lenses based on these types.
The Pilestone TP-025 glasses have type B lenses, which cater to people with type B color blindness. Or, in other words, moderate-to-severe red color blindness and/or moderate-to-strong green colorblindness.
This means that the Red-Green TP-025 glasses should correct for red and green. It should also correct for other colors that have red/green components — colors like purples, blues, browns and oranges.
How well do the lenses work?
Pilestone Red-Green TP-025 glasses are excellent at correcting red color blindness. They render vibrant red to a person who is otherwise unable to see the color red. The lenses also do an excellent job of correcting green color blindness, though green colors will not 'pop' as much as the red ones.
Because the inner surfaces of the lenses have a red tint, you should expect a tinge of red on everything you see. You can put a good spin on this by saying that the Red-Green TP-025 lenses allow you to look at life through rose-colored glasses. Time to summarize our Pilestone TP-025 Red-Green Color Blind Glasses review:
Pros
Affordable
Because they look more like eyeglasses than sunglasses, they can be worn at any time
Can be used both indoors and outdoors
They work perfectly for people with moderate red/green colorblindness
Cons
Will not work well in dim lighting
The red tint paints a person's vision with a red tinge
The glasses are great at correcting severe red color blindness, but not severe green colorblindness
Pilestone TP-025 Red-Green Color Blind Glasses review verdict: Will they work?
More likely than not, they will. The Pilestone Red-Green TP-025 glasses will add a whole lot of color into your world as long as you only have moderate or strong red/green color blindness. Read what owners of these glasses have to say.
Read more:
Samsung Q70 Series Review: Good Performance at a Good Price
TCL 40S325 40 Inch Roku Smart TV Review
LG 55UM7300PUA Review: Alexa Built-in 55″ 4K UHD Smart LED TV
Best Budget Sound Bar: Vizio SB3621-E8
Sceptre E248W-19203R Review: A Bargain 24-Inch Full HD Monitor
SunBriteTV 55-Inch Signature 4K UHD TV (2nd Gen) Review