*** TVReviewland.com earns commissions on qualifying purchases made through affiliate links ***
Let's jump right into what we discovered during our SunBriteTV 55-Inch Signature 4K UHD TV review. It seems like the manufacturers of outdoor TV sets sometimes have to make a tradeoff. On the one hand, they need to make a sturdy, weatherproof TV. On the other hand, they need to make a TV that has the features we have come to expect in a modern TV. Does SunBrite TV manage to strike a balance between the two sets of requirements?
Our SunBriteTV 55-Inch Signature 4K UHD TV review gave us all the answers. The SunBriteTV S-55-4K is an outdoor LED TV that works best in partial sunlight. It is designed to withstand all kinds of outdoor conditions while producing great picture quality. Let us see how it performs on both counts.
SunBriteTV 55-Inch Signature 4K UHD TV 2nd gen review: What's in the box?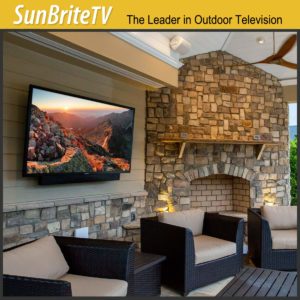 This 55-Inch SunBriteTV weighs more than 68 pounds. You will have your work cut out for you as you unpack and mount the screen. It ships with gear for a wall mount, a remote and some paperwork. If you want the TV to sit on a table, you will have to buy a set of table stands. It is also worth noting that the TV has no built-in speakers. Nor does it ship with any.
That means that you will either have to connect your existing, hopefully, weatherproof speakers. Or you will have to fork out some cash for SunBrite outdoor speakers or a compatible soundbar. It would be interesting to find out why the manufacturer opted to leave out the internal speakers.
Design
The SunBriteTV S-55-4K is a rugged TV and it shows. It measures 50 inches by 30 inches, with a diagonal length of nearly 55 inches. The current trend with widescreen displays is the paper-thin TV.
SunBrite went the other way and made their TV nearly four inches thick. Which makes sense because it takes space to make TV hardware that can withstand extreme temperatures and all the other joys of nature.
The TV is encased in a black aluminum chassis with a powdered surface. The display is framed by sleek, textured, black bezels that are nearly an inch wide. The bottom bezel sports the manufacturer logo.
SunBrite's weatherproofing efforts become more evident at the back of the TV. There are no openings or slots at the back, except for the power port. When you plug in the power cable, you will need to bolt it in place to prevent the elements from getting inside of the TV.
The back of the TV has a 400x400mm VESA mounting pattern. You will also find a closed 'door' to the left of the TV. To open it, you only need to turn the two thumb screws that hold it shut.
Behind the door is a compartment that houses the inputs of the S-55-4K.
[Read what others are saying about this television]
Inputs
The power port is at the center of the TV, away from the rest of the ports. Inside the input compartment, you will find two HDMI ports, an antenna connection, a 1/8-inch headphone jack and a digital SPDIF audio output. You will also find an Ethernet port that connects an external 4K source to the screen's built-in HDBaseT receiver. You will need a cat5E cable to carry the 4K content from source to TV.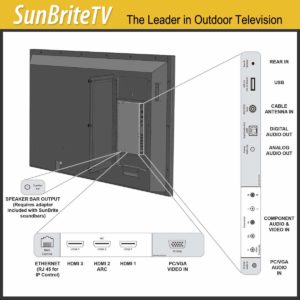 The compartment with the inputs has a slot lined with rubber for waterproofing. Your cables will leave the compartment through this slot. Once you are done hooking up your devices to the TV, you can go ahead and seal the compartment shut.
Connectivity
Apart from the Ethernet port, there is little else, as connectivity goes. You will have to physically connect your devices to this TV. This is not optimal. This SunBriteTV 55-Inch Signature 4K UHD TV review is just getting started.
Picture quality: Color
The SunBriteTV Signature S-55-4K has a resolution of 3840 x 2160, which makes it a UHD television. Do the numerous pixels that are crammed into each square inch deliver good color?
Sure. The S-55-4K displays fairly accurate colors. If it had HDR capabilities and a wide color gamut, the color accuracy would be even better. But only a true AV buff would notice the green-tinged whites and the cool colors.
When you watch a movie, all you will see is vivid colors that look a whole lot like the ones that surround you on your patio or deck.
Picture quality: Brightness and contrast
The SunBriteTV S-55-4K second gen is at least twice as bright as your average mid-range indoor TV. Which is one of the reasons it makes such a great outdoor TV. It has a peak brightness level of more than 700 nits and a black level of around 0.14 nits. The black level is ten times higher than similar indoor TV sets. But that is the price you pay to enjoy an outdoor TV. Besides, 0.14 nits look inky-black in partial sunlight.
Speaking of sunlight, the television's impressive brightness allows it to display clear, defined picture in partial sunlight. Like an outdoor TV is supposed to do.
The difference between the brightly lit, vivid colors and the blacks is stark. Which makes for beautiful contrast and detailed, sharp picture. The resulting contrast ratio of nearly 4000:1 explains the great viewing experience you will enjoy with the SunBriteTV S-55-4K.
Picture quality: Viewing angle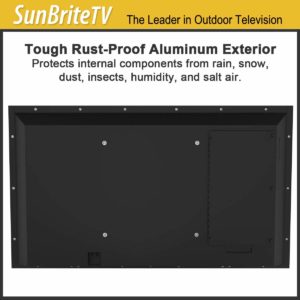 The manufacturer says that the picture quality remains the same even when you watch the TV at an angle. The specs list the viewing angle as 178 degrees. In practice, the viewing angle is not that wide and the colors shift when you watch TV at a sharp angle.
Picture quality: Response time
The manufacturer puts the response time of the SunBriteTV S-55-4K at 6.5 milliseconds. If you decide to put the TV through its paces and measure the results, you will be impressed. The TV has an input lag of only 30 ms in standard mode. This is comparable to the gamer's benchmark of 20 milliseconds.
Note that the Veranda product line has a much higher input lag. So the TV models in the Signature series are a far better option for gaming. The next section of this SunBriteTV 55-Inch Signature 4K UHD TV review will cover the audio properties of this outdoor television.
Sound
SunBrite Signature televisions do not have built-in audio speakers. They do not ship with a sound bar either, which is puzzling. You will have to get yourself a set of outdoor speakers or a weatherproof soundbar. And SunBrite has the perfect 20-watt soundbar for the SunBriteTV S-55-4K, which you can add to your shopping cart.
Remote
The outdoor remote control is a simple affair. It is made of tough plastic material and sealed with a weatherproof membrane. You will have a number pad as well as buttons for power, inputs, navigation and volume.
Does it withstand the elements?
Absolutely. The aluminum chassis is sealed off to prevent anything from getting into the TV. The SunBriteTV S-55-4K is weatherproof, child-proof and will stand up to almost anything you (literally, but don't push it) throw at it.
Pros
Rugged, durable, weatherproof hardware
Great contrast and vivid colors
Bright enough to display clear, accurate picture in partial sunlight
Cons
Expensive
No inbuilt speakers
No wireless connectivity
No HDR or wide color gamut
SunBriteTV 55-Inch Signature 4K UHD TV review verdict: Who should buy it?
The SunBriteTV 55-Inch Signature 4K TV costs quite a bit of money, so you should get your money's worth. Buy this TV if you and yours spend many hours in your open living space. Buy it if you like to host friends on your patio porch or deck. Buy it if you want a TV that aspires to stand the test of time. But not if you just need a basic HD TV for a room where the amount of sunlight that gets in can be easily controlled when watching programs. There are many – mostly cheaper – options that do that just fine.
The SunBriteTV S-55-4K is a perfect companion for the person who likes to hang out with nature, in style. Click here to learn more about this TV.
Read more:
Samsung Q70 Series Review: Good Performance at a Good Price
LG 55UM7300PUA Review: Alexa Built-in 55″ 4K UHD Smart LED TV
Enacfire E19 Review: Bluetooth Wireless Earbuds, Good Build, Great Performance, Awesome Pricing
Naruto Television Show: The Enduring Appeal
Sony 85-inch TV XBR85X850F Ultra 4K HD: Is It Too Big to Succeed?