*** TVReviewland.com earns commissions on qualifying purchases made through affiliate links ***
Our SunBriteTV Veranda 55 Inch 4K LED outdoor rated TV review showed us this manufacturer makes tough, durable TV sets for people who like to watch nature shows while hanging out with nature.
Now, SunBrite has the 'Pro' product line of televisions that work great in direct sunlight. They also have the 'Signature' line of televisions that work well in partial sunlight.
Then there is the 'Veranda' series, which has models that are meant for shaded living spaces. Let us check out the first generation 55-Inch model to find out what it has to offer:
SunBriteTV Veranda 55 Inch 4K LED outdoor rated TV review: What is in the box?
The SunBrite Veranda 5574UHD ships with wall mounting gear, a remote, a user manual and a warranty. The manufacturer figures that you will want to install the TV permanently. Which is why the TV does not ship with table stands.
If you want some, you will have to buy them along with the TV. You can find compatible TV stands here.
First looks
The SunBrite 5574UHD only comes in black. It is encased in an aluminum chassis with a powdered surface. The chassis is built in a way that makes the TV resistant to rust, scratches and slight knocks.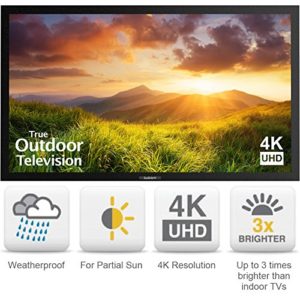 The 5574UHD is bulky compared to similar 55-Inch indoor TV sets, but that is the tradeoff you make when you choose an outdoor TV. At nearly four inches deep, this 55-Inch TV is thick. It is also 50 inches long and 29 inches high, so it figures that it is quite heavy. You will work your core muscles as you mount this 51 pound TV to a wall.
The back of the TV has a 400mm x 400mm VESA wall mount pattern that allows you to use a fixed, tilt or fully articulated wall mount. SunBrite offers all kinds of mounts as optional accessories. So before you order the TV, you should have a mental picture of where and how you to set up your TV. This way you can order extra accessories along with the TV. This SunBriteTV Veranda 55 Inch 4K LED outdoor rated TV review is just getting started.
Inputs
The back of the TV is pretty much bare and sealed off from the elements. Except for a thick power cable that is fixed in place with a weatherproofed bolt. The input and output ports are held in a closed compartment at the back of the TV, on the left. For weatherproofing purposes, the cables exit the compartment through a slot lined with sheets of rubber.
There is a 'door' at the back of the TV that is sealed shut with a pair of thumb screws. Behind that door is the compartment that houses the inputs. There is a left-facing panel of inputs that holds four HDMI ports and two USB ports. There is also a downward-facing panel that holds a set of component AV ports, a composite port, an optical audio output, an analog audio output and a coaxial connector for cable or an antenna.
Connectivity
The SunBrite 5574UHD is not a smart TV, so it does not have much in the way of connectivity. It has some connectors for infrared. It has an Ethernet port that is only used for maintenance and upgrades, and that is pretty much it.
But there are inputs that you can use to connect a USB Bluetooth adapter or a streaming device.
Picture quality: Color
The SunBrite 5574UHD is a 4K LED display with a refresh rate of 60 frames per second. So does the TV use its high resolution to render good color? Yes, it does. The 5574UHD is an HDR television, so it has great color accuracy, though the reds are a little cool. Other than that, the colors are rich and vivid.
[Read what others are saying about this television]
Picture quality: Brightness and contrast
The colors pop all the more thanks to a peak brightness level of 288 nits and a respectable black level of 0.08 nits. The vivid colors, inky blacks and fairly good lighting make for good contrast, sharp definition and detailed picture. The TV has a native contrast ratio of 4000:1, which is good.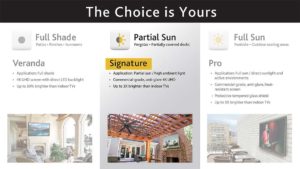 The TV sets in the Veranda product line are not that brightly lit compared to similar indoor TVs. They are also far dimmer than the televisions in the Signature and Pro series. Which is is to be expected, since the TV is designed for use in shaded spaces. The extra money you spend on this display goes to the outdoor features of the TV. Our SunBriteTV Veranda 55 Inch 4K LED outdoor rated TV review is far from done.
Picture quality: Viewing angle
You will be pleasantly surprised by the wide viewing angle of this TV. The colors and picture definition remain nearly the same when you watch the TV from a side angle as large as 178 degrees.
[Related: SunBrite 43-Inch TV Review]
Input lag
The SunBrite 5574UHD has an input lag of around 80 milliseconds. Switching to gaming mode does not reduce the response time at all. A casual gamer will not mind gaming on this screen, but a competitive gamer will. Because the benchmark response time for competitive gamers is usually 20 ms and below.
It is worth noting that the response time on the product specs is 6.5 milliseconds. So maybe try playing with the presets, or leave them as they are and see what happens with the response time.
Sound
The TV comes with a pair of built-in, downward-firing 20-watt speakers. 20 watts for inbuilt speakers is impressive, and the TV sounds good. If you want more sound, you could always connect external speakers to one of the audio ports of the SunBrite 5574UHD.
Remote
The remote is also made for use in the outdoors. It is made of tough plastic encased in a weatherproof sheath. It has all the usual buttons: Navigation, volume, inputs, number pad and power. But all the buttons look the same so you will have to look at your hand as you use the remote.
Toughness
The powder-coated aluminum casing protects the SunBrite 5574UHD from bumps, scratches and the elements. You will find zero unsealed seams on this TV, and all the inputs are contained in a sealed compartment. Better still, the 5574UHD can weather frigid temperatures as low as -24° and unforgiving heat of up to 104° F.
You could say that this outdoor TV can take almost anything you throw at it.
Pros
Tough and durable
Good color accuracy
Wide viewing angle
4K resolution
A wide variety of inputs
Cons
Not a smart TV
No inbuilt connectivity
Expensive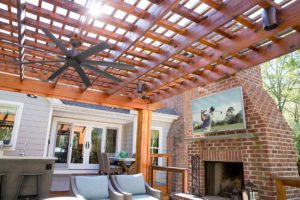 SunBriteTV Veranda 55 Inch 4K LED outdoor rated TV review verdict: Should you buy it?
If you spend a lot of time in your outdoor living space, then you should think about it. It beats having to choose between enjoying some fresh air and watching that game. It also beats having to drag an indoor TV out of the house and squinting at it because of the sun. Click here to purchase one.