*** TVReviewland.com earns commissions on qualifying purchases made through affiliate links ***
Our Omen 30L Gaming Desktop PC review goes over the performance and specifications of what might end up being the most powerful machine gamers can currently purchase.
Say goodbye to long loading times, games abruptly closing down due to your PC's inability to handle the loads required to use them or your PC shutting down due to heat. Let's dive right into our Omen 30L Gaming Desktop PC review to find out if the hype surrounding this gaming rig is justified.
Omen 30L Gaming Desktop PC review: First thoughts
The 30L is designed to be powerful enough to handle resource-intensive games like flight simulators and large open-world games. It's a cool-looking rig that comes with a look-through panel and variable lights that give it a futuristic feel.
Components inside the 30L are well spaced out so you can easily make any upgrades as you wish. You won't be doing that anytime soon though, since there isn't much you can do at the moment to significantly improve the performance of the 30L. It's already loaded with everything a gamer can dream of from a powerful i9 CPU that gives you 3.6 to 5.2 GHz of processing power and up to 64GB of RAM. You can choose up to 4TB of SSD storage for your 30L.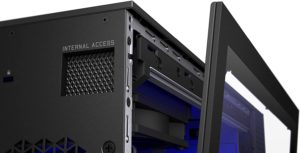 That's more than enough storage for all of your games and the massive RAM means everything runs smoothly.
Graphics are as good as it gets thanks to the VR-ready 24GB NVIDIA GeForce RTX 3090 graphics card. The RGB liquid cooling system does a decent job of preventing it from overheating and you also have the option of opening the back panel to keep things cool.
The system runs on Windows 10, and it comes with inbuilt Bluetooth and Wi-Fi connectivity.
[Read what others are saying about this PC]
Omen 30L Gaming Desktop PC review: What you get
The 30L comes with a wired keyboard complete with volume controls. It also comes with a wired mouse and mousepad. It comes inbuilt with all the ports you could need like a microphone jack, headphone jack, two USB Type-A ports, one USD type C port, one audio in, and one audio out port. It runs off a 750-watt platinum power supply.
It does not come with a monitor so you will have to purchase one or make do with your TV if you don't already have one. To enjoy the incredible processing power of this PC, aim for a monitor that can handle at least a 160 Hz refresh rate. No point in having all that raw power and then using a monitor that can only do so much.
Pros:
Incredibly powerful gaming rig set up
Easy to expand and upgrade the system as better components are developed
Up to 64 GB RAM. Many PCs didn't even have that much hard disk storage a decade ago
Cons:
The finer things in life don't come cheap
You might be able to build a cheaper rig on your own with similar capabilities for less if you know what you're doing
Omen 30L Gaming Desktop PC review verdict: The ultimate gaming rig
The 30L is everything you could want in a gaming rig. It's powered by an i9 CPU that gives you up to 5.2 GHz of processing power and up to 64GB of RAM. It's designed to handle all the latest PC games, including the VR ones. You'll probably have to figure out how to build rigs on your own if you want something more powerful than the 30L. Click here to learn more about this PC.
Read more:
How to Use Old LED TV Panels: A DIY Project With A Nice Payoff
HP 15-DS1083CL Review: A Powerful, Convertible Laptop That Punches Far Above Its Weight
Best Budget 4K TV for Gaming: The 49-inch LG NANO85 Covers All the Bases
LG UN7000 Review: A Budget TV that's Great for Gamers
Sony X85J Review: An Affordable Top-End TV