*** TVReviewland.com earns commissions on qualifying purchases made through affiliate links ***
This HP 15-DS1083CL review goes over the features and performance of an affordable HP-Envy X360 laptop.
The first selling point of the laptop is its sleek design that fits right in with high-end HP product lines like the Specter. It proceeds to draw you in with a price point that is within reach of most wallets. At this point, most savvy buyers would expect to make a tradeoff between price and performance. This is where the manufacturer comes in with impressive specs.
Let's see how well the specs hold up as we put them through their paces.
HP 15-DS1083CL review: Design and build
HP Envy product lines are famous for their ability to transform products from notebooks to tent-like touchscreens and tablets. The HP 15-DS1083CL happens to be one of them. It has the sturdy hinges necessary to withstand the rigors of regular folding and flexing.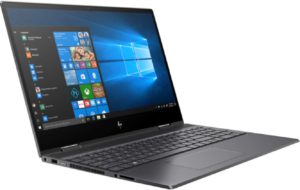 The chassis and deck of the laptop are solid metal, with thick plastic bezels framing the screen. Different sheens and textures give the ash-and-black housing the premium feel of a higher-end product line. There's the small issue of the chassis being a bit of a fingerprint magnet, but you get used to it.
Design and build: Deck and keyboard
The keyboard layout is excellent, with a dedicated number pad and a wide touchpad. You'll like how the keys have the travel and responsiveness of a much thicker laptop.
HP also added a bunch of hotkeys that make your life easier. F4 turns the backlight on and off, while F12 brings up the HP command center. Other hotkeys activate or kill the webcam and microphone.
There's also a fingerprint reader on the deck, which is a feature that's usually hard to find at this price point. All the ports and vents on this 15-inch HP Envy are on the sides of the deck.
Ports and connectivity
The HP 15-DS1083CL has an HDMI port, a USB-C port, two USB-A ports, and a 3.5mm audio jack. There's no Ethernet jack, which leaves you to rely on Wi-Fi or a USB-to-Ethernet adapter. This brings us to wireless connectivity, where you have your pick of Wi-Fi 5 and Wi-Fi 6 standards.
[Read what others are saying about this laptop]
HP 15-DS1083CL review: Storage, chipset, and performance
You can expand the memory and storage capacity of this HP Envy X360 notebook. It has two slots for memory, with each currently holding a 4GB DDR4 RAM card. You can expand the memory up to 16 GB. The 512GB SSD and Wi-Fi cards are also replaceable with higher-capacity, higher performance upgrades. Here's what the 2021 upgrade of the HP Envy X360 is packing:
Storage
This particular release of the HP Envy comes with a 512GB solid-state drive. If you want anything bigger, you'll have to settle for an external drive. Solid-state hard drives allow for near-instant booting and it only takes a couple of seconds for your Windows home screen to appear. The hard disk easily reaches sequential read/write speeds of around 1GB per second.
It's worth noting that the Windows installation that comes on the machine has bells and whistles that take up space. Get rid of the ones you don't need.
Processor
The HP 15-DS1083CL runs on the 8-core AMD Ryzen 7 4700U. The board that houses the processor also includes an integrated AMD Radeon GPU. As chipsets go, this is a powerful configuration that can take much of what you throw at it. Gamers are in for a nice surprise as impressive frame rates make for smooth gameplay, even with demanding game titles running at 1080p.
If this slim notebook can hold its own during gaming, it can also manage some light video editing. It's worth noting that going full throttle with Adobe video editing software may cause some frustration. That said, the Ryzen 7 version of the HP Envy X360 can take everything else you throw at it. It has the chipset configuration of a far more expensive notebook.
Cooling and heat profiles
The HP 15-DS1083CL has three heat profiles. The first is the "Performance" profile, which pushes both the fans and the processor to their limits. You may want to activate this profile when gaming, but you'll be making a tradeoff between good frame rates and a hot deck.
"Comfort mode" splits the difference between peak processor performance and heat management. The fans go all out to keep the laptop cool while the processors operate at lower speeds. The third profile is "Quiet mode", which keeps the fans quiet.
HP 15-DS1083CL review: Display
This high-end, budget notebook has an IPS screen with 1080p resolution and an aspect ratio of 16:9. It only gets better. At peak brightness levels of 400 nits, the screen delivers excellent contrast while expanding the panel's color palette. The 1100:1 contrast ratio delivers a level of detail that you won't often see in an affordable laptop.
The panel's native color panel covers 99 percent of the sRGB color gamut and 76 percent of the P3 wide color palette. This, in combination with a bright screen makes for accurate, lifelike colors. In fact, the color accuracy of the screen is as close to perfect as you can get.
Battery
The notebook comes with a four-cell 51Wh Lithium-ion battery. It will power a 15-inch screen at 200 nits for at least six hours. This means that the battery will take you through a full workday of moderate use.
Sound
The pair of internal speakers produce loud, crisp sounds. You can get through hours of your favorite music without feeling the need to look for a set of headphones. Still, robust Bluetooth 5 and 6 connectivity will let you cast to wireless speakers. You could also go the wired route with the 3.5mm audio jack.
Pros
Sleek design and good build quality
Powerful chipset that performs almost as well as a top-tier notebook
Plenty of storage for an SSD drive
You can expand the already impressive 8GB RAM to 16GB
High-quality display with great contrast and excellent color accuracy
Good sound, with the "voice" sound profile doing a great job of zoom calls
Cons
The hinges are a little shaky, so you may want to go easy on the 'transformer' aspect of this notebook
Video editing and heavy gaming will push the impressive processors to their limits
Expect some bloatware and a bunch of (invasive) user agreements from Windows and HP
HP 15-DS1083CL review verdict: You get what you pay for and a whole lot more
This HP 15-DS1083CL review goes as far as to declare the 2021 release of the HP Envy X360 an absolute steal. The notebook performs at a level reserved for top-tier machines. Should you buy it? If your graphics needs are moderate, then absolutely.
Heavy gamers and professional video editors should fork out a couple hundred more dollars for higher graphics capabilities. Click here to learn more about this laptop.
Read more:
Samsung Q70T Review: Good QLED TV, Excellent Gaming Television
Westinghouse 58 Roku TV Review: Widescreen 4K at an Unbeatable Price
Vizio V655-H19 Review: Useful Features and Good Performance On a Budget
Lenovo S2 Smartwatch Review: A Pizza-Priced Option
How to Use Old LED TV Panels: A DIY Project With A Nice Payoff